Trump Ed Budget Fleshes Out Choice Proposal, Justifies Deep Cuts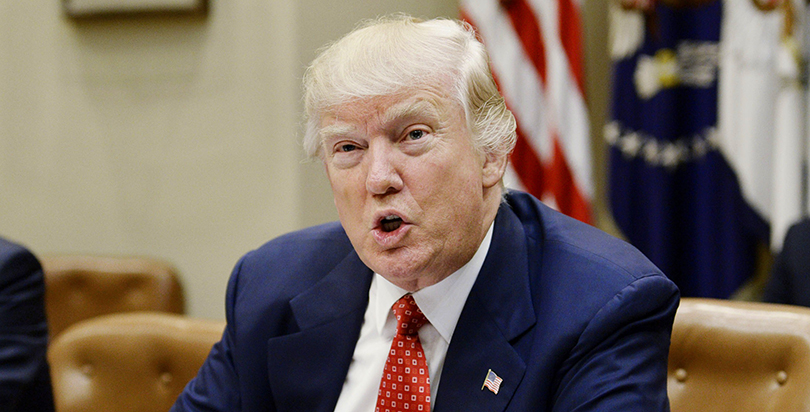 Updated, May 24
The Trump administration's full 2018 budget proposal lays out more details on huge new school choice programs, including a $250 million voucher program, even as the administration justifies $9 billion in cuts to the department overall.
The budget makes a "historic investment in America's students," Education Secretary Betsy DeVos said in a statement. "By refocusing the Department's funding priorities on supporting students, we can usher in a new era of creativity and ingenuity and lay a new foundation for American greatness."
A rough
"skinny budget" proposal released in March
proposed $1 billion in what's often called "Title I portability" that would allow funds intended for low-income students to follow them as they transfer among schools, and $250 million in private school choice.
The
Education Department's budget proposal
released Tuesday says the $1 billion would go to districts that implement weighted per-pupil funding systems that include "an open enrollment system allowing students to enroll in a public school selected by their parents."
That grant program would be called Furthering Options for Children to Unlock Success (FOCUS), and the department would establish specific criteria for the open enrollment systems. Those could include supporting integration efforts, arranging or paying for transportation, and prioritizing students from low-income families or low-performing schools, according to a more
detailed document describing the department's justifications for various proposals
.
The programs would have to comply with rules included in the Every Student Succeeds Act, the landmark K-12 education law passed in 2015, that allow the creation of weighted per-pupil funding systems. The budget also would override a cap in ESSA limiting participation to 50 districts.
Rather than a traditional formula or competitive grant program, officials envision districts proposing specific project budgets to the department, with the money used to cover transportation, outreach to parents, performance measurements, or payments to schools that lose funding as students transfer, staff said at a briefing with advocates that was streamed online Tuesday afternoon.
The $250 million in vouchers would provide grants to organizations that provide scholarships, not go directly to families.
When asked at the briefing, department staff said issues like whether voucher programs would have to comply with federal accountability rules or civil rights protections will be addressed in negotiations with Congress as the program is further developed.
In other areas of public school choice, the administration also proposes $500 million for the federal charter school program, an increase of $158 million, and $96 million for magnet schools, a slight drop from what they received in the final 2017 funding measure.
The White House lists "education reform" as one of eight "pillars of reform" to spur faster economic growth, alongside ideas like health care, tax, and immigration reforms. Trump's $1.2 trillion budget ( (in discretionary spending; $4.1 trillion if Medicare, Social Security, etc. are included) bases much of its assumptions on the economy growing at a faster rate than it is now or is predicted to by the Congressional Budget Office.
"We need to return decisions regarding education back to the state and local levels, while advancing opportunities for parents and students to choose, from all available options, the school that best fits their needs to learn and succeed,"
the budget says
.
Tough sell ahead on the Hill
The proposal is a first step in prolonged negotiations with Congress ahead of funding for fiscal 2018, which begins Oct. 1. Trump's diminished clout on Capitol Hill in the wake of continued scandals and the deep unpopularity of many of these proposals will make them a tough sell to the legislators tasked with approving them.
The budget "reflects the urgent need for tough choices and bold solutions" to pursue a more responsible course of federal spending, Rep. Virginia Foxx, chair of the House Education and the Workforce Committee, said in a statement.
Not everyone will agree on every budget proposal, and it's now "up to Congress to review the details and establish important priorities," she added.
Senate Health, Education, Labor and Pensions Committee Chairman Lamar Alexander said that 25 years ago, President George H.W. Bush (whom Alexander served as education secretary) recommended a half-billion-dollar school choice program.
"In my view, that still is the right thing to do," he said.
Tommy Schultz, national communications director for the American Federation for Children, the school choice advocacy group DeVos founded, said the group is pleased that Trump "put funding muscle behind their pledge to facilitate an expansion of school choice options across the country."
"We're hopeful that Congress and the Administration will rise to the occasion and act boldly to help these kids access a school of their parents' choice," he added in an email.
Democrats were immediately skeptical of the proposal.
Rep. Bobby Scott, ranking Democrat on the House Education and the Workforce Committee, in a statement said budgets reflect priorities and that this one shows that Trump "has prioritized tax cuts for the wealthy over children [and] students."
Sen. Patty Murray, the top Democrat on both the Senate Health, Education, Labor and Pensions Committee and the Appropriations subcommittee with jurisdiction over education programs, said the budget gives DeVos "a blank check to manipulate ESSA" and cut millions of dollars from school districts to promote her own agenda.
"If Betsy DeVos truly wanted to help our students, she would abandon her ideological commitment to privatization and implement ESSA's programs that focus on investing in our public schools so every child has access to a quality public education in their neighborhood," she said in a statement.
Even some charter and school choice advocates are wary of a budget that makes big cuts to other education spending.
The Title I portability proposal would "undermine the purpose of Title I" by shifting money away from the highest-need schools and students, Eli Broad, founder of The Eli and Edythe Broad Foundation and a staunch charter supporter, said in a statement.
Other programs the administration seeks to cut are essential to students' success, he said.
"Public school choice cannot come at the expense of all public school families and students," Broad added.
The $9 billion in cuts to the department overall would have "long-lasting, far-reaching negative consequences for children, families, communities and our country as a whole," National Alliance for Public Charter Schools President Nina Rees said in a statement. Rees in the past praised Trump's increasing of federal money for charter schools.
The association urged the administration and Congress to "consider all the ways the federal budget impacts public school students, both district and charter school students."
Justification for cuts
"There were a lot of tough trade-offs," Erica Navarro, budget service director, said on a call with reporters, noting that the administration prioritized defense and homeland security spending.
The administration proposed ending or reducing 30 programs at the K-12 and higher-ed levels, programs the department categorized as not meeting their goals or ones that could be better supported through state, local, or private investment.
At the K-12 level, the administration proposed ending the 21st Century Community Learning Center program, which provides before- and after-school and summer programs.
"While limited evaluation and survey data from certain states and individual centers highlights benefits from participation, such as improved behavior and classroom grades, overall program performance data show that the 21st CCLC is not achieving its goal of helping students, particularly those who attend low-performing schools, meet challenging State academic standards," the administration wrote. Officials in particular cited low attendance at programs.
The Student Support and Academic Enrichment Grant, created in ESSA, combined four previously standalone grants supporting Advanced Placement programs, technology, school counseling, physical education, and other programs. The amount proposed for that block grant would've provided individual grants "too small to have a meaningful impact," the White House wrote. Schools can use Title I funds, which the budget proposes flat-funding besides the new $1 billion portability program, for those purposes, the administration added.
The administration also proposed ending a program that provides college loan forgiveness to people working in public service, including teachers, after 10 years of repayment.
That change — plus other new proposals to student loans — would kick in for new borrowers, or those in different courses of study, after July 1, 2018, department officials said Tuesday. So graduates currently working and making payments would remain in the program, as would people who had begun undergraduate degrees and taken out loans as of July 1.
But anyone who takes loans for undergraduate or graduate degrees for the first time after that 2018 date couldn't apply for forgiveness.
Disclosure: The Eli and Edythe Broad Foundation provides financial support to The 74. The Dick and Betsy DeVos Family Foundation previously provided financial support to The 74.
---
---
Support The 74's year-end campaign. Make a tax-exempt donation now.