The Federal Education Funding Picture Is Getting Clearer, as House and Senate Advance Bills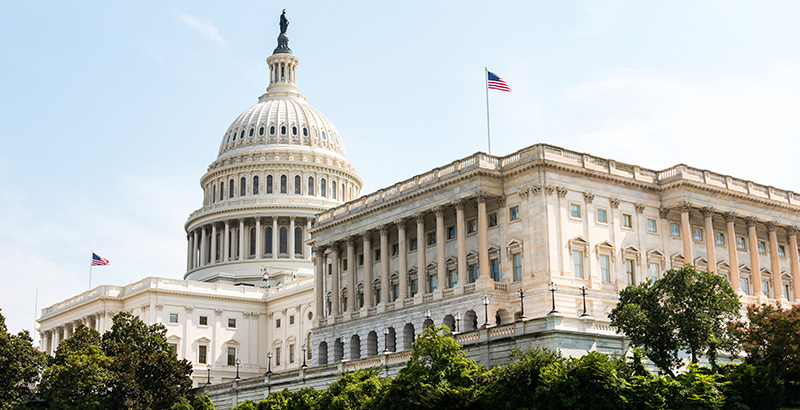 Congress concluded an action-packed week — one full of administration moves on DACA and Title IX that impacted the education world — with forward movement on 2018 funding for the Education Department and other government agencies.
The bills currently pending in Congress largely reject the Trump administration's major education budget proposals: eliminating federal grants for teacher training and after-school programs, making big increases to the federal charter school program, and adding new money for public school choice and a pilot voucher program.
For the near future, however, the bills are moot: Congress Friday passed a continuing resolution that keeps the government, including the Education Department, running at existing funding levels through mid-December.
The House
In the House, the so-called omnibus bill containing education funding is paired with those funding other agencies, from the Agriculture Department to the IRS.
Members proposed several dozen education-related amendments to the bill, but members won't be voting on any those, or final passage of the bill, until the week of Sept. 11. House leaders closed shop early Friday afternoon to let members from Florida get home ahead of Hurricane Irma.
(The 74: As House Takes Up Education Funding Bill, Lawmakers Offer Bevy of Amendments, From Autism to Desegregation)
House members will ultimately consider about 10 amendments in the pre-K–12 space, including proposals that would:
Restore $100 million in funding for the 21st Century Learning Centers that provide after-school programs.
Add $8.9 million for state assessment grants.
Cut $1.2 million from the federal charter school program to add to the magnet school program.
Increase funding for English language acquisition by $62 million.
Add $70 million to career and technical education.
Cut 2 percent from the department's inspector general, Office of Student Aid administration, and general program funds.
Reduce funding to the Institute of Education Sciences by $195 million.
Prohibit childcare funding from going to license-exempt day cares that have been complicit in the death of a child.
Earlier in the week, during consideration of the bill's agriculture section, members adopted an amendment banning school lunch funding to schools that "identify or stigmatize certain potential recipients of school meal subsidies."
So-called "lunch shaming," in which children who don't have money to pay for lunch are given a different meal or otherwise identified, has also caught the attention of state lawmakers, who have banned the practice. Other districts – most recently, New York City – are funding lunches for all students regardless of financial need to help reduce stigma.
The House bill would provide $65.8 billion for the Education Department. That's a cut of about $2.4 billion, mostly attributable to ending the Title II teacher training grants. Democrats' attempts to restore it during committee consideration earlier this summer were rejected, and no Democratic amendments to restore that funding were made in order for consideration on the House floor.
(The 74: House Committee Rejects Democrats' Bid to Restore Education Funding, Protect Teacher Training)
The House bill would also trim funds to 21st Century Learning Centers that fund after-school programs, and is missing the $1 billion Trump requested for public school choice and the $250 million for a pilot private choice program.
The Senate
Across the Capitol, the Senate Appropriations Committee on Thursday approved a much larger Education funding bill, one that would provide $68.3 billion for the department, an increase of about $27 million.
In stark contrast to the House, the Senate's bill would maintain funding for the 21st Century Learning Centers and Title II teacher training grants, a move that elicited grateful statements from education advocacy groups.
This bill, like the House's, doesn't include the school choice proposals. Committee members in an accompanying report said such big changes "should be made as needed through legislation considered by the authorizing committees of Congress."
Get stories like these delivered straight to your inbox. Sign up for The 74 Newsletter