DeVos Vows to Overhaul Title IX Rules on Campus Sexual Assault, Stressing Protections for Accused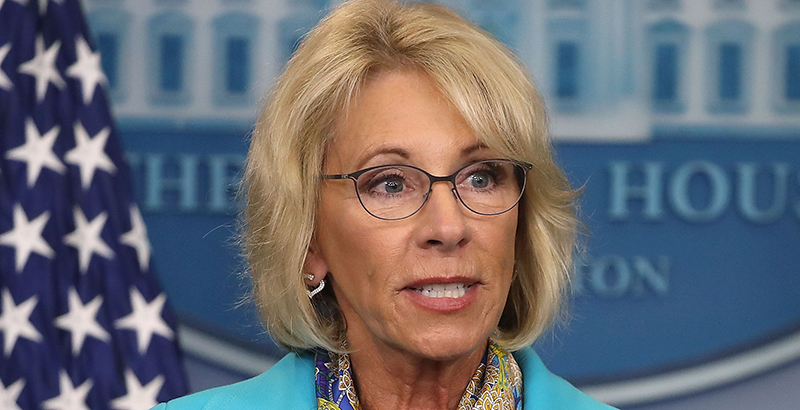 The Education Department will change Obama-era guidance on how schools must protect victims of sexual violence, Secretary Betsy DeVos said in a speech Thursday — though she did not make clear how, or when, that would happen.
"The truth is that the system established by the prior administration has failed too many students. Survivors, victims of a lack of due process, and campus administrators have all told me that the current approach does a disservice to everyone involved," DeVos said in a speech at George Mason University in suburban Washington.
The current guidance for handling campus sexual assaults under Title IX, the 45-year-old federal law banning discrimination in education based on sex, has allowed unelected and unaccountable bureaucrats to make policy and "weaponized the Office [for] Civil Rights to work against schools and against students," she said.
The Obama administration in 2011 issued a "Dear Colleague" letter urging schools to better investigate reports of sexual violence on campus. It requires educators to use a "preponderance of the evidence" standard in investigations, rather than a tougher "clear and convincing" standard.
While sexual assault survivors and women's rights groups have praised the standards, Republicans and advocates for the accused said they scaled back due process rights and overstepped executive branch authority.
"The era of 'rule by letter' is over," DeVos said Thursday. "This unraveling of justice is shameful, it is wholly un-American, and it is anathema to the system of self-governance to which our Founders pledged their lives over 240 years ago."
Those comments set off a fierce pushback from women's rights advocates, former Obama administration officials, and other opponents, with the hashtag #StopBetsy quickly trending on Twitter.
The Education Department will launch a "transparent" notice-and-comment period to solicit opinions from "all parties" to develop a "better way," DeVos said.
The department did not respond to The 74's questions about the timeline of such rulemaking or whether existing standards would remain in place while new ones are being crafted. Reporters for other outlets said on Twitter that the existing guidance is under review and not rescinded, and that the department would issue temporary interim guidance while working on a permanent fix.
Though most attention on the issue has focused on colleges, a change in the standard would also have ramifications at the K-12 level, where, advocates say, schools have struggled to protect students.
(The 74: Overshadowed by the College Sexual Assault Debate, 154 Open Title IX Investigations at K-12 Schools)
Catherine Lhamon, Obama's assistant secretary for civil rights at the Education Department, told The 74 that DeVos's speech was "an incredibly damaging message to anyone affected by the issue of sexual assault on campus."
"I think the full school community needs to respond with an aggressive, continued commitment to equality and to making sure that all students can be safe in schools," said Lhamon, now chairwoman of the U.S. Commission on Civil Rights. The commission voted in June to investigate the Trump administration's enforcement of federal civil rights laws. "I very much look forward to watching and overseeing the efficacy of the Office for Civil Rights's work in this area," she said.
Arne Duncan, who served as Obama's education secretary from 2009 through 2015, said in a statement that the Trump administration wants to return to the days when schools "swept sexual assault under the rug."
"Instead of building on important work to pursue justice, they are once again choosing politics over students, and students will pay the price," Duncan said. "We need the Education Department to enforce the law, not roll back protections at a time when the country is finally paying attention to sexual assault."
Women's rights groups responded to the speech in a similar tone.
In a release, Fatima Goss Graves, president of the National Women's Law Center, called the speech "a blunt attack on survivors of sexual assault" that will discourage schools from working to enforce Title IX.
"It sends a frightening message to all students: Your government does not have your back if your rights are violated. … We refuse to return to the days when schools could mistreat survivors with impunity," she added.
Adele Kimmel, a senior attorney at Public Justice who represents sexual assault victims — including those in K-12 schools — said in a statement that DeVos is "merely paying lip service" to sexual assault survivors, noting that no survivor groups were invited to attend Thursday's announcement. Trump's Education Department, she said, needs an education on Title IX.
"The Trump administration says it wants fair procedures, but there's nothing fair about refusing to enforce the rights of sexual assault survivors, which is the direction the Department of Education seems to be headed in," she said. "Public Justice will continue to fight for the rights of sexual assault survivors, even if the government won't."
Sen. Patty Murray, the top Democrat on the Senate education committee, said DeVos is undermining survivors' rights and that her speech was an "open invitation to colleges to once again sweep this national epidemic under the rug."
She urged DeVos to reconsider the decision. On Wednesday, Murray released a set of recommendations for DeVos to undertake instead, including continuing to publish lists of colleges under Title IX investigations and nominating a "qualified individual" to the role of assistant secretary for civil rights.
Candice Jackson, currently filling the role in an acting capacity, came under fire earlier this year for saying 90 percent of rape allegations fall into the category of "we were both drunk." She later apologized for her "flippant" remarks.
(The 74: DeVos Hears of Sex Attacks at Colleges & K-12 Schools as Feds Weigh Changes to Title IX Evidence Rules)
DeVos's speech, while repeatedly emphasizing the horrors of rape and other sexual misconduct, focused equally on those who were denied due process protections.
"There is no way of to avoid the devastating reality of campus sexual misconduct: Lives have been lost. Lives of victims. And lives of the accused," she said.
A report released this week by free speech advocacy group Foundation for Individual Rights in Education — which is suing the government over the Obama-era guidance — gave 85 percent of the country's top universities grades of D or F for "not ensuring basic due process rights" like guaranteeing that accused students will be presumed innocent until proven guilty or that adjudicators will be impartial.
"Six and a half years of this failed policy have left us with a system that victims still don't trust and that the accused have every reason to believe is stacked against them," Robert Shibley, the group's executive director, said in a release. "It's time to rescind the 'Dear Colleague' letter and replace it through the lawful regulatory process so that everyone can have a say."
Women's rights advocates criticized DeVos's apparent equalizing of rapes and concerns about due process rights for the accused.
"With sexual assaults routinely going unreported, uninvestigated and unpunished, the scales are already heavily tipped in the favor of rapists. The idea that we need to focus more on the rights of the accused would be laughable if it weren't so terrifying and outright dangerous," Nita Chaudhary, co-founder of the feminist group UltraViolet, said in a statement.
One in five women will be raped at some point in her life, and between 2 percent and 10 percent of rape reports are false, according to statistics compiled by the National Sexual Violence Resource Center.
Lhamon refuted claims by DeVos that education officials under Obama overstepped their authority. For decades, she said, Education Department officials have issued guidance letters to help school officials understand their obligations under federal law. While the notice-and-comment process is necessary when creating new rules, she said, it is inappropriate when providing guidance on existing laws.
"Leaving open the question about how to enforce the law and what students' rights are is dangerous for students who are in school every day, and who need answers about what their rights are," she told The 74. "The law is unchanged and has been unchanged since 1972, when Congress wrote it, and the obligations for schools and the intense need for sex equality in schools persist."
Boston College public policy professor R. Shep Melnick, who has written extensively on the need to reform the way schools are held accountable for sexual violence on campus, said he was pleased with the DeVos speech, though he "started off with low expectations" because Trump, he said, has bragged about committing sexual violence and repeatedly demeaned women. Because the Office for Civil Rights has gone "way beyond the Supreme Court's interpretation of Title IX," he said, the notice-and-comment process will allow people to flag any potential problems. He anticipates the process could take a year or longer.
"I think they've committed themselves, at least the speech indicates, of trying to come up with a better balance between the rights of the accused and the rights of the survivors," said Melnick, who is the author of the forthcoming book The Transformation of Title IX: Regulating Gender Equality in Education. "I think if they don't do that, they are in for a lot of trouble."
Sen. James Lankford, long a critic of the Obama-era guidance, applauded DeVos's speech, saying that while he condemns "all types of sexual violence and harassment," the letter circumvented congressional authority and violated due process rights for many students.
"The Department of Education is taking a positive first step in soliciting comments from stakeholders to get a better understanding of ways to better address the problem. However, this is an issue where Congress must give the Department of Education clear statutory authority to properly regulate," Lankford, Republican of Oklahoma, added in a statement.
DeVos said schools are doing a "good job" of making accommodations for assault survivors, like adjusting class schedules, changing dorms, or postponing exams. There is a "fundamental difference," she said, between making those modifications and "punish[ing] the accused before a fair decision has been rendered."  
She highlighted several groups that have "made progress" on the issue, including a task force established by the American Bar Association, a letter from the faculty of Harvard Law School, and a "regional center" investigatory model proposed by two former prosecutors.
Former vice president Joe Biden, who was the face of the Obama administration's efforts to combat campus violence, urged students, parents, faculty, and alumni in a Facebook post to speak up and make their views known.
"I know that we can continue to change the culture. … Students have taken on this fight. Keep fighting. Tell this administration that we refuse to go backwards," Biden concluded.  
Support The 74's year-end campaign. Make a tax-exempt donation now.