Fate of Dreamers Shouldn't Become 'Political Football': Advocates Urge DACA Protections Without Strings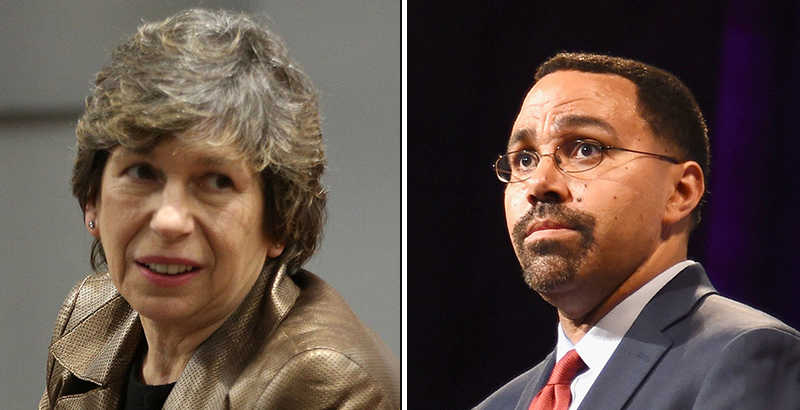 Congress should quickly pass a law to protect DACA recipients, leaders from across the education advocacy spectrum said on a press call Monday.
"People like President Trump and others … are making [DACA recipients] into a political football for a political cause that seems to have nothing more than just exploiting fear and scapegoating people. It's just dead wrong," Randi Weingarten, president of the American Federation of Teachers, said on the call.
The Trump administration, which in September ended the Obama-era protections for some 800,000 young people brought to the country illegally as children, laid out a series of "principles" lawmakers should follow in crafting a legislative fix. They included a crackdown on unaccompanied minors coming to the U.S.
The bill Congress passes should be "clean" — that is, not include funding for a wall on the U.S.-Mexico border or other immigration restrictions — said Lily Eskelsen García, president of the National Education Association. She and others on the call urged Congress to pass the Dream Act of 2017, a bipartisan bill that would make lawful recipients of the Deferred Action for Childhood Arrivals program permanent residents of the U.S.
"Every time they try and throw something in there, you lose support on one side or the other… Anything that people start lobbing in at this point is only going to hurt the chances," she said.
Current DACA recipients can apply to extend their protections through early March. Garcia urged Congress to act quickly ahead of what she called an "artificial deadline."
Maria Rocha, a third-grade teacher at KIPP San Antonio and a DACA recipient, started crying when telling her story.
She came to Texas with her parents when she was 3. Because she's undocumented, she and her family had to pay out of pocket for her college degree, which took her seven years to complete.
"Our lives are being played with," she said.
Rocha is one of an estimated 20,000 DACA recipients who are K-12 teachers. The current uncertainty, she said, is also affecting their students. It shouldn't be the norm for students to "believe that teachers just leave," she said.
The issue has united education groups who have previously been at odds over other issues, and education secretaries of both parties have urged Congress to step in and protect the Dreamers.
The Center for American Progress, a liberal think tank, organized the call, which also included former Obama education secretary John King and Tony Evers, Wisconsin superintendent of public instruction, who is running for governor against Republican incumbent Scott Walker.
Sen. Patty Murray, the top Democrat on the Health, Education, Labor and Pensions Committee, compared a DACA fix to the Every Student Succeeds Act, widely hailed as a bipartisan success.
"That is how things should work in Congress. When we see something broken, we work together to fix it. Unfortunately for the hundreds of thousands of undocumented immigrants who came here as children, this Republican Congress is falling very short," she said.
Get stories like these delivered straight to your inbox. Sign up for The 74 Newsletter