Trump Administration Targets Unaccompanied Minors in Negotiations to Replace DACA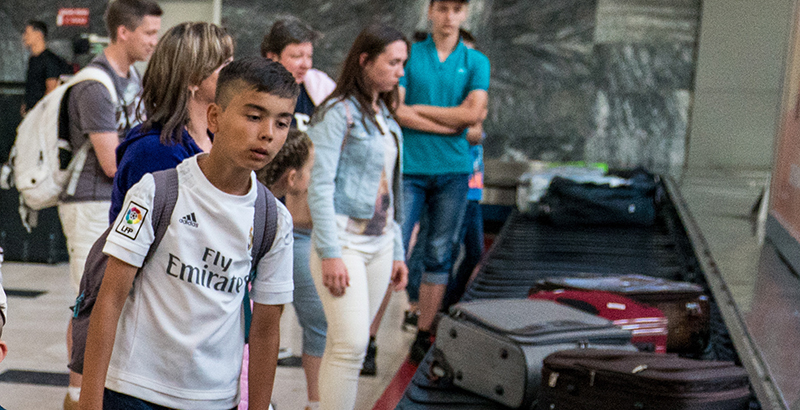 As the Trump administration negotiates with Congress on a legislative fix to replace the Deferred Action for Childhood Arrivals program, the White House is pushing a strategy that may come at the expense of hundreds of thousands of children who immigrated to the U.S. without their parents.
The White House on Sunday released a document to Congress highlighting "principles" lawmakers should follow in crafting a legislative fix to DACA, an Obama-era program from 2012 that provided work permits and deportation relief to some 800,000 immigrants who came to the U.S. as children. The Trump administration rescinded DACA in September, giving Congress six months to craft a replacement.
Among the administration proposals is a crackdown on undocumented immigrants who enter the U.S. as unaccompanied minors, many fleeing violence in Central America.
The White House proposal would eliminate protections for unaccompanied minors "so long as they are not victims of human trafficking and can be safely returned home or removed to safe third countries," according to Reuters.
Additionally, the proposal demands funding for Trump's long-promised border wall and thousands of additional immigration officers. A White House official told Reuters the administration would push Congress to provide DACA recipients, also known as Dreamers, with "legal status," not permanent citizenship.
The proposal prompted an outcry Sunday evening from Democratic leaders who are in negotiations with Trump to replace DACA. "The administration can't be serious about compromise or helping the Dreamers if they begin with a list that is anathema to the Dreamers, to the immigrant community, and to the vast majority of Americans," Senate Minority Leader Chuck Schumer and House Minority Leader Nancy Pelosi said in a statement.
When immigration authorities arrest unaccompanied minors, they're transferred to the care of the U.S. Office of Refugee Resettlement, which releases them to sponsors — most of whom are family members — while awaiting immigration proceedings.
When the administration announced it would rescind DACA, Trump blamed the 2012 program for a surge in unaccompanied minors that peaked in 2014, when nearly 70,000 children were detained at the Southern border, arriving primarily from El Salvador, Guatemala, and Honduras. That was a 77 percent increase over the previous year. Between October 2016 and August 2017, the Office of Refugee Resettlement released more than 40,400 unaccompanied children to sponsors.
Although these young people would not have met the extensive list of DACA eligibility requirements, The Washington Post reported that evidence suggests smugglers told the children they would be allowed to stay in the U.S. under Obama policies. But Doris Meissner, senior fellow and director of the U.S. Immigration Policy Program at the nonpartisan Migration Policy Institute, told the newspaper the smugglers' promise likely stemmed from an anti-human-trafficking law, signed in 2008 by then-President George W. Bush, that allows children from countries that do not border the U.S. to stay with relatives — often for years — until they face deportation hearings.
Federal law guarantees all children access to public education, regardless of immigration status, so schools in recent years have had to adapt for their arrival. It's become increasingly clear in recent months, however, that these young immigrants have become a target under the Trump administration's crackdown on immigrant gangs and, more broadly, its efforts to ramp up immigration enforcement.
In a Sept. 5 statement on rescinding DACA, Trump said the program "helped spur" the surge in unaccompanied minors, "including, in some cases, young people who would become members of violent gangs throughout our county, such as MS-13." At a September speech in Boston, Attorney General Jeff Sessions called unaccompanied minors "wolves in sheep's clothing" who are gang members.
In Long Island, New York, attorneys and civil rights advocates say undocumented students are being charged with unsubstantiated claims of gang affiliation and shipped off to immigration detention facilities without due process.
Family members of unaccompanied minors have also become targets of immigration enforcement and criminal investigations, on charges including conspiracy, visa fraud, and human smuggling.
Get stories like these delivered straight to your inbox. Sign up for The 74 Newsletter