EduClips: From a No-Confidence Vote Against Las Vegas's Superintendent to the New York City Mayor's Teenage Education Critic, School News You Missed This Week From America's 15 Biggest Districts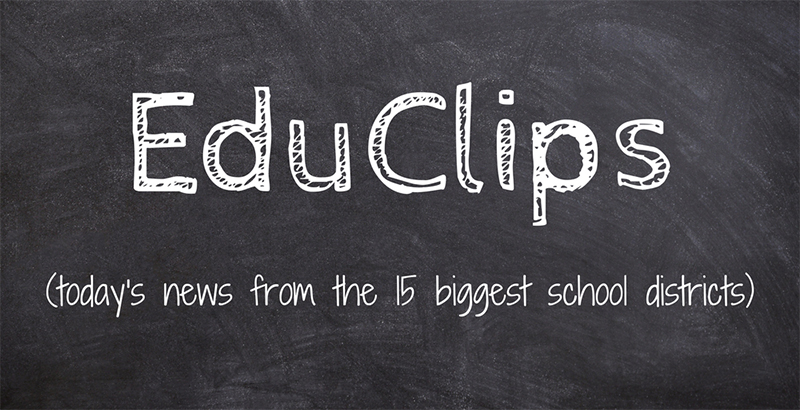 EduClips is a roundup of the week's top education headlines from America's 15 largest school districts, where more than 4 million students across eight states attend class every day. Read previous EduClips installments here.
Broward County — Arrest of Parkland Deputy Poses Thorny Legal Questions for Florida's Armed Teachers: Following the arrest of a Broward County Sheriff's deputy who hid outside during the 2018 Parkland school massacre, the sponsor of a Florida bill that allows classroom teachers to carry guns said it's possible armed teachers could face similar legal ramifications if they fail to keep kids safe during a shooting. "Whether it's involving a firearm or not, if there's an employee who did not do everything in their power to protect students in that situation, they would be open up to facing those kinds of charges," Sen. Manny Diaz, a Republican representing Hialeah, said. Representatives of the Florida Education Association, the state teachers union, said the arrest of Scot Peterson has the potential to make the law even more dangerous by shifting legal responsibility to teachers. (Read at the Tampa Bay Times)
Philadelphia — Is Race a Factor in Closure of Minority-Owned Charter Schools?: The CEO of Eastern University Academy Charter School in Philadelphia said that his school is facing closure partly due to race. The school has repeatedly underperformed on standardized tests, and one year, none of its seventh- or eighth-graders tested proficient in math. But CEO Omar Barlow notes that nearly 75 percent of its students went to college in the fall after graduating last year, compared with just half of the district's. "What else could they be targeting, when a number of traditional public schools that our young people would attend if we closed are failing miserably?" he asked. The Philadelphia Inquirer suggests the closure may be part of a pattern: "Over the last five years, nine of 14 Philadelphia charter schools that have closed or agreed to close if they didn't meet conditions were minority-run, according to district officials. Four of five pending nonrenewals earlier this year were minority-run." (Read at the Philadelphia Inquirer)
New York City — Meet Tiffani Torres, Mayor de Blasio's 16-Year-Old Gadfly: In a very short time, a 16-year-old junior at Pace High School in Manhattan has become a gadfly for New York City mayor and presidential aspirant Bill de Blasio. Tiffani Torres, an activist with Teens Take Charge, which advocates for integrating the city's schools, has pressed the mayor on issues of integration and segregation. Though she has appeared twice on the "Ask the Mayor" call-in segment of WNYC's The Brian Lehrer Show, the mayor has refused to see her. He told her that she "isn't hearing what we're saying to you." In a wide-ranging interview with Chalkbeat, Torres said the mayor has it backwards. "He's kind of just disappeared even though we've been there supporting him every step of the way," she said. "And for him to say that we aren't hearing him, I could definitely say the same thing, except me saying that is accurate and him saying that is just deflecting." (Read at Chalkbeat)
Los Angeles — CA Charter Task Force Delivers Report Calling for Greater Oversight, Funding Assistance: In a much-anticipated report, a California charter school task force outlined four unanimously approved measures, including one that would maintain funding for district schools one year after a student transfers to a charter school. Other recommendations would create a statewide entity to oversee charters and train their authorizers, and allow greater discretion for schools to examine academic outcomes and enrollment saturation when considering new charter petitions. The report's release may put pressure on Gov. Gavin Newsom to stake out a position on the simmering debate. "There's been the cover to say, 'Well let's not act yet because we want to wait and see what this task force says,'" said Julie Marsh, professor of education policy at the University of Southern California. "Once that is out, you can no longer stall in acting on these issues." (Read at The74Million.org)
Clark County — Las Vegas-Area Principals Deliver No-Confidence Vote Against Superintendent: Seventy-two Las Vegas-area middle and high school principals unanimously passed a no confidence vote against Superintendent Jesus Jara this week. The move came two days after Jara announced in a video that he would eliminate all 170 secondary school dean positions. The district chief said the cuts would help the district recover $17 million to close its deficit, but critics said the move would jeopardize school safety, an area the deans had previously overseen. School leaders bristled at not being consulted beforehand about the eliminations and because the affected deans learned of their dismissal through a video posted online. (Read at the Las Vegas Review-Journal)
Noteworthy Essays & Reflections
EDLECTION 2020 — You're a Democrat Who Opposes Vouchers. But You Benefited From Private Schools. Are You a Hypocrite? (Read at Education Week)
SCHOOL DISCIPLINE — Eden: Studies and Teachers Nationwide Say School Discipline Reform Is Harming Students' Academic Achievement and Safety (Read at The74Million.org)
CHARTER SCHOOLS —Do the current Democratic politics spell doom for charter schools? (Read at the Brookings Institution)
CLIMATE CHANGE — The silence of school leaders on climate change (Read at The Hechinger Report)
SCHOOL DISCIPLINE — The Harsh Discipline of No-Excuses Charter Schools: Is It Worth the Promise? (Read at Education Week)
Quotes of the Week
"We're taught to live in the present. Right now, my children are healthy." —Melissa (last name withheld), who said her Buddhist views prevented her from vaccinating her children unless they became very sick, and one of several parents who successfully sued Rockland County, New York, to overturn a measure that barred unvaccinated children from schools. (Read at The New York Times)
"My fear is that other police departments will see this and they will start training in a more militaristic fashion in order to prepare for the very rare [school shootings.] …Look, 99.99 percent of school resource officers are going to get through their entire career and this isn't going to be the thing they ever have to think about. But when you prime them to think about that, you get military models of policing." —Nadine Connell, associate professor of criminology at the University of Texas at Dallas, after former Broward County Sheriff's deputy Scot Peterson was charged with criminal negligence in connection with the 2018 massacre at a Florida high school. (Read at The74Million.org)
"We're at a very, very difficult impasse." —Gov. Jim Justice (R) of West Virginia, who said he would sign a measure that recently passed the state senate that would make teacher strikes illegal. (Read at ThinkProgress)
"I made a judgment call — obviously there's a lot of hurt feelings that I have to repair with the deans." —Clark County Superintendent Jesus Jara, after his call to eliminate all 170 deans from the district's middle and high schools triggered a unanimous vote of no-confidence from the schools' principals. (Read at the Las Vegas Review-Journal)
"Even though you might be scared, you never turn down a story, and it taught me you never know what's going to happen." —Amelia Poor, 13, one of 45 students who form the Scholastic News Kids Press Corps that writes for Scholastic's classroom magazine. Despite her fear of canines, she successfully covered a recent Westminster Dog Show. (Read at The74Million.org)
Support The 74's year-end campaign. Make a tax-exempt donation now.