These Kid Reporters at Scholastic Interview National and Global Leaders. Answering Their Questions This Week: Education Activist Ziauddin Yousafzai, Father of Malala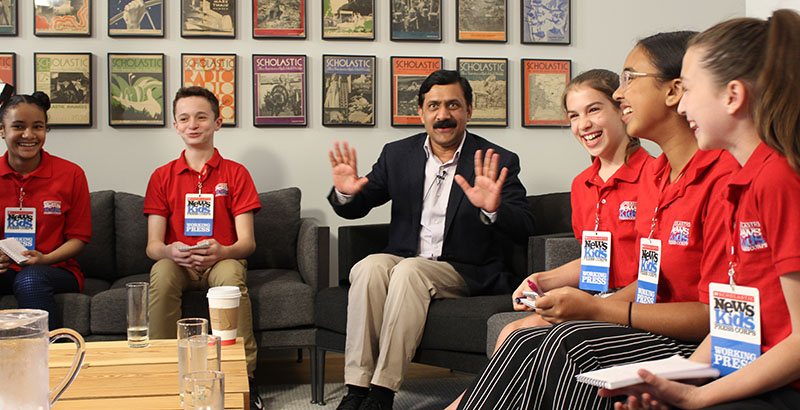 New York City
On a Tuesday afternoon after school, most students might be headed to soccer or band practice. But five New York City-area kids donned bright red polo shirts and press badges and headed off to interview Ziauddin Yousafzai, an education activist and the father of Nobel Peace Prize laureate Malala Yousafzai.
Sitting under bright lights and cameras at Scholastic's headquarters in Manhattan, these 12-, 13-, and 14-year-olds clutched their notebooks and nervously twisted their pens as they waited for Yousafzai to arrive. These five were members of Scholastic News Kids Press Corps, a group of 45 students across the U.S. and the globe who follow presidents on the campaign trail; interview authors, athletes and actors; and write stories that appear online and in Scholastic's classroom magazine.
The students were nervous but prepared. When Yousafzai entered the room, they jumped up from the couch and shook his hand. Over the weekend, they'd read Yousafzai's book, Let Her Fly, his memoir about growing up in a tiny village in Pakistan where he transformed from a privileged son among five sisters into an activist for gender equality, girls' education and human rights.
Sitting up straight, the students took turns carefully reading their questions for Yousafzai from their notebooks:
"What would you tell young boys and girls to encourage them to respect women?" Marley Alburez, 13, asked.
"What made you question mistreatment of Pakistani women even though you grew up in a patriarchal society?" said Josh Stiefel, 13.
"What role does education play in helping to achieve gender equality?" questioned Sunaya DasGupta Mueller, 14.
Yousafzai answered each student's question, smiling and leaning forward in his chair, occasionally apologizing for how long he spoke.
"Quality education is the most powerful equalizer," he said. "I think that education, if it does not teach us equality, there must be something wrong with its quality. It makes our inner beings fair, just and beautiful."
Yousafzai and his daughter, Malala, have been activists for gender equality, speaking out when the Taliban took over their home in the Swat Valley and forbade girls from attending school. That activism made Malala a target for the Taliban. In 2012, a masked gunman boarded her school bus, asked, "Who is Malala?" and shot her in the left side of the head.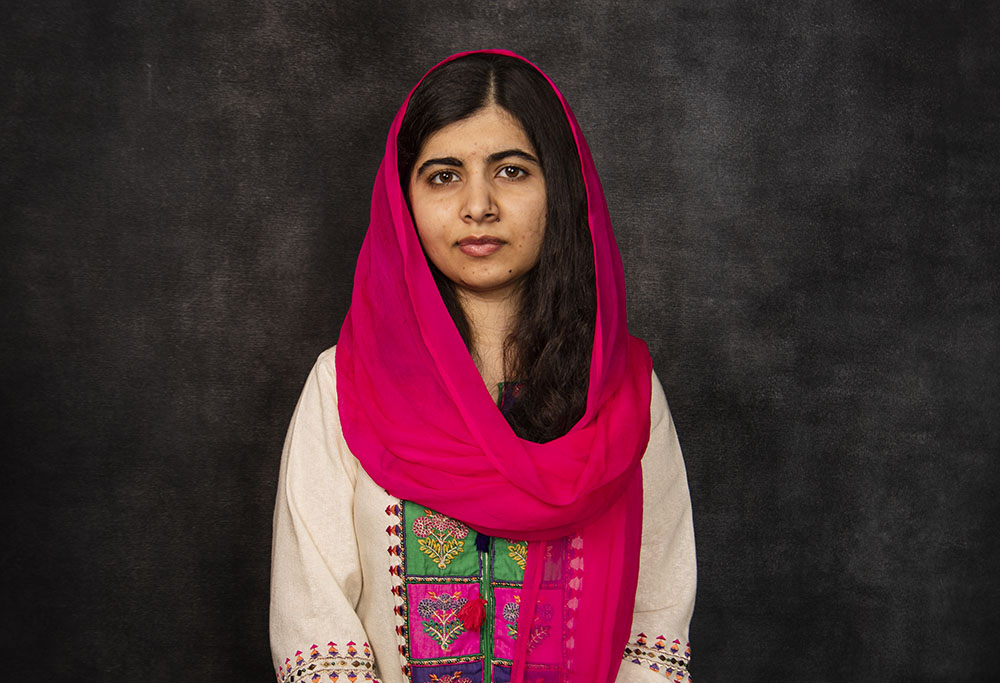 After her recovery in England, her family was empowered to continue their work: they started the Malala Fund, which advocates for girls around the world to receive a quality education, especially in Afghanistan, Pakistan, Brazil, India, Nigeria and the Syria region. In 2014, at the age of 17, Malala became the youngest person to win the Nobel Peace Prize.
As Malala and her father often say, she used to be an advocate for 50,000 girls in the Swat Valley. Now, she's the voice of 130 million who don't have access to school.
"What is your advice for parents who want to empower their children?" Amelia Poor, 13, asked.
Yousafzai's new book details what it's like to be a father and endure the Taliban's attack on his child. Many people ask him what he did to raise a daughter like Malala.
"I will say, they should believe in their children," Yousafzai responded. "Because if parents don't believe in their children, who will believe in them?"
The students thanked him for his time. One of them, Alburez, leaned over and told Yousafzai that she had met Malala, when she got to interview her for another story.
"I think the question-and-answer we had in one hour, she would have answered in 15 minutes," he joked.
Becoming a kid reporter
In 2000, the kids press corps at Scholastic was created to follow the presidential campaign. Presidential elections were teachable moments for students, but the editors at Scholastic thought kids would be more engaged if they read about them from a peer's perspective rather than an adult's.
Applications open every year for new reporters to join this press corps, which includes students ages 10 to 14. The students are selected based on writing and interviewing skills as well as attention to detail. Editor Suzanne McCabe helps train the students, holding practice phone interviews, giving tips on asking short, pointed questions and editing their stories. Some students write nearly a dozen stories a year, pitching their own ideas and being assigned to cover others. All of the stories appear online, and some make it into Scholastic's classroom magazines, which reach 25 million students.
"The world is their classroom," McCabe said. "They go from shy, not very self-confident kids sometimes or kids who think adults are in a different realm … and they realize their voice carries a lot of power and they're representing their generation."
The students said they love working with McCabe and that even though it can be hard to take criticism, they feel as if they're growing as writers and speakers. When they first started, they might have exchanged multiple emails with McCabe for edits, but now they only have to send a few.
"Working with an editor is like you're climbing a mountain but you have a safety belt on your harness," Alburez explained.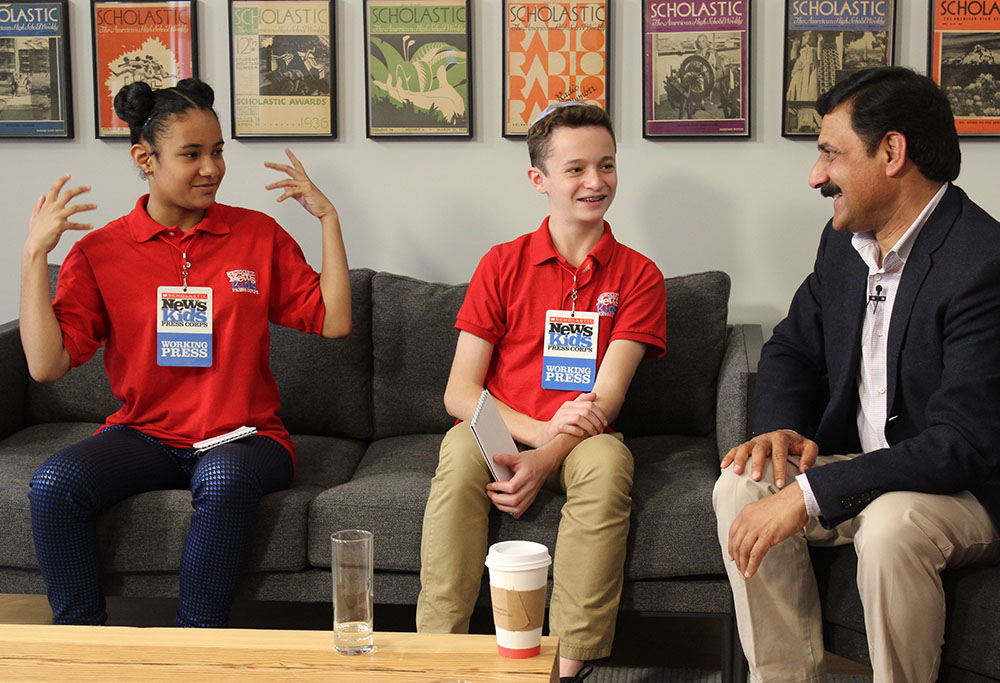 Poor wants to be a political journalist or politician, and she often pitches stories based on the news she sees on TV. She's interviewed Georgia Democrat Stacey Abrams, the first black woman to be nominated by a major party to run for governor, and Jahana Hayes, the 2016 Teacher of the Year from Connecticut who went on to to win a seat in Congress. But Poor has also grown in areas she's not as comfortable. Like, dogs.
When McCabe suggested that Poor cover the Westminster Dog Show, Poor didn't want to tell McCabe that she was afraid of dogs. But when she attended, she found herself enjoying it, walking around Madison Square Garden with her microphone and interviewing the handlers and their competitive canines, even striking up the courage to pet a few.
"Even though you might be scared, you never turn down a story, and it taught me you never know what's going to happen," Poor said. But she's still scared of dogs.
'News for kids, by kids'
Even though they are still at the age where their parents need to drive them to interviews, the student reporters said the adults they talk to are welcoming and eager to answer their questions.
They can also go places other kids can't go. Stiefel got to attend the New York Toy Fair in February, an event that was open to retailers and press but not children. While he was there to interview people about the new toys, he found himself being sought out by many of the adults in the room.
"Everyone at the toy fair wanted to talk to me to see what I thought about their toys because I was really the only person in the room who was qualified to talk about it," he said.
As members of the youngest generation, the students said, they can bring a unique perspective to their news coverage. Liset Zacker, 12, recalled how her dad often marvels at how different her and her peers' thinking is from adults'.
"My dad said one time, 'Adults always kind of see the entire picture, and kids skip all the tiny details and go straight to the point,'" Zacker said.
Showing their peers that kids can write stories about important events is also empowering, whether it's an article about a political rally or a sporting event.
"Kids are the future, and I feel like that's why it's important for me and for us to share stories of people around the world who are doing really great things," said DasGupta Mueller. "That is hopefully going to inspire kids."
Get stories like these delivered straight to your inbox. Sign up for The 74 Newsletter