Williams: Kamala Harris's $315B Teacher Pay Raise Has Merit, but Is It the Best Way to Improve Education for Poor Kids?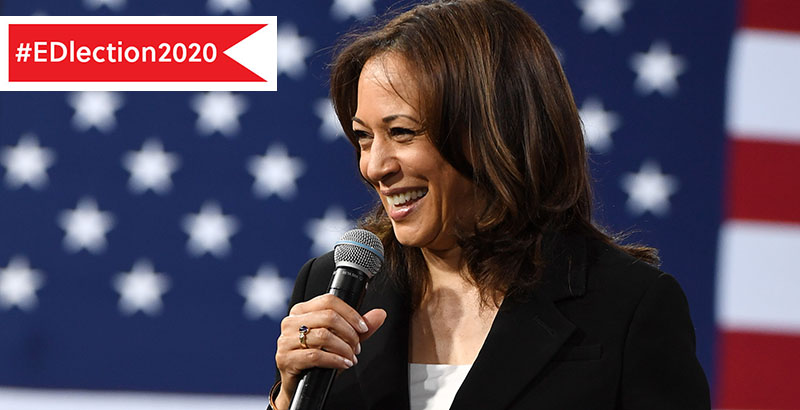 Updated May 7
What's the promise of the American Dream? If you work hard and follow the rules, you'll get access to a life of relative dignity, stability and self-determination. You'll have some say in where you work, what you do and how you spend your time. You'll have a relatively wide path to the basic goods of middle-class life: safe and affordable housing, health care and retirement.
Has the country always delivered those things? No. Has it ever delivered them equitably to people of all races, ethnicities and genders? Again, no. But they are still our ideals, the basic pieces of our national story. An America that isn't working on expanding more opportunities for more people to work and earn better lives isn't an America worthy of its history and creed.
If we recognize mobility as the United States' dominant public narrative, and inequality as the United States' great public problem, then it's clear that teachers sit at the center of American mythology. It's why they occupy a special place in our public discourse, and why, in PDK's most recent version of its annual public education poll, two-thirds of Americans agreed that teachers are underpaid.
Presidential candidate Sen. Kamala Harris agrees. The California Democrat announced a proposal at the end of March to raise average teacher pay by $13,500, at a total cost of $315 billion in additional federal spending over a decade. This would be new federal education spending, paid for, according to her campaign website, "by strengthening the estate tax and cracking down on loopholes that let the very wealthiest, with estates worth multiple millions or billions of dollars, avoid paying their fair share."
"Let's look at it as an investment," Harris said. "We can judge a society, I think, always, by the way it treats its children. And one of the greatest expressions of love of our children is that we invest in their education. The people who are going to educate our children are our teachers. And for too long, they have been paid substandard wages and certainly not been paid their value to us as a society and to our children."
Much of the coverage of Harris's teacher pay proposal focused on politics. Was it a giveaway to a key Democratic constituency that would help raise the senator's profile in the crowded 2020 Democratic presidential primaries? Sure. It's no accident that Harris anchored a swing through Michigan yesterday with school visits and an address to the local American Federation of Teachers chapter where she told members, "We are not paying you your value."
But it's also a policy that could meaningfully shift the labor market around teaching. If teachers become one of the better-paid positions for college graduates, that could boost the profession's relative appeal for young credentialed workers. That could help schools and districts attract and retain ambitious, talented new teachers.
The idea, according to Harris's campaign, is that increased pay will reduce teacher turnover. Research generally supports that position. Given that teacher turnover has been linked to lower student achievement, it's fair to use it as a proxy variable: increase teacher pay, which reduces teacher turnover, which — in turn — raises student achievement.
There are caveats, of course. First: Teacher attrition is not currently a comprehensive problem in the United States. As Bellwether Education Partners' Chad Aldeman noted in a 2018 article, "The public education sector has far less employee churn than practically all other sectors of our economy."
Second, not all teacher turnover is created equal. Research has suggested that systems that encourage less-effective teachers to leave the classroom — and reward more-effective teachers — can improve student achievement, even if they increase turnover. This was certainly the case in Washington, D.C., where a citywide focus on raising teacher quality appears to have driven gains in student achievement. However, there is some evidence that turnover is a more significant challenge for schools enrolling high percentages of historically underserved students. To that end, Harris's plan does include a promise to provide additional funding to "America's high-need schools."
Paying American teachers better is a good thing — a Very Good Thing — particularly in a moment when middle-class frustration with inequality and wage stagnation is one of the country's most powerful political currents. And yet, if the cost of Harris's proposal stays steady at about $31 billion per year, that's a lot of new education spending that isn't going to other possible programs. That would be enough, for instance, to fund the Obama administration's proposal for expanding universal access to pre-K (with billions to spare). We could expand the Child Tax Credit and reduce child poverty by 13.2 percent. It would be just about enough to fully fund the Every Student Succeeds Act's Title I program — the federal government's core investment in K-12 educational equity.
Each of these programs is backed by significant research. Studies frequently show that early education investments, including the federal Head Start program, are some of the most effective ways to close achievement gaps and support better outcomes for historically underserved children. Researchers have also found that boosting family income in children's early years drives better developmental and academic outcomes. The research on expanding Title I funding to high-poverty schools is not as clear, but there is reason to believe that it would improve the program's effectiveness.
So: Should we give the country's teachers a raise? Maybe. Policymaking is the science of codifying our priorities into law. Politics is the art of weighing them. Do we care more about supporting working families with universal early education programs like child care and pre-K … or about shoring up the teaching profession's wages? Or maybe we should prioritize and pay for both of those things … but bail on funding free college for all? Or maybe we slightly increase Title I funding for schools serving large numbers of low-income students and only raise teacher pay for hard-to-staff positions like bilingual or STEM teachers?
These questions won't answer themselves. Trouble is (as I've noted before), when it comes to presidential campaigns, our national habit is to leave education out. At present, Harris's teacher pay proposal is the most substantive K-12 policy idea from the 2020 candidates. It would be good for us — and the country — to hear some alternative options from her competitors, and work out whether it's the best one.
Support The 74's year-end campaign. Make a tax-exempt donation now.