Turning Four This Month, the Every Student Succeeds Act Is Hailed as a Victory for State Control of Education Policy. And, Critics Say, That's Part of the Problem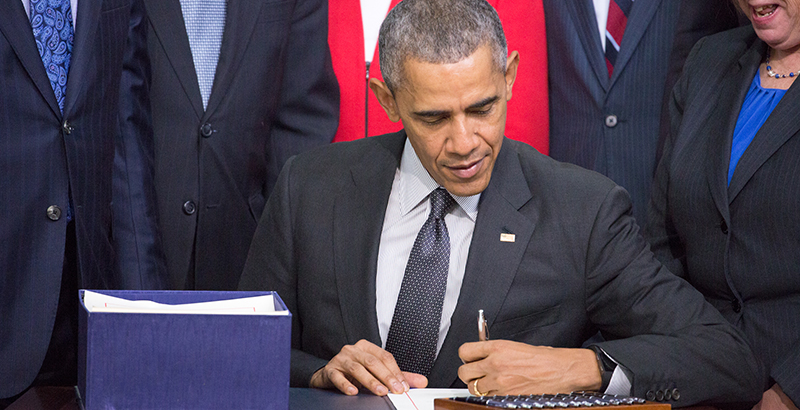 When the Every Student Succeeds Act became law four years ago, it was hailed as a bipartisan example of reasoned policymaking, successfully threading the needle between protecting students' civil rights and giving states a greater hand in overseeing schools.
Though the bipartisan sheen has long since worn off, an important and deceptively simple question remains: Is ESSA working? As with so many large-scale federal policies, the answer, well, depends.
"If your main priority under ESSA was to empower states to make decisions, I think you would say yes, ESSA is working," said Anne Hyslop, assistant director of policy development and government relations at the Alliance for Excellent Education, an advocacy group dedicated to improving outcomes for underserved students.
But for those who instead elevate the law's much-vaunted civil rights guardrails, "I think the answer would be no, it is not working. That just shows what you prioritize in terms of what the law was doing," she said.
Hyslop, who worked for the Obama Education Department to help write ESSA regulations, and other education advocates raised particular concerns about how states are measuring the success of long-underserved groups of students, such as children of color and those with disabilities; how that information is being used to identify schools in need of improvement; and how they're sharing data about schools through report cards.
But not everyone is pessimistic about ESSA implementation.
Kristen Carr is senior program director for student expectations at the Council of Chief State School Officers, which represents the state education secretaries responsible for writing and implementing ESSA plans.
Among state successes, she cited stakeholder engagement — input from teachers unions, civil rights groups, parents and others — even beyond the level required by law, and innovative report cards designed to get more usable data to parents. States are also using creative new indicators, like chronic absenteeism or career-readiness tests, to measure schools' success.
"There's a lot still to see, but there's a lot of work that's gone on so far, and states are showing commitment to do the best thing for the students," she said.
In Louisiana, among the furthest along in implementing its plan, which received high ratings from independent reviewers, state chief John White was cautiously optimistic about implementation.
"I don't want to say that something that really should be viewed as a very, very long-term project [is done], like we can plant a flag and declare victory. But I do think there are early signs that our plans are having a positive effect," White, the state superintendent of education, told The 74.
Louisiana rates schools on a 150-point scale. Among the schools identified for comprehensive support and intervention under ESSA, 36 percent gained at least three points in one school year; among other schools, only 29 percent made such a gain. Furthermore, a greater percentage of those struggling schools than their non-identified counterparts improved a full letter grade on the states' A-F scale, 20 percent versus 15 percent.
But there's still much work to do, he said, noting, for instance, that although schools have widely adopted rigorous curricula, implementation has been spotty as teachers get up to speed.
State leaders also praised the law for pushing them to improve schools in other ways.
Both White and Molly Spearman, the South Carolina state superintendent of education, said they've been able to dramatically streamline the federal grant applications that districts must submit to states. South Carolina is also likely to take advantage of the law's innovative assessment pilot that will allow them to reduce the number of tests students must take.
Though some states may have done well so far, implementation has been uneven, advocates said — a consequence of a law that gave local leaders greater responsibility. The upshot is that kids in struggling schools are more likely to see state attention in some states than others.
For example, the law requires states to identify for "comprehensive support" at least the bottom 5 percent of Title I schools, and high schools where fewer than two-thirds of students graduate. But the proportion of schools in a state identified for comprehensive support has varied from 3 to 99 percent, said Terra Wallin, associate director for P-12 accountability and special projects at The Education Trust, an advocacy group focused on closing achievement gaps.
"What we're seeing in practice is there are lots of places where we aren't identifying, [and] we don't have enough information about the interventions or the outcomes that we're getting, even when those schools are identified," said Wallin, who helped develop ESSA accountability and school improvement rules at the Education Department during the Obama administration.
Sometimes those comprehensive ratings take into account only the performance of all students, obscuring schools that get low results for the long-marginalized groups the law was meant to protect, Hyslop said.
The bottom 5 percent benchmark has meant that in some states, a school can get a D or F rating but not be targeted to receive support under ESSA, said Lindsay Dworkin, director of policy and state government relations at the Alliance for Excellent Education.
In other places, limiting support to just the lowest-performing schools means most of those targeted are in the same cities and school districts.
In Maryland, 38 of the 43 schools identified for comprehensive support last year were in Baltimore City Schools, and the five identified in other districts are there because of low graduation rates. And in Michigan, more than half of the 128 comprehensive support schools are in the Detroit area, including 55 Detroit public schools, and another 17, mostly charters, are also in Wayne County.
"Is it OK with us that on accountability, we have hugely varying results across states? Or, if the purpose of this law is really to provide civil rights guardrails … do we need there to be a bigger push across all states?" Dworkin, also an Obama Education Department alumna, asked.
But the spread may get too big, too.
In South Carolina, officials said the state has identified about half of its schools under ESSA's various required interventions, a number that may simply be too large to provide adequate support to districts as they work on turnaround efforts.
"This is not just a quick fix. We want to be intentional with how we're supporting these schools so they can build these systems" and keep them in place going forward, said Deputy Superintendent John Payne.
Many of these worries aren't dissimilar from those that advocates raised in spring 2017, as the first states began turning in their plans for federal approval, and from criticisms that congressional Democrats have raised in various forums in the years since.
Ultimately, White, the Louisiana chief, sees implementation in pretty simple terms.
"The accountability systems are required, and the spending plans are required, and those tools were given to states by Congress for a reason, and that was to use them," he said.
States shouldn't be giving money to districts whose plans don't meet the mark, nor should those schools get a high rating, White said. "I think it's pretty much as simple as that."
Concerns about report cards, special populations
The Data Quality Campaign looked at states' report cards and found many easy to find via internet search and simple to use with different types of technology, like cell phones, said Jenn Bell-Ellwanger, the group's president and CEO.
But there are holes.
Forty-one states were missing information on at least one required subgroup as of April 2019; the most egregious didn't break down results by gender, a data reporting requirement that's existed for decades. Only 15 states translated report cards into languages other than English, but fluent speakers weren't much better off, with report cards written at a postsecondary level that's difficult for many to understand.
"States did work to improve their report cards … but this is definitely a work in progress. We saw that states struggled in how they ensure they are painting [a complete picture of] the full needs of every child," said Bell-Ellwanger, who served in the Education Department during the Obama and Trump administrations.
One unique element of ESSA was its requirement to disclose the performance of children in new categories, including those who are homeless or in foster care and those whose parents are in the military. It also set new rules requiring states to try to keep students in foster care in the same school, even as they move among families.
The work to report on and protect these new populations has been slow going overall, advocates said.
Many districts — including New York City, the country's largest — aren't meeting deadlines to report on the performance of children in foster care. And the nonpartisan Government Accountability Office found that many states are having trouble meeting the requirement to keep students in foster care in the same school, due to staff turnover in school districts and child welfare agencies, and concerns about the cost of transporting students across districts.
To those in the Washington education policy bubble, it may feel as if the law has been on the books for years, but full implementation is largely just beginning in the states, Wallin said.
And that means the question of whether it is working will likely remain up in the air for years, Dworkin said. Some states will only evaluate the outcomes of schools in need of support after three years. That means no results until the 2021-22 school year, a full seven years after ESSA's passage.
"We almost don't know the answer to the most important question on ESSA, which is: Are struggling kids going to do better?" Dworkin said. "Those answers are still years away."
Get stories like these delivered straight to your inbox. Sign up for The 74 Newsletter