Brett Kavanaugh, Son of D.C. Teacher, Nominated for Supreme Court; Has Praised Efforts to Allow Religious Schools' Participation in Publicly Funded Programs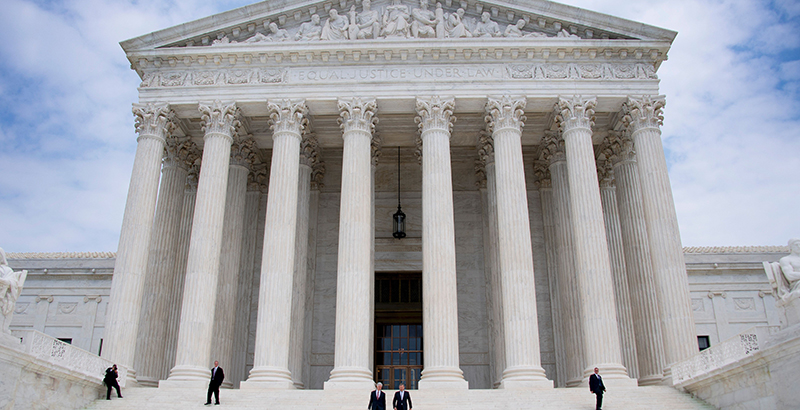 Updated
After much waiting and Twitter speculation, President Trump announced on live television Monday night that he is nominating conservative D.C. Appeals Court Judge Brett Kavanaugh to fill the Supreme Court seat vacated by retiring Justice Anthony Kennedy.
With only one school district under the D.C. Circuit's jurisdiction, District of Columbia Public Schools, Kavanaugh's record on school-related cases is relatively thin, particularly when compared to the others rumored to have been on the short list of possible nominees.
A D.C.-area native, Kavanaugh's mother was "a white schoolteacher in the city's predominantly black high schools in the late 1960s and early '70s," the Washington Examiner reported in 2006.
She taught history at "two largely African-American" high schools, McKinley Tech and H.D. Woodson, before going to law school and eventually becoming a judge in Maryland, Kavanaugh said Monday night. "Her example taught me the importance of equality for all Americans," he said.
Kavanaugh attended Catholic schools in suburban D.C. including, like current justice Neil Gorsuch, Georgetown Preparatory School.
"The motto of my Jesuit high school was 'Men for Others,' " he said.
He comes with Ivy League credentials, having graduated from both Yale University and Yale Law School. Kavanaugh said he was hired as a professor at Harvard Law School by liberal Supreme Court Justice Elena Kagan.
Kavanaugh and his wife, Ashley, have two school-age daughters, Margaret and Liza. They live in Maryland. Kavanaugh described himself as being part of a vibrant D.C. Catholic community and said the priest he once served as an altar boy 40 years ago was in the audience and that the two now serve meals together to the homeless through Catholic Charities.
Kavanaugh was nominated to the U.S. District Court for the District of Columbia in 2003 by President George W. Bush, after working on Bush's 2000 presidential campaign and in the Bush White House. He also previously worked for Kenneth Starr in his investigation of President Bill Clinton. Kavanaugh's nomination was held up for years over Democrats' accusations that he would be too partisan. He also clerked for Kennedy.
The Supreme Court in the past three years has taken up several education cases.
Justices ruled in 2017 that students with special needs are entitled to a more rigorous education, and, perhaps most notably, the court less than two weeks ago ruled that dissenting public employees, including teachers, could not be forced to pay union dues to cover the costs of activities from which they also benefit, like collective bargaining. Kagan wrote the dissent in the Janus dues case. (Read more: Divided Supreme Court Ends Mandatory Dues and — in Further Blow to Unions — Rules Members Must Opt In)
Last year, the court ruled that churches can't be excluded from public programs because they are religiously affiliated. The latter issue surrounded what's known as a "Blaine Amendment," a provision in many state constitutions barring public funding for religious education.
The clauses have been at the center of several funding lawsuits regarding state vouchers and education savings account programs, and the high court ordered the New Mexico Supreme Court to reconsider its decision barring religious schools from a state textbook lending program based on its Blaine Amendment. Catholic and other religious schools are among the strongest supporters of state-level voucher and education savings account programs, which can help low-income families and others cover the cost of tuition.
Kavanaugh wrote an essay praising former Chief Justice William Rehnquist's efforts to turn back the staunch wall of separation between church and state.
Rehnquist wasn't able to expand the role of prayer in public school but "had much more success in ensuring that religious schools and institutions could participate as equals in society and in state benefits programs, receiving funding or benefits from the state so long as the funding was pursuant to a neutral program that, among other things, included religious and nonreligious institutions alike."
Without that string of cases, Kavanaugh wrote, the 2017 Trinity Lutheran ruling that said a church-affiliated preschool in Missouri could not be excluded from a state program for resurfacing playgrounds wouldn't be possible.
Kavanaugh's own most notable actions on school-related issues came before he took to the bench.
In 2000, Kavanaugh wrote an amicus brief on behalf of a congressman arguing that student-led prayer should be permitted at school-scheduled events through the public address system; the Supreme Court eventually ruled that it violated the First Amendment.
He also was among a team of attorneys that defended Florida Gov. Jeb Bush in a lawsuit that challenged that state's voucher program in 2000. Kavanaugh's ties to the Bush family were said to be a drawback to his nomination in the eyes of Trump, who ran against Jeb Bush in 2016.
Kavanaugh is a "judge's judge," Trump said Monday evening, adding that he is "universally regarded as one of the sharpest and finest legal minds of our times." Kavanaugh coaches youth basketball — his daughters' teams — and tutors children at local elementary schools, Trump added.
One of those schools, according to the D.C. Court of Appeals's website, was Washington Jesuit Academy, an extended day, extended year middle school for low-income boys in the D.C. area that helps them get to the city's top prep schools.
Progressive groups immediately blasted the nomination, and protesters rallied outside the Supreme Court. Kennedy has been the swing vote on the court in cases involving affirmative action, marriage equality, and abortion.
Senate Majority Leader Mitch McConnell said earlier he was confident the Senate would confirm the president's nominee, though the calculus is tight. Republicans have just 50 votes while Arizona Sen. John McCain remains ill with a brain tumor. Some more moderate Republicans could vote against the judge, while Trump and Republicans have courted Democrats up for re-election in conservative states that the president carried in 2016 and who could support the nominee.
Support The 74's year-end campaign. Make a tax-exempt donation now.