Washington Jesuit Academy Leads Graduates from D.C.'s Toughest Neighborhoods to its Most Elite High Schools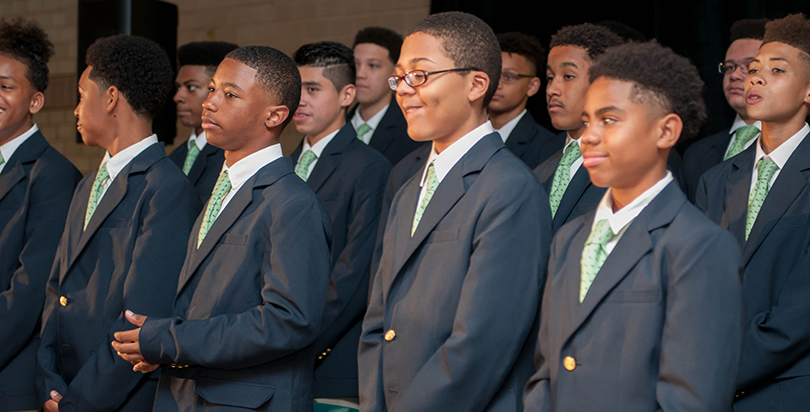 Washington, D.C.
Three or four dozen alumni have returned to their alma mater for graduation day — but it's not a beloved college or even an iconic hometown high school that has brought them back on this Wednesday evening just before Memorial Day.
The men have made the pilgrimage to their middle school, the Washington Jesuit Academy, to celebrate the graduating eighth-graders who are the class of 2016.
The 18 graduates sit on stage in front of their beaming families, fidgeting a little in their matching khaki pants, slightly baggy blue blazers, green ties and very-early-stage mustaches.
The boys will join a fraternity of "men for others" who work hard and care for those who need help, school founder Bill Whitaker tells them and the audience.
"Everyone here is family. It's real. It's deep," he said.
The Catholic school where Mass is said and religion taught is housed in what was once the site of the National Children's Museum. It educates young men from the toughest neighborhoods in Washington, D.C. and Prince George's County, Maryland, in fifth through eighth grade. The boys attend the academy 11 hours a day, 11 months a year, and upon graduation enroll in the city's top private and parochial high schools. Ninety-nine percent are either enrolled in or have graduated from high school. Three-quarters go on to college.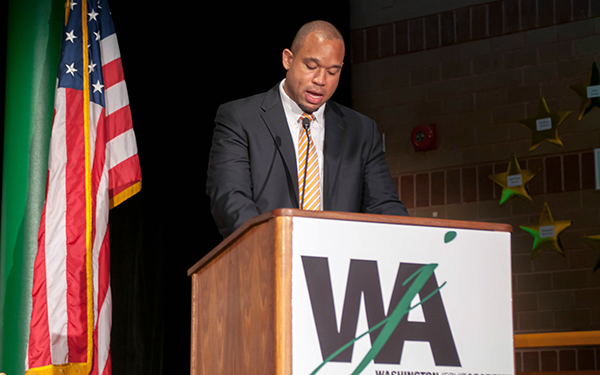 Demetrius McNeil, class of 2008, is one of the alumni who have returned for the graduation ceremony.
"WJA is my bridge to a brighter future," he said ahead of the festivities. McNeil, currently a sophomore at Le Moyne College in Syracuse, New York, has a pretty typical story among the graduates.
He knew of the school because his nephew attended, and "as a young kid in a challenging neighborhood, I wanted that structure," he said. The rigorous schedule was tough at first, but "literally after your first month here, you're like, 'OK, I kind of like this place.'"
This year's graduation speaker was
Reggie Love,
who in his mid-20s became the "body man" for then-Sen. Barack Obama and served in the White House until 2011. Love told the graduates to have patience and persistence in their future endeavors. A string of big names have addressed the middle school since its first class graduated in 2005. Most, like Love and the WJA students, are African-American men: then-Attorney General Eric Holder, Supreme Court Justice Clarence Thomas and, according to school staff the most popular of the speakers, NFL commentator James Brown.
As Headmaster Marcus Washington presents the diplomas, he says something about each young man, including which of the school's faculty the student identified as particularly pivotal to his growth. He also says where they're heading to high school: Gonzaga College High School, Georgetown Prep, The Field School, Sidwell Friends, where, yes, Sasha and Malia Obama are students.
The boys, who earned a cumulative $300,000 in scholarships for their freshman year, likely wouldn't have had a chance to attend these elite institutions without WJA.
More than half of the students have experienced some sort of trauma — death or incarceration of a parent, homelessness, neighborhood violence, crushing poverty, said school social worker Brittany Livingston. Even getting to school by 7:30 in the morning is a testament to their mettle, she said.
At first, the boys aren't enthused about the school's long hours, rigorous expectations, or lack of female classmates. Eventually, though, they get why they're here, and end up thinking of the school as a second home, Livingston said.
They're all boys of color, 85 percent black and 15 percent Hispanic. Over half come to the school at least a grade level behind.
And they certainly don't come from the same backgrounds as their future high school peers: 77 percent qualify for free or reduced-priced lunch, the federal measure of student poverty. WJA families' average yearly income is $29,000 for a family of four, vs. $88,000 in D.C., according to donor materials. Twenty-four families in the roughly 95-student school have an annual income under $12,000.
Parents have to pay a $300 activity fee for the year, but otherwise tuition, including three meals a day, is covered by general philanthropy and "sponsors" who fund each student's $18,000 yearly tuition.
Whitaker, the school's founder, previously worked at Gonzaga College High School, a nearly 200-year-old D.C. Catholic D.C. institution that has graduated generals, congressmen, a Pulitzer Prize winner, a NASA astronaut, and at least two presidential candidates, Pat Buchanan and Martin O'Malley.
A new school, focused on the tough but pivotal middle school years, had to provide a safe haven against the "tentacles of poverty" that reach deep, through multiple generations, in parts of D.C., Whitaker said. Giving more scholarships at any of the existing Catholic middle schools wasn't enough.
The boys overcome circumstances that would break adults, and the transformations are incredible, said John Scheibel, who teaches sixth-grade social studies and eighth-grade reading. Students in sixth grade who can barely read their history books can "crush" the classic "To Kill a Mockingbird" by eighth grade, dissecting it and thinking critically, he said.
The eighth grade class of 2015 was working at a tenth-grade level by graduation, according to the donor materials.
The students and alumni can see the difference the school's rigorous curriculum and caring faculty make in their lives, too.
"Without WJA, I can't imagine what my life would be like," said David Fitzpatrick-Woodson, an alumnus who just wrapped up his sophomore year at Syracuse University.
Fitzpatrick-Woodson came back to campus with his fraternity brother, roommate and fellow WJA alumnus Anthony Haynie III. It's good to see the new life at the school, they said, and how it has continued to improve since they left.
Haynie and Fitzpatrick-Woodson were friends in middle school but went to different high schools. They reconnected at football games and mixers for their all-boys' high schools and ended up rooming together at Syracuse, where Haynie is studying digital journalism and African-American studies, and Fitzpatrick-Woodson concentrates in writing and sports management.
Haynie's parents heard about the school from one of his elementary school teachers and thought the single-sex environment would be good for him — girls were already proving a distraction. The pre-teen Haynie, though, was far from enamored with WJA's long days and lack of girls. So far from enamored, in fact, that he tried to throw the interview. But school staff saw something in him and accepted him anyway, he said.
Derrick Aikens, one of the graduating eighth-graders, hopes to be successful like Haynie and the other alumni. Aikens said the best thing about WJA are the teachers, who he says challenge students but don't give up on them and make sure the boys have the skills they need to flourish. He's headed to Gonzaga next year and wants to play football and go to college to study engineering.
The ceremony concludes with a gift by the class of 2016 parents, a photo of the boys that will join the 11 others that hang in the cafeteria.
Kendrick Sanker, class of 2008, gives the benediction, welcoming the class of 2016 to the fraternity of WJA graduates.
In keeping with the school's Catholic tradition, he quotes 1 Timothy, chapter 4, verse 12: "Don't let anyone look down on you because you are young, but set an example for the believers in speech, in conduct, in love, in faith and in purity."
Support The 74's year-end campaign. Make a tax-exempt donation now.