The Week in COVID, Schools & Education Policy: California First State to Mandate Vaccine for Teachers, Pediatricians Urge Faster Vax Approval for Youngest Kids and More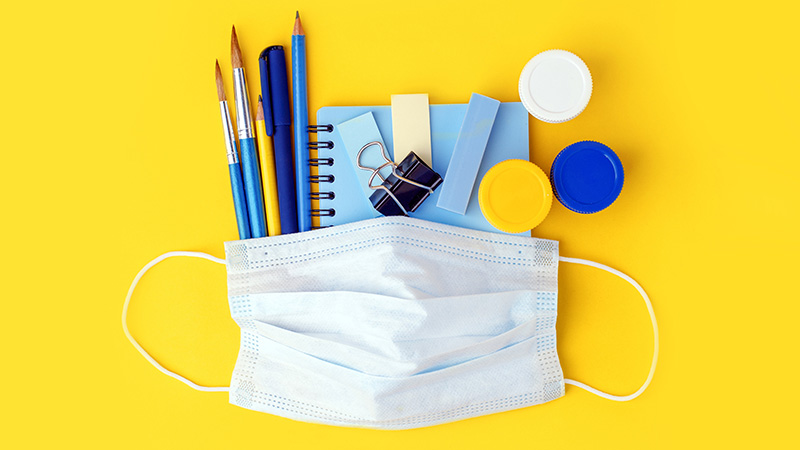 This is our weekly briefing on how the pandemic is shaping schools and education policy, vetted, as always, by AEI Visiting Fellow John Bailey. Click here to see the full archive. Get this weekly roundup, as well as rolling daily updates, delivered straight to your inbox — sign up for The 74 Newsletter.
State and National Leaders Call for Teacher Vaccine Mandates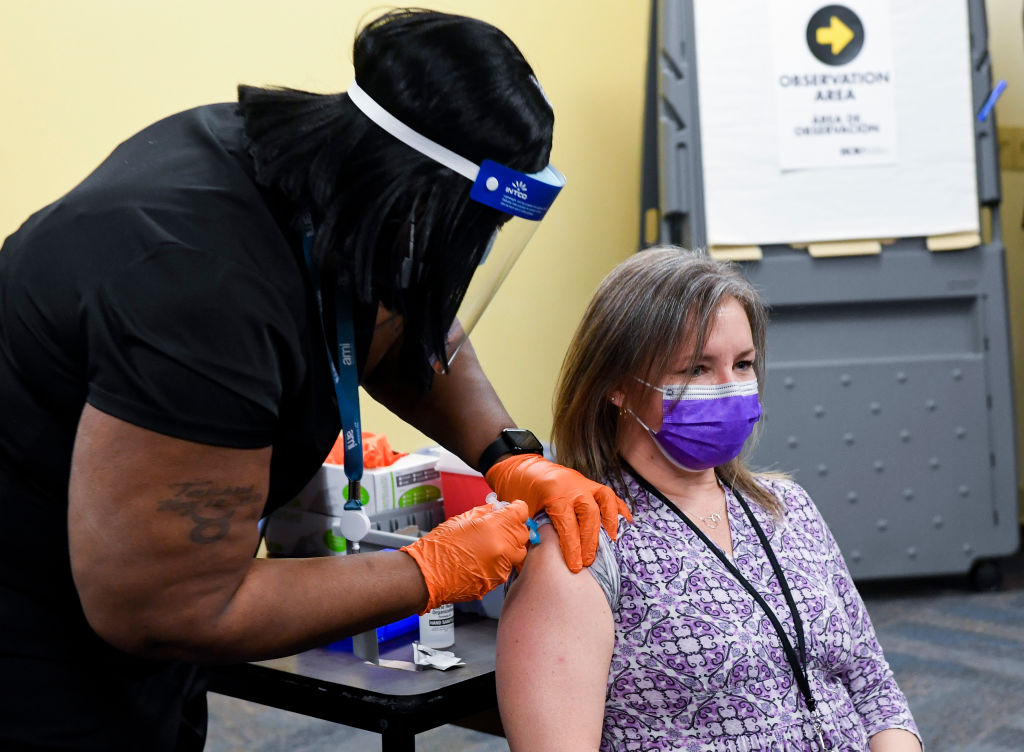 August 13, 2021 — The Big Three
Pediatricians tell the FDA to speed up approvals: A stunning letter from the American Academy of Pediatrics urges the Food and Drug Administration to accelerate the approval process for COVID-19 vaccines for children.
"In our view, the rise of the Delta variant changes the risk-benefit analysis for authorizing vaccines in children."
"The FDA should strongly consider authorizing these vaccines for children ages 5-11 years based on data from the initial enrolled cohort, which are already available, while continuing to follow safety data from the expanded cohort in the post-market setting. This approach would not slow down the time to authorization of these critically needed vaccines in the 5–11-year age group."
"Based on scientific data currently available on COVID-19 vaccines, as well as on 70 years of vaccinology knowledge in the pediatric population, the academy believes that clinical trials in these children can be safely conducted with a two-month safety follow-up for participants."
"Assuming that the two-month safety data does not raise any new safety concerns and that immunogenicity data are supportive of use, we believe that this is sufficient for authorization in this and any other age group. Waiting on a six-month follow-up will significantly hinder the ability to reduce the spread of the hyperinfectious COVID-19 Delta variant among this age group, since it would add four additional months before an authorization decision can be considered."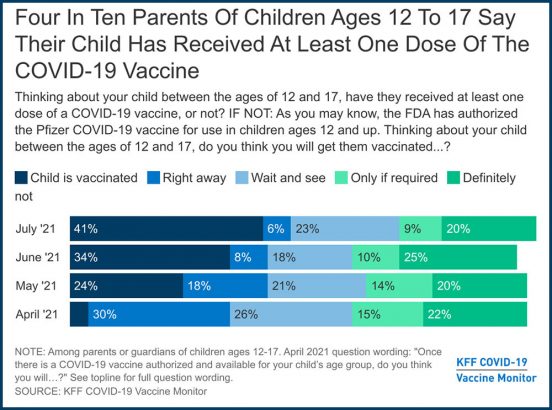 What Parents Think About Vaccines: Parents and the Pandemic report from the Kaiser Family Foundation reveals some important data about vaccination.
"Hispanic and Black parents are more likely than white parents to cite concerns that reflect access barriers to vaccination, including not being able to get the vaccine from a trusted place, believing they may have to pay an out-of-pocket cost or difficulty traveling to a vaccination site."
Parents support school mask mandates more than required vaccines.
Only 4 in 10 parents of children ages 12-17 say their teen's school provided information about COVID-19 vaccines for children or encouraged parents to get their children vaccinated.
"Twice as many parents whose school encouraged vaccination report that their child is vaccinated compared to those whose schools did not (62 percent versus 30 percent)."
50 State Reopening Plans: The Center on Reinventing Public Education reviewed the fall 2021 reopening guidance for all 50 states and Washington, D.C.
Its new 2021 state response database includes the most pressing indicators that state and local leaders are facing in reopening schools this fall: state policies on masking, vaccines, full in-person instruction, virtual learning options and continuity of learning plans.
Federal Updates
White House:
City & State News
Arizona: A teacher is suing a school district for implementing a mask mandate despite the governor's ban.
Arkansas:
Florida:
Illinois: Chicago Teachers Union says Delta variant opens door to potentially "pause in-person instruction." Among the issues still being negotiated:
Ventilation upgrades
A COVID-19 testing plan for vaccinated and unvaccinated members of school communities
Maintenance of criteria and health metrics based on COVID prevalence to pause in-person instruction
Full-time contact tracers, nurses, social workers and counselors in every school building
A comprehensive home visit program to engage students and families in every school
Kentucky: Gov. Andy Beshear issues school mask mandate.
New Jersey: Just 9 percent of Newark students met state math standards this spring, Chalkbeat reports. Only 11 percent of students met expectations in reading.
COVID-19 Research
Children and COVID-19: New State-Level Data Report from the American Academy of Pediatrics
4.2 million total child COVID-19 cases reported, and children represented 14.3 percent of all cases.
Among states reporting, children were 0.00-0.26 percent of all COVID-19 deaths, and seven states reported zero child deaths.
The Centers for Disease Control and Prevention Need to Stop Confusing the Public: Via Zeynep Tufekci in The New York Times.
"The CDC is still mired in the fog of pandemic, with too little data, collected too slowly, leaving it chasing epidemic waves and trying to make sense of information from other countries. Epidemics spread exponentially, so delayed responses make problems much worse."
"The Provincetown study was certainly useful. It provided one more example of how well the vaccines worked in preventing severe disease or worse, but also of the need to take Delta seriously: to expand vaccine mandates, speed up formal approval of vaccines, work hard at increasing vaccinations and urge the use of masks for everyone, especially in crowded, poorly ventilated indoor spaces in areas where infections are high and vaccinations are low."
"The Epidemic Intelligence Service unit of the CDC has a core principle that needs to remain at the forefront of everything the administration does: A pandemic is a communications emergency as much as it is a medical crisis. Effective communication is much more than choosing the right words. It needs a wholesale approach starting with clarity of purpose, a realistic assessment of where things are, including factors outside the agency's control, collection and presentation of detailed data when possible and an open acknowledgment of uncertainty and underlying reasoning when precautionary steps are being advised."
The mRNA Vaccines Are Extraordinary, but Novavax Is Even Better: Persistent hype around mRNA vaccine technology is distracting us from other ways to end the pandemic, Hilda Bastian writes in The Atlantic.
"The Novavax vaccine also has a substantially lower rate of side effects than the authorized mRNA vaccines. Last week's data showed that about 40 percent of people who receive Novavax report fatigue after the second dose, as compared with 65 percent for Moderna and more than 55 percent for Pfizer."
"Lower rates of adverse events are likely to be a bigger issue still for parents, when considering vaccination for their children."
CDC Strengthens Its Recommendation for Pregnant Woman to Get Vaccinated: New CDC study found no increased risk of miscarriage after COVID-19 vaccination during early pregnancy.
"COVID-19 vaccination is recommended for all people 12 years and older, including people who are pregnant, breastfeeding, trying to get pregnant now or might become pregnant in the future," according to the new guidance.
We Studied 1 Million Students. This Is What We Learned About Masking: A New York Times op-ed by Duke researchers Kanecia Zimmerman and Danny Benjamin Jr. has prompted a bit of debate.
"Although vaccination is the best way to prevent COVID-19, universal masking is a close second, and with masking in place, in-school learning is safe and more effective than remote instruction, regardless of community rates of infection."
"In conjunction with North Carolina, the ABC Science Collaborative collected data from more than 1 million students and staff members in the state's schools from March to June 2021."
"We believe this low rate of transmission occurred because of the mask-on-mask school environment: Both the infected person and the close contact wore masks."
But: David Zweig criticized the essay and study for failing to have a control group, casting doubts on the claims. Youyang Gu agrees with that criticism.
Made to Save: Made to Save is a national education and grassroots campaign working to save lives by increasing access to the COVID-19 vaccines. It has launched a bunch of great resources to help schools with vaccinations, including support for events:
6 Ways Schools Can Promote COVID-19 Vaccination: From COVID Collaborative and Public Health Communications Collaborative
Viewpoints
Opening Schools Should Be Priority No. 1: Argues Michael Bloomberg.
"Getting kids back in the classroom must be a societywide priority. We must turn the page on the last school year, when too many unions obstructed or slowed down school reopenings. America's children cannot afford a repeat of that harmful episode, and it's essential that teachers help lead the way."
"In other words: The time for excuses is over. After saying two weeks ago that the union would 'try to open up schools,' [American Federation of Teachers President Randi] Weingarten seemed to realize she misspoke — because trying isn't good enough. Last week, she said she was '1,000 percent committed to getting teachers and kids back in school.' That's good, and now we need union leaders to follow through on it."
How to Sell SEL: Parents and the Politics of Social-Emotional Learning: Report and parent survey from the Fordham Institute:
Parents overwhelmingly support teaching SEL-related skills in schools, but the term "social and emotional learning" is relatively unpopular.
Differences of opinion often break along partisan lines, but interestingly, differences by parents' race, class and religion are rarely as pronounced as differences by political affiliation.
The Kindergarten Exodus: As the pandemic took hold, more than 1 million children did not enroll in local schools, The New York Times reports.
How Should I Think About School & Child Care With Delta? Great post by Emily Oster.
…And on a Lighter Note
I Wish: That a side effect of the vaccine was the ability to dance like this.
Timeline cleanser.

Happy Saturday… pic.twitter.com/D0qeMhXUer

— Rex Chapman?? (@RexChapman) August 7, 2021
ICYMI @The74
Weekend Reads: In case you missed them, our top five stories of the week:
Disclosure: John Bailey is an adviser to the Walton Family Foundation, which provides financial support to The 74.
Support The 74's year-end campaign. Make a tax-exempt donation now.