At Space Center Houston 'Awe and Wonder' are Keeping Kids Connected to STEM Education After Pandemic Stifled Hands-On Learning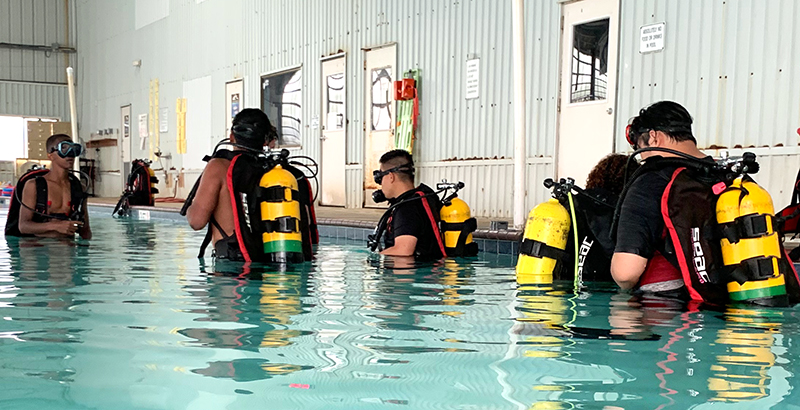 Support The 74's year-end campaign. Make a tax-exempt donation now.
Gabrielle Maximos doesn't want to be an astronaut; she wants to be an obstetrician. But that doesn't mean she's any less excited to be steering an underwater drone to simulate an uncrewed mission in zero-gravity.
"(Space) is an interest that most people enjoy," Maximos said, "Everybody has a little curiosity in it whether it's a little bit or a lot."
Maximos, 14, along with a couple dozen other high school students, spent one Thursday in August at the Williams Indoor Pool, tucked in a cozy neighborhood just a few miles from Space Center Houston, the official visitor center of NASA Johnson Space Center. It's the same pool where the last two classes of NASA astronauts have obtained their SCUBA licensing, a mandatory component of astronaut training.
During their day at the pool, Maximos and her classmates at the weeklong Space Center U® program completed challenges in engineering and robotics, working in teams inside and outside the pool. Experts say these skills, and the love of STEM, are best developed in hands-on environments so many students went without last school year when remote learning, COVID-19 protocols, and truncated curricula made labs and field trips impossible.
"There were so few positive experiences," said Daniel Newmyer, vice president of education for Space Center Houston. Teachers did what they could, but he knows they too were frustrated by the limitations. Space Center Houston is committed to helping students reignite their love of science, and to fan the flames of those, like Maximos, who have their sights set on all kinds of STEM fields. "These informal learning opportunities activate, or in this case reactivate, learning in the classroom."
Informal learning abounds at Space Center Houston. The hands-on museum is open for field trips, families. Explorer Camps for younger students ran throughout the summer, and Space Center U®, for children 11-18, runs year round. Science clubs and school groups from around the world make up most of their school year attendance. Individuals like Maximos can join sessions as well, as their schedule permits.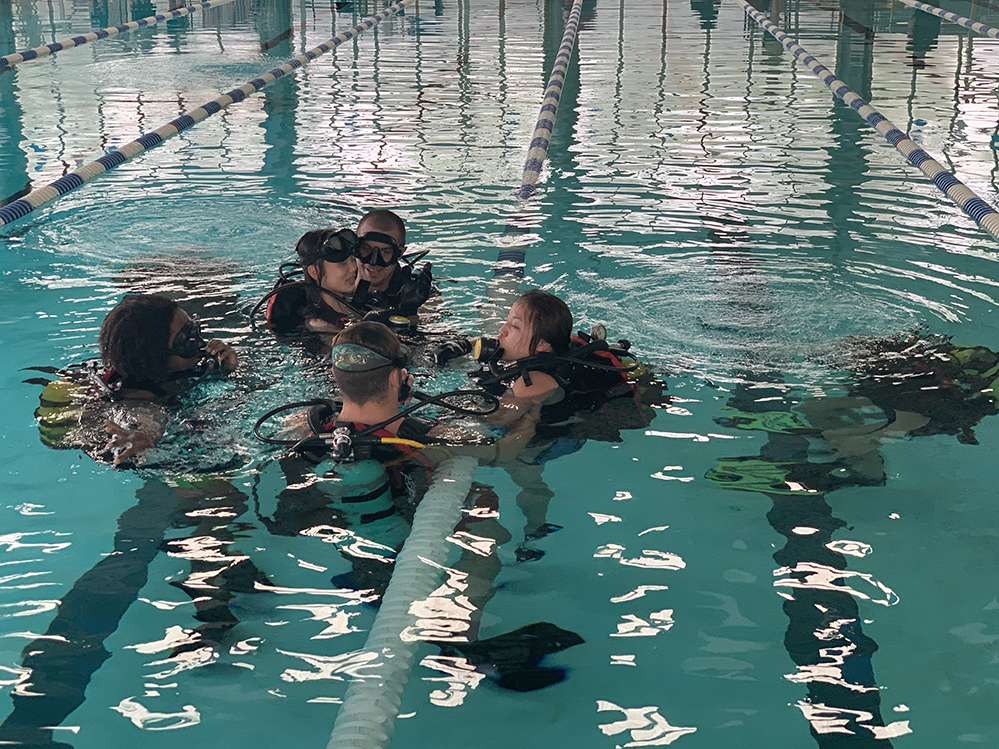 While the more well-known Space Camp in Huntsville, Alabama focuses on the astronaut experience, Space Center U® incorporates the many other STEM fields required to put humankind into space. NASA has always had its eyes on space, Newmyer said, but he regularly reminds students of all the earthbound innovation it has spurred along the way.
The day at the pool is a perfect example of the broad range of skills and content the Space Center U® students explore. On one side of the large garage-like building, a few pods of teenagers learned to use SCUBA equipment under the guidance of professional diving instructors. Once they knew how to breathe through regulators and manage their bright yellow oxygen tanks, they culled the bottom of the pool for painted rocks symbolizing nitrogen, hydrogen and other elements that make up the atmosphere of an imaginary planet.
They resurfaced from their mission, analyzed the rocks they had seen, and created a report detailing whether or not the imaginary planet could support life.
In addition to the biology and chemistry content, the exercise is designed to stoke imagination. The quest to find another habitable planet has occupied the mind of science fiction writers and NASA scientists for decades. Earlier that week at Space Center Houston, the students visited a special exhibit dedicated to the future of space exploration, in particular, the hunt for signs of life on Mars.
On the other end of the pool, Maximos and her team stood at the edge, navigating the underwater drone to collect data from laminated pieces of paper under the water. This sort of challenge, along with coding exercises earlier in the week, were particularly appealing to Maximos, the aspiring obstetrician.
"I know a lot of doctors nowadays are using robotics and robots," Maximos said, "So learning how to code them could help me in surgery when I grow up."
Once they had finished with the drone, Maximos's group joined several other teams building robotic boats to ferry ping pong balls across the surface of the pool. Other than a mechanical core, the materials for the boat were far from high-tech — they included popsicle sticks, plastic bags, and the fasteners best known as "chip clips." Once completed, all the teams would race the length of the pool.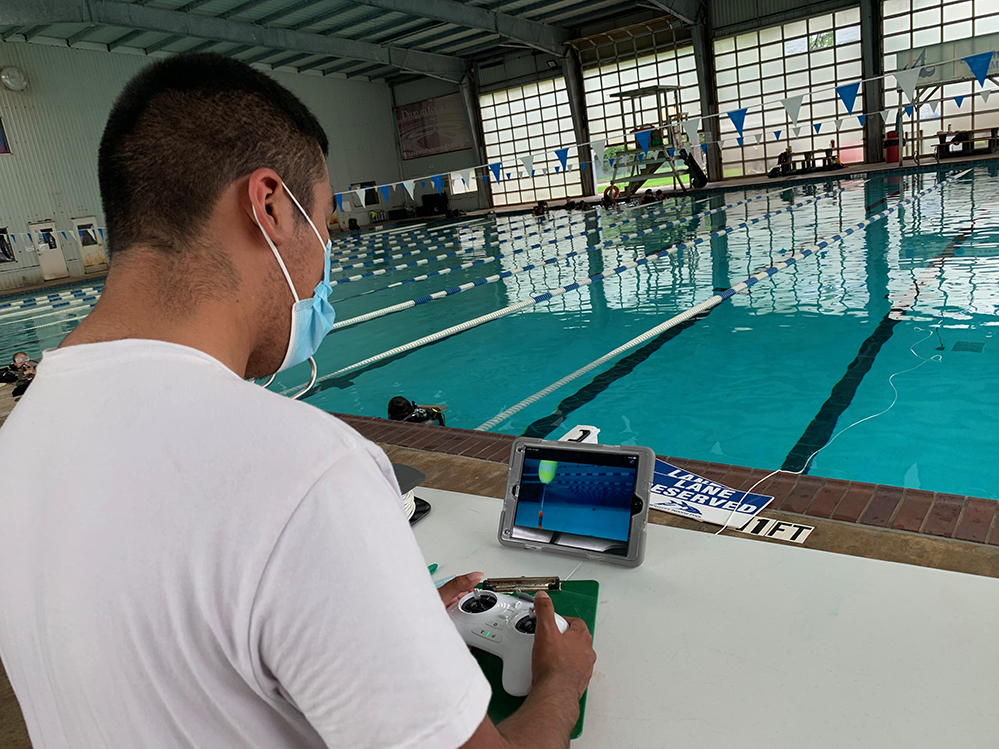 The teams quickly realized that coming to the water with a finished product on the first try was not an efficient or rewarding use of their time and materials. Instead, most made repeated trial runs with various pieces and parts, studying the way the friction of the water affected each component. They assembled, disassembled, reassembled and tweaked their creations continuously.
They were, in many ways, learning from failure.
That's science, Newmyer said, learning from what goes right and from what goes wrong. He wants the students to experience "the positive emotions associated with productive struggle."
In other words: he wants them to fall in love with the doing of science, not just the end result.
As an educator, he understands the need for tests and content mastery, which schools will no doubt be laser focused on as they address the huge learning loss of the pandemic. However, a large part of scientific education is about questions that can't be put on a test, because no one knows the answer. Engineering a lab exercise to create, say, a volcano can teach content about acids and bases. However, the process of asking "what happens when I combine elements that have never been combined?" or "How do I get a result no one has ever gotten before?" are also science. That pursuit, he said, is as much about the attempts that don't get the expected results as the ones that do.
"It's just dreaming and thinking as big as you possibly can," Newmyer said.
That kind of learning takes time, which is what Space Center U® provides, and to the best of their ability, he said, they try to provide it equitably.
The kids at the pool were racially and culturally diverse, and the Space Center U program can be adapted for hearing impairment and sensory processing disorders. Also, Newmeyer emphasized, the kids need not be science prodigies. It is designed to appeal to any ability level. "It's about moving them forward wherever they are."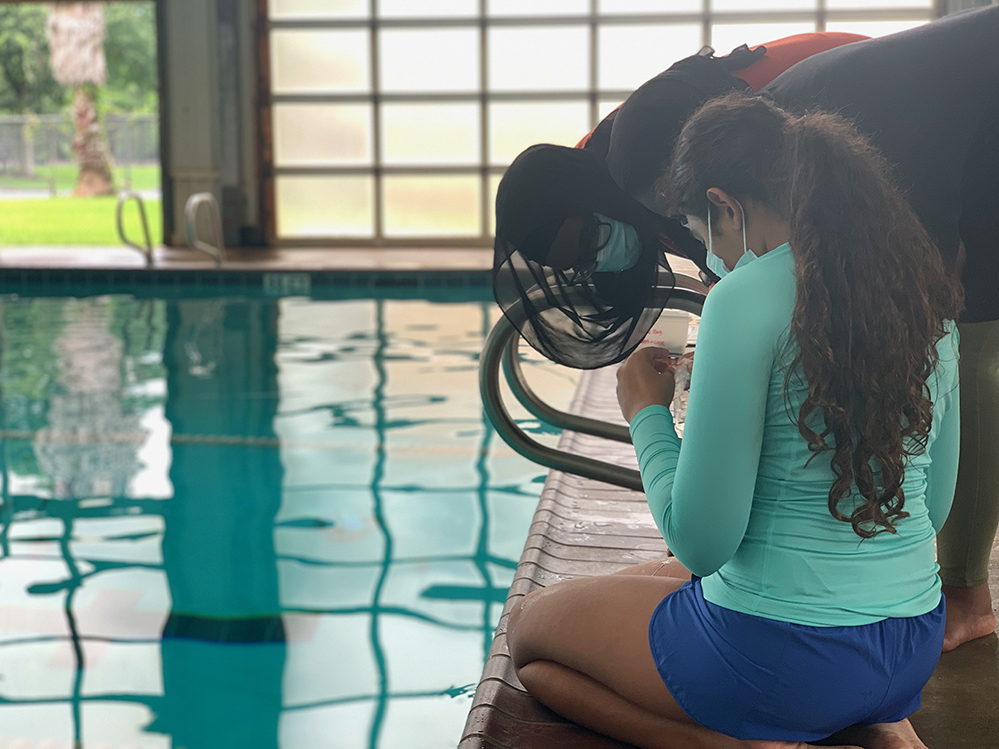 That said, he acknowledged, it is a paid program. The multi-day program offers both virtual and in-person experiences ranging between $149.95 and $674.95 per student per week depending on the size of the group and the accommodations. For schools and parents to make that kind of investment, most of the students have a pretty well-developed interest in STEM subjects.
He hopes the Explorer Camps, visits to the museum at Space Center Houston, and outreach programs with Houston area after school programs will stoke some of that early interest. Extracurricular learning took a hard hit during the pandemic, and the Delta variant has everyone on edge about the near future.
Every program at Space Center Houston is taking precautions, said Space Center Houston communications supervisor Meridyth Moore, but they are determined to continue offering something to spark curiosity, and to cultivate the increased interest from private endeavors like SpaceX, Blue Origin, and Virgin Galactic in the news.
Virtual programming was part of that during the initial coronavirus pandemic, but actually, Moore said, if anyone is able to turn a pandemic into a learning opportunity, it's Space Center Houston.
During the pandemic, Space Center U® was able to create a full simulation of the kind of quarantining required to keep astronauts healthy before they go into space. Kids dressed in full "bunny suit" coveralls from head to toe learned how to create sterile environments, conduct experiments with heightened safety protocols, and work as a team through layers of personal protective equipment.
While it may not come to that again, Moore said, Space Center U® is committed to finding innovative and creative opportunities, whatever the constraints. "We're in the business of awe and wonder."
Support The 74's year-end campaign. Make a tax-exempt donation now.