Biden Administration Defends Districts Defying Florida Mask Mandate Ban as Delta Variant Renews Reopening Fears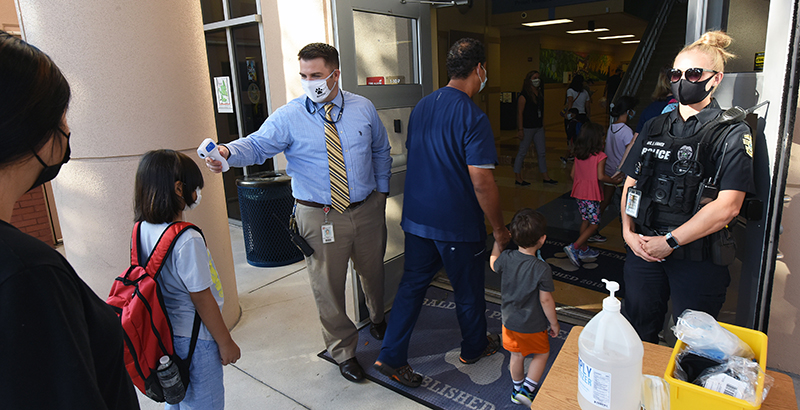 No paywall. No pop-up ads.
The Biden administration is backing school district leaders in Florida who are defying Gov. Ron DeSantis's executive order banning mask mandates in schools this fall.
Press Secretary Jen Psaki said Tuesday it would be possible for federal relief funds to cover salaries if the governor follows through on withholding pay from superintendents and board members who require students to wear masks.
"We're looking at a range of options," she said, adding that any action the administration takes could impact the "handful of states that are putting in place measures that make it more difficult for … leaders in the education field to protect students and their communities."
But DeSantis shot back, saying it would be inappropriate for the administration to intervene.
"I think that they really believe government should rule over the parents' decisions," he said during a press conference. "The parents are in the best position to know what's best for their kids."
DeSantis, the White House and school officials in districts such as Broward County and Miami-Dade are taking firmer stands on the issue as the state's COVID-19 positivity rates and hospitalizations surpass previous levels.
Florida's brinkmanship on masks comes as districts across the country are feeling the impact of the more aggressive Delta variant and the pandemic once again is interfering with what parents and officials hoped would be a typical back-to-school season. Last week, U.S. Secretary of Education Miguel Cardona even raised the possibility of a return to remote learning.
"[If] the community spread gets to a certain level, it may be best to have students learning from home," he said during a Friday town hall in Boston with the YMCA and the Boys and Girls Clubs. "But we're going to do everything in our power not to go there. The kids suffered enough."
Some Florida district leaders say they're not intimidated by the governor's threats and argue they have a duty to require masks temporarily.
"I have a moral responsibility to be my brother's and sister's keeper, even if it means my salary is taken away," Rosalind Osgood, chair of the Broward County school board, said Tuesday during a special meeting where members voted to keep the mask mandate in place. "I wonder if the governor has visited the ICU lately."
The vote came after more than an hour of passionate arguments from parents and staff members on both sides of the issue.
"We're really lucky that we have such a simple way to protect each other — by wearing a simple cloth mask over our face," one mother, with her kindergarten daughter on her hip, told the board. "You have an entire community behind you."
Another mother said the board is infringing on her right to make decisions that affect her child.
"My child does not want to wear a mask," she told the board. "If the masks were working, why is my child having to be quarantined from exposure so many times?"
Meanwhile officials in Miami-Dade County Public Schools are still weighing their decision on mask rules, and Superintendent Alberto Carvalho said he'll listen to the advice of health experts.
"At no point shall I allow my decision to be influenced by a threat to my paycheck; a small price to pay considering the gravity of this issue and the potential impact to the health and well-being of our students and dedicated employees," he said in a statement.
'Keep schools open'
Florida is one of eight states not allowing local flexibility regarding mask mandates, according to Burbio's mask policy tracker. Those who disagree with the governor's position have taken different approaches to the issue.
Some are maintaining that they still have a mask mandate in place, but are allowing parents to opt out. In Palm Beach County, it's sufficient for parents to make the request. But in Alachua County, which includes Gainesville, a doctor's note is required.
"I've been called a monster, child-abuser, communist, fascist, idiot and other names not fit to print. I've been threatened with legal action, protests, militia 'enforcement' and worse," Alachua Superintendent Carlee Simon wrote in an op-ed Monday about her decision to require masks for the first two weeks of school, which began Tuesday. "Certainly we're concerned about the threat of lost funding, but it shouldn't come to that. After all, we want what DeSantis wants: to keep schools open and our kids in the classroom."
Simon noted that the state has updated its Hope Scholarship voucher program to include those who prefer a school requiring masks. The program previously only applied to students who have been bullied, harassed or assaulted, allowing them to transfer to another private or public school. Broward County board members said that new rule only hurts public schools if more families opt to go private.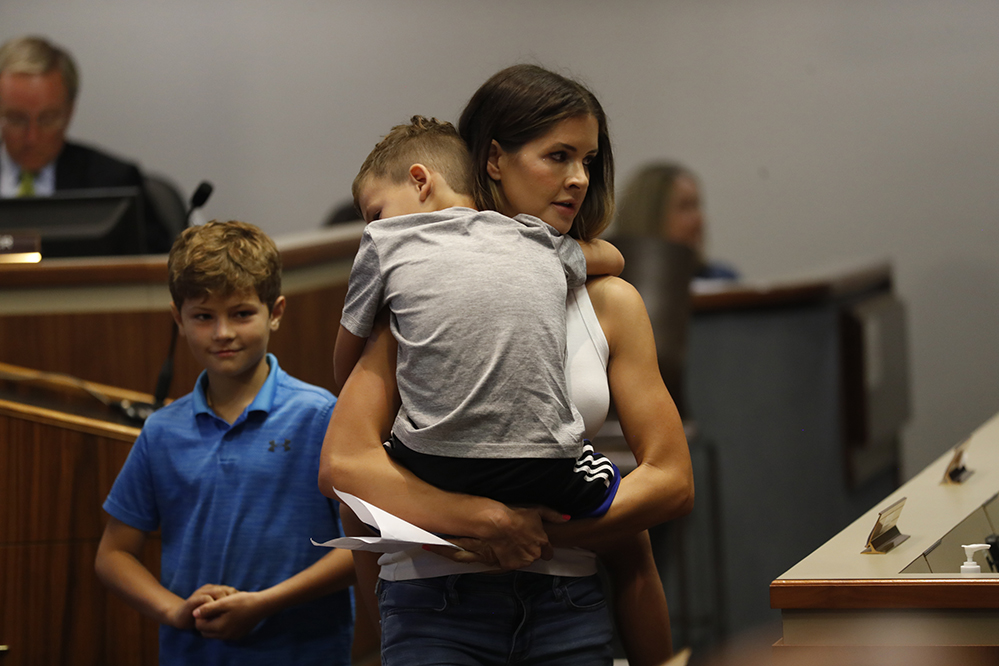 Some parents think DeSantis is making the right call.
"The silver lining of COVID is that it doesn't impact kids," said Bill Gilles, who has two children in the St. Johns County School District, which includes St. Augustine. The district is complying with the governor's order.
Children represent less than 10 percent of COVID-19 cases internationally, according to the World Health Organization.
Gilles said he and his wife were more accepting of masks last school year before vaccines were available. But now, young people more likely to become infected are the "bar crowd and not the school-age crowd," he said. "It just doesn't justify putting burdens on kids."
According to the state health department's data, positivity rates are 14 percent among children under 12 and 20 percent for 12- to 19-year-olds. About 1 in every 100,000 children in Florida, 17 and under, has been hospitalized for COVID-19, which is roughly double the last peak at .56 per 100,000 in January, according to the Centers for Disease Control and Prevention.
But DeSantis said in his comments Tuesday that RSV, a common respiratory infection, is contributing to increased hospitalization rates.
In June, the CDC noted that RSV cases were spiking in Florida and that the state has a longer season of the infection than others.
'The worsening situation'
Nationally, the majority of states are leaving the decision about masks up to local officials, and for some parents in districts where masks aren't mandated, that's a problem.
"Our preference is for our kids to be in person, but for everyone to wear a mask," said Alan Seelinger, a parent of three children in Georgia's Cobb County School District. Unlike other metro Atlanta districts, Cobb does not require masks and is no longer taking students' temperatures or asking about COVID-19 symptoms.
A week into the new school year, however, nearly 1,500 cases have been reported across the metro area.
"It is regrettable that this pandemic was ever politicized, so we simply ask that you employ a data- and science-driven approach in light of the worsening situation we are seeing today," the Seelingers wrote in their letter to the board last week, sharing a Bible verse about looking out "for the interests of others."
Seelinger, who has two children who still aren't old enough for vaccines, would like to see the district renew the option for virtual learning. While the district still allows remote learning, parents had to make the choice at the end of last school year.
Parents in the county who want masks plan to rally at the district office on Thursday.
"Kids have a right to a safe school, and right now Cobb schools aren't safe," Seelinger said.
Opinions about masks largely fall along partisan lines, with more than three-fourths of Democrats in a recent Morning Consult/Politico poll saying they'll put on a mask in public all or most of the time, compared to less than 40 percent of Republicans.
In California, one of nine states currently with a mask mandate for schools, the issue surfaced in a recent debate among leading Republican candidates vying to unseat Democratic Gov. Gavin Newsom in a September recall election. All four candidates participating in the debate said they oppose mask mandates.
The Delta variant, however, has been enough to change some Republican's minds. Arkansas Gov. Asa Hutchinson has said he regrets signing a law in April banning mask mandates. He has tried to change the legislation, but lawmakers have declined to revisit the issue. On Friday, a judge temporarily blocked the law, allowing local districts to require masks.
"I can only hope in my heart this is what happens to Gov DeSantis," Broward County board member Nora Rupert said Tuesday.
Get stories like these delivered straight to your inbox. Sign up for The 74 Newsletter