The Week in COVID & Education Policy: Child Vaccines Possibly Only Weeks Away, 1 in 10 Kids Endure Lingering Symptoms & 14 More Key Updates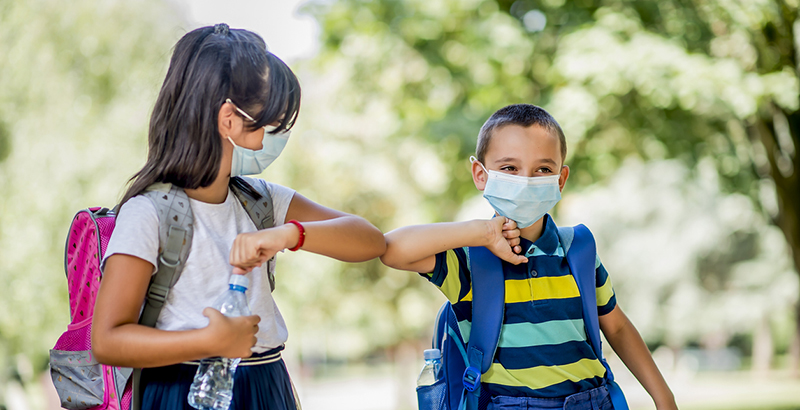 This is our weekly briefing on how the pandemic is shaping schools and education policy, vetted, as always, by AEI Visiting Fellow John Bailey. Click here to see the full archive. Get this weekly roundup, as well as rolling daily updates, delivered straight to your inbox — sign up for The 74 Newsletter.
The State of School Reopening (and Closures): Via Burbio
20% more closures: Just under 1,700 in-person school closures (up from just under 1,400 last week) across 386 districts (from 278) in 38 states (from 35).
In 55 percent of the disruptions, schools have gone to virtual instruction (from 52 percent). In 39 percent of cases, schools have closed entirely for a period (from 40 percent), just under 4 percent have delayed school start and just over 2 percent have moved to a hybrid format.
Average school closure is 8.1 days (versus 8.7 days from last week) at the district level.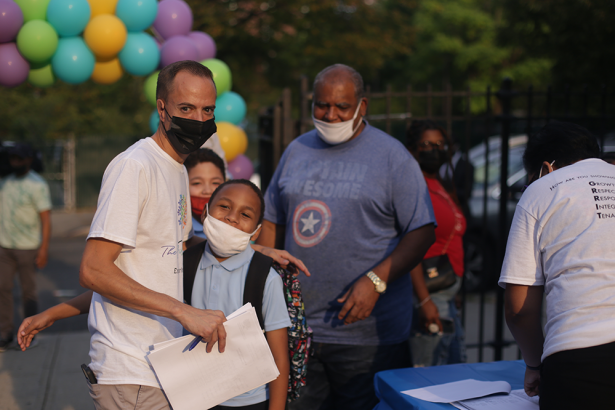 September 17, 2021 — The Big Three
When Can Parents Expect Vaccines for Kids Under 12?
CDC Director Walensky, during a Today Show town hall with Secretary Cardona, said the timeline for approval was "by end of the year."

Cardona also backed mandating the vaccines for students: "I do support their effort. Those are local decisions, but I do believe, yes, if we're seeing that the vaccines work and they're our best tool, they should (be mandated)."

But: Pfizer's CFO laid out this timeline, which includes for the first time, younger children:

Results in children 5-11 by end of September, filing for emergency use authorization in early October.
Filing for EUA for kids 6 months to 5 years about a month later, in early November.

Dr. Anthony Fauci says "fall."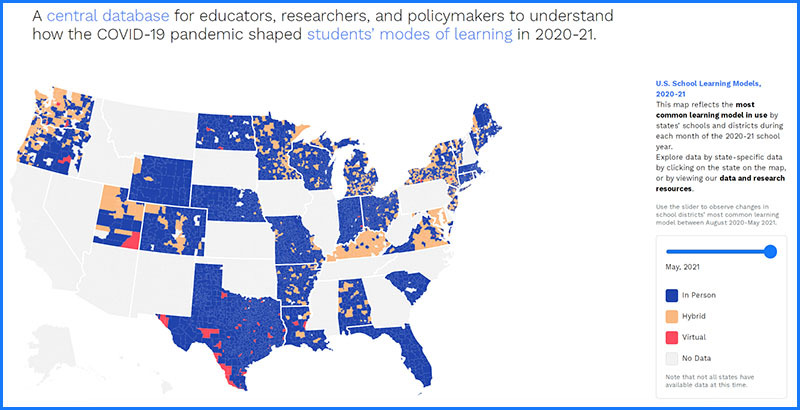 New COVID-19 School Data Hub: Launch of Emily Oster's new data hub (Press Release / Oster's Substack Post / Explore the hub)
The New York Times says it is "a site that includes data from about 56,000 schools across 31 states. It is one of the most comprehensive efforts yet to document how schools operated during the pandemic, and, eventually, the researchers hope, measure the impact on children and the education system itself."
"In the future, researchers may be able to answer if and how school closures affected high school graduation rates, crime, obesity and mental health needs"
"The data hub will fill an important information gap. There is no federal database of coronavirus cases discovered inside school buildings or during extracurricular activities such as sports."
Head of National Education Association Predicts COVID Vaccine Requirements For Students: During a Madison, Wisconsin, visit, Becky Pringle said:
"We've always supported vaccinating students and educators, all of those folks in the school community, because we know the more people who are vaccinated, the safer that community is… That's where we're going. I know that's where we're going. Eventually we'll get there, but we need to remember that this is not new. Requiring vaccinations goes back."
COVID-19 Research
1 in 10 Kids Have Lingering COVID Symptoms: According to a new Israeli study. "The ministry said 11.2 percent of children had some symptoms after recovery. The figure declined to 1.8–4.6 percent at six months from acute disease, with older kids suffering more."
Unvaccinated Risk of Infection, Hospitalization, and Death: Unvaccinated people are 11 times more likely to die of COVID-19 than those who've gotten the shot, according to a new CDC study.
Moderna's Three-in-One Vaccine: The company announced pre-clinical data demonstrating their ability to combine 6 mRNAs against three different respiratory viruses in a single vaccine: COVID-19 booster + Flu booster + RSV booster.
Boosters Are Not Needed Right Now, New Paper Argues: "COVID-19 vaccine booster doses are not necessary right now based on the current evidence, international public health experts — including two FDA vaccine leaders who are leaving the agency this year — wrote a new paper in The Lancet," Axios reports.
"Although the benefits of primary COVID-19 vaccination clearly outweigh the risks, there could be risks if boosters are widely introduced too soon, or too frequently, especially with vaccines that can have immune-mediated side-effects…"
"Current evidence does not, therefore, appear to show a need for boosting in the general population, in which efficacy against severe disease remains high."
"The message that boosting might soon be needed, if not justified by robust data and analysis, could adversely affect confidence in vaccines and undermine messaging about the value of primary vaccination."
"Even if some gain can ultimately be obtained from boosting, it will not outweigh the benefits of providing initial protection to the unvaccinated. … Indeed, [the World Health Organization] has called for a moratorium on boosting until the benefits of primary vaccination have been made available to more people around the world."
Our Most Reliable Pandemic Number Is Losing Meaning: A new study suggests that almost half of those hospitalized with COVID-19 have mild or asymptomatic cases, writes David Zweig in The Atlantic.
City & State News
California: San Francisco schools have had no COVID-19 outbreaks since classes began last month.
Florida: Gov. Ron DeSantis announces bill to eliminate Florida Standards Assessment Testing
Georgia: Almost 60 percent of new COVID cases reported in K-12 schools, state health officials say.
Kentucky: School districts begin virtual programs; they're seeing waitlists.
Maryland:A NIAID-NIH infectious diseases scientist calls out the Montgomery County School Board for its quarantine policy.
Massachusetts: Gov. Charlie Baker to activate the National Guard to help with school transportation.
Missouri: Missouri Assessment Program (MAP) results:
45 percent of students are proficient or advanced in English, 35 percent in math and 37 percent in science.
Compared to results from the 2018-19 school year, that represents a drop of 4 points in English, 7 points in math and 5 points in science.
North Carolina: North Carolina sounds alarm that nearly half of state's middle and high school COVID-19 clusters are tied to sports.
Texas: State sues 6 school districts that defied governor's order, imposed mask requirements.
Federal Updates
Path Out of The Pandemic: President Joe Biden's 6-point plan released last week:
Vaccinating the unvaccinated
Furthering protection for the vaccinated
Keeping schools safely open
Increasing testing and requiring masking
Protecting our economic recovery
Improving care for those with COVID-19
U.S. Education Department:
James Kvaal confirmed as Under Secretary of Education.
Department announced Return-to-School Road Trip to spotlight safe return to in-person learning.

The destinations include Eau Claire, Madison and Milwaukee, Wisconsin; Palatine and Chicago, Illinois; Kendallville, Indiana; Toledo, Ohio; and Mt. Pleasant, Lansing, Detroit and Canton, Michigan.
FDA Will Follow The Science On COVID-19 Vaccines For Young Children: Interesting press release issued from the Food and Drug Administration last week.
"Children are not small adults – and issues that may be addressed in pediatric vaccine trials can include whether there is a need for different doses or different strength formulations of vaccines already used for adults."
"Just like every vaccine decision we've made during this pandemic, our evaluation of data on the use of COVID-19 vaccines in children will not cut any corners."
"Until we authorize or approve a vaccine for this younger population, it's especially important that parents and others who interact closely with children under 12 years of age get vaccinated, wear masks, and follow other recommended precautions so that we can protect those who cannot yet protect themselves through vaccination."
Viewpoints and Analysis
How 100 Top Districts Are (and Aren't) Adapting: Via CRPE and The 74
"Half of the states provide detailed guidance about how long a student should spend in quarantine. Of these, 14 specify isolation periods that range from seven to 14 days for different categories of exposure, and 11 specify periods that range from seven to 10 days."
"Thirty-eight states exempt fully vaccinated students from quarantines, 23 provide exemptions if an individual has previously been diagnosed with COVID-19 and 7 exempt individuals if they are asymptomatic."
"Only 17 states have stated they will require districts to ensure that students can access instruction during quarantine or isolation."
Student Quarantines Will Cause the Next Major School Disruptions. Here Are 3 Ways to Help Ensure Kids Will Keep Learning: Read my new column.
"First is the need to quickly scale up and ramp down services as needed. There is little ability to forecast COVID-19 cases within a school, much less estimate the number of students who will be subject to quarantine. The prepared school will be one that leverages online technologies and expert partners to bolster instructional support with little to no warning."
"Second, programs should prioritize live online interaction with students and their teachers or tutors."
"Finally, high-quality programs will leverage diagnostic assessments to help identify students' strengths and needs."
Delta Variant Stress Tests Back-to-School Plans: A Washington Post survey of the 20 largest school districts found that few are offering robust coronavirus screening amid vague guidelines and a surge of cases that few anticipated.
Most Schools Do Not Yet Meet Biden's Demand for Testing and Vaccines: Via The New York Times.
Quick and Inexpensive Saliva Screening is Raising Hopes for a Less Disruptive School Year: Via The 74.
Why School Districts Are Unprepared for COVID-19 Disruptions, Again: EdWeek explains.
Back-to-School Parent Sentiment Report: Conducted by Survey Monkey and LUCID Marketplace for Varsity Tutors. One finding: 81 percent of parents are spending 4 or more hours per week assisting with their children's academics, and 15 percent are spending 10 or more hours per week.
Council of Chief State School Officers Releases Strategic Plan Framework for 2021-2026: Read it here.
Welcome.US: Former Obama and Bush administration officials are launching a new organization aimed to help streamline the process of resettling the roughly 65,000 Afghans forced out of their home country and now making the United States their home.
Former President George W. Bush and former first lady Laura Bush, former President Bill Clinton, former Secretary of State and first lady Hillary Clinton, and former President Barack Obama and former first lady Michelle Obama are honorary co-chairs of the organization.
Nation Could Really Use A Few Days Where It Isn't Gripped By Something: Reports The Onion.
…And on a Reflective Note
Remembering 9/11
Bruce Springsteen performs "I'll See You In My Dreams" at the 9/11 memorial in New York City. (Lyrics)
Former President George W. Bush at the Flight 93 National Memorial (Text / Video). The whole nine-minute speech is worth your time but some highlights:

"We have seen growing evidence that the dangers to our country can come not only across borders but from violence that gathers within. There's little cultural overlap between violent extremists abroad and violent extremists at home. But in their disdain for pluralism, in their disregard of human life, in their determination to defile national symbols, they are children of the same foul spirit, and it is our continuing duty to confront them."
"On America's day of trial and grief, I saw millions of people instinctively grab for a neighbor's hand and rally to the cause of one another. That is the America I know."

Gordon Felt, whose brother Edward was on Flight 93: "Are we worthy of their sacrifice? Are we worthy? Do we as individuals, communities, and as a country, conduct ourselves in a manner that would make those that sacrificed so much and fought so hard…proud of who we've become?"
Leylah Ferandez, after winning the U.S. Open: "I know on this day it is especially hard… I hope I can be as strong and as resilient as New York has been the past 20 years…"
The NFL offered a tribute including the National Anthem performed at World Trade Center memorial performed by Juliette Candela, the daughter of a 9/11 victim (see her perform at the 3:00 mark)
A few final pictures of the Tribute of Light that I took last year.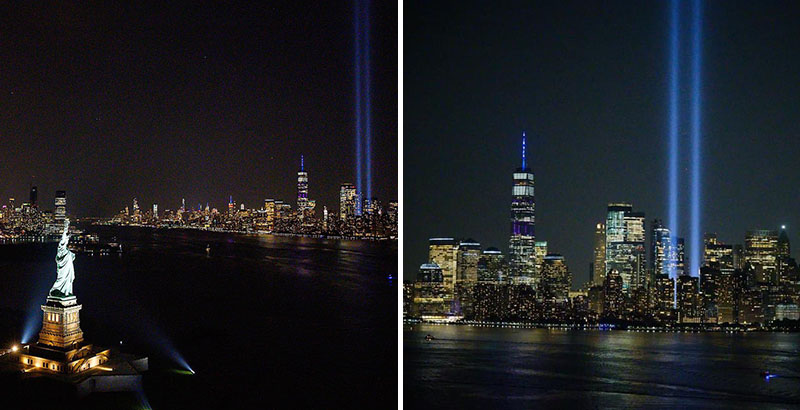 ICYMI @The74
Weekend Reads: In case you missed them, our top five stories of the week:
Disclosure: John Bailey is an adviser to the Walton Family Foundation, which provides financial support to The 74.
Support The 74's year-end campaign. Make a tax-exempt donation now.