'The First Big Domino to Fall': Los Angeles District Mandates Student Vaccines as Biden Unveils Aggressive COVID Testing Plan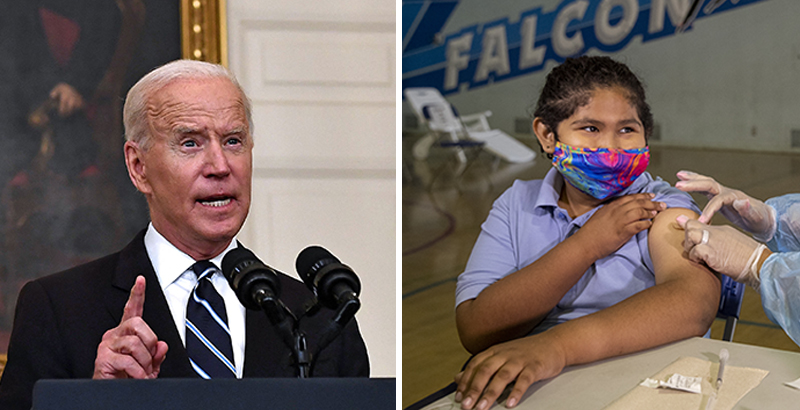 Support The 74's year-end campaign. Make a tax-exempt donation now.
The Los Angeles Unified School District, the nation's second largest, voted Thursday to require all eligible students to be fully vaccinated by Jan. 10 — a move that could prompt other districts across the country to follow suit and fuel ongoing opposition from families and politicians opposed to such mandates.
Los Angeles students must get their second dose of the shot by Dec. 19 and those involved in sports and other extracurricular activities will need to have their second shot by Oct. 31.
"I think it's the first big domino to fall," said San Antonio Independent School District Superintendent Pedro Martinez, chair of Chiefs for Change, a network of state and district superintendents.
As the board deliberated, across the country in Washington, D.C., President Joe Biden used a White House address to unveil new measures aimed at vaccinating and testing school staff and to combat those he called "bullying" Republican governors who have banned districts from mandating masks. Taken together, the actions on both coasts represent some of the more aggressive official actions to quell COVID's effects in schools since lockdowns were first imposed in March of 2020.
Biden's plan requires close to 300,000 school staff members working for federal programs, such as Head Start and Department of Defense schools, to be vaccinated, calls on all districts to regularly test students and staff, and provides grants for districts confronting loss of funding for implementing mask mandates and other safety measures.
What the administration is calling the "Path Out of the Pandemic" includes making 280 million rapid and at-home tests available using the Defense Production Act and lowering the cost of over-the-counter tests from Walmart, Kroger and Amazon. Free testing at pharmacies will be expanded to 10,000 sites nationwide.
The actions come amid widespread anxiety over the Delta variant, which is interfering with a smooth return to school. With more students back in class across the country, schools are reverting to remote learning due to COVID-19 outbreaks. According to Burbio's weekly tracker, 1,400 schools in 35 states were closed as of last Sunday, about twice as many as the week before. Others are sending thousands of students home to quarantine, and hospitalization rates among children are the highest in states with the lowest vaccination rates.
"We're in the tough stretch, and it could last for a while," Biden said, adding that stricter vaccine requirements are needed. "This is not about freedom or personal choice. It's about protecting yourself and those around you."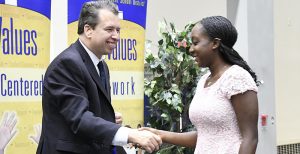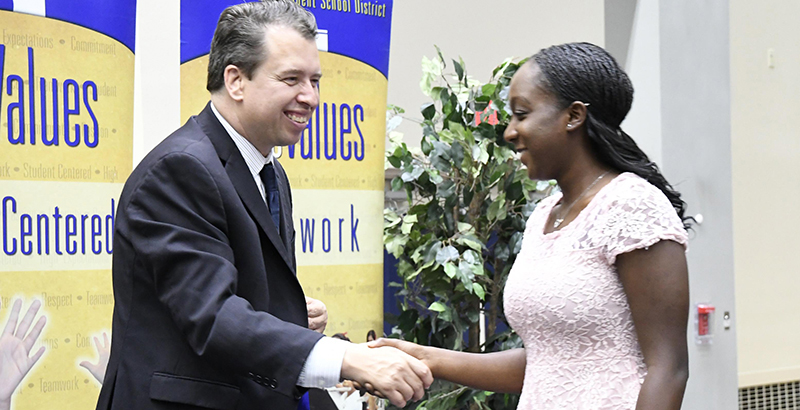 Martinez criticized the administration, however, for not stepping up efforts to get vaccines approved for younger children and broadly publicizing clinical trial data that can strengthen confidence among parents.
"Here we are in September and I'm not hearing anything about it," he said. "We need a national bold stance on vaccines. We're held hostage by this virus."
Emergency use authorization was initially expected in the fall, but in August, the Food and Drug Administration said it likely won't be until the end of the year.
Biden's announcement included a new grant program, using school safety funds, to help districts like Martinez's that are facing funding loss and litigation related to mask mandates and other COVID-19 precautions.
"We should be thanking districts for using proven strategies that will keep schools open and safe, not punishing them," Secretary of Education Miguel Cardona said in a statement. "We stand with the dedicated educators doing the right thing to protect their school communities, and this program will allow them to continue that critical work of keeping students safe."
Texas, Florida and Arizona are among the states that have banned local districts from issuing mask mandates. The Biden administration has launched civil rights investigations in several states, arguing that such actions are creating an atmosphere where some parents might think it's not safe enough to send their children to school.
Texas Attorney General Ken Paxton is also suing the San Antonio district for mandating vaccines for staff, but Martinez doesn't plan to back down; in fact, he said he would mandate booster shots for staff as well. Martinez said the vaccines and boosters are necessary "to maintain stability.in our classrooms," but added it's hard to imagine the backlash he'd receive if he mandated vaccines for students. Reportedly one of two finalists to lead the Chicago Public Schools, he declined to comment on whether he would push for a vaccine requirement for students in Chicago if he becomes superintendent there.
'Fear that this was coming'
According to the Centers for Disease Control and Prevention, just over half of 12- to 15-year-olds and almost 60 percent of 16- and 17-year-olds are vaccinated. A Gallup poll released last week showed that a third of parents of older teens and over 40 percent of parents of 12- to- 15-year-olds say they still don't plan to have their children vaccinated.
In August, the Culver City Unified School District, which serves a middle and upper middle class population on the westside of Los Angeles, became the first district in the nation to require vaccines for students.
"At the high school, the parents I know are all very happy the district made this decision," said Erika Lewis, who has two students in the district. "I personally don't know any who opposed it."
Several smaller districts in Los Angeles County considering a mandate include Alhambra, Beverly Hills and El Monte.
But a mandate in Los Angeles Unified, where almost three-quarters of students are Hispanic, might not be as well-received.
Surveys show greater vaccine hesitancy among Blacks and Hispanics, and other polls show that they encounter more barriers to getting the vaccine, such as inability to take time off work. Biden's directives included requiring employers to allow staff time off to get vaccinated.
Others say it's too soon, considering the vaccine for children 12 and up hasn't received full authorization yet from the FDA.
"This vaccine is still experimental and that's something the district is not explaining to parents," one mother told the board in Spanish through a translator. "Why are you in such a hurry to vaccinate all children?"
Another asked who they could sue if their child experiences negative side effects.
In interviews with The 74, other parents celebrated the district's decision.
"I am thrilled that LAUSD is taking the health of our children and educators so seriously," said Ariel Harman-Holmes, whose three children —ages 2, 7 and 9 — have disabilities. "I have three children who are too young to be vaccinated, so we rely on the vaccine-eligible members of our community to keep them safe."
Rebecca Cunningham, a parent of a 5th and 9th grader in Los Angeles schools, who is also in favor of the mandate, said the district has worked hard to eliminate roadblocks that some families might face in getting the vaccine.
"I really feel like we're getting to the point where maybe six months ago there were legitimate reasons why someone would want to wait," she said, but not now.
During the board meeting, physicians presented data showing that the risks from the vaccine, including inflammation of the heart, are smaller than the health risks associated with getting the disease.
At the White House, Biden said his patience was "wearing thin" with the 80 million Americans who remain unvaccinated and expressed anger at governors who are "ordering mobile morgues" instead of promoting the vaccine. He called on governors to require all school staff to be vaccinated.
"Talk about bullying in schools," Biden said of GOP governors in states like Florida and Texas. "If these governors won't help us beat the pandemic, I will use my power as president to get them out of the way."
American Federation of Teachers President Randi Weingarten said in a statement that the union stands "in complete support of this plan and of the administration's effort to protect as many people as possible." But National Association of Secondary School Principals CEO Ronn Nozoe called for more support from Washington.
"The added pressures and responsibilities of carrying out more robust testing and screening programs will fall on the shoulders of principals, assistant principals and other administrators," he said. "This is intensified by a growing number of threats being made against school leaders for simply implementing safety measures to protect their communities."
In March, Biden made $10 billion available to districts for COVID-19 testing. Districts can also use federal relief funds for testing and vaccination efforts. Leading up to the school year, the Biden administration challenged districts to hold vaccine clinics and made resources available on how to operate them, but some districts still ran into resistance from parents.
The Los Angeles district also has an extensive COVID-19 testing program, in which all students and staff, vaccinated or not, are required to test weekly. The district rolled it out last school year, but reliance on the program to catch positive cases has increased this year with most students back in school.
"Our charge remains clear — to provide students the best education possible, which includes the many benefits of in person learning," said Interim Superintendent Megan Reilly. "Vaccinations are an essential part of the multi-layered protection against COVID-19."
Support The 74's year-end campaign. Make a tax-exempt donation now.