Martinez: My San Antonio District Is Requiring All School Staff to Get the COVID-19 Vaccine. Yours Should, Too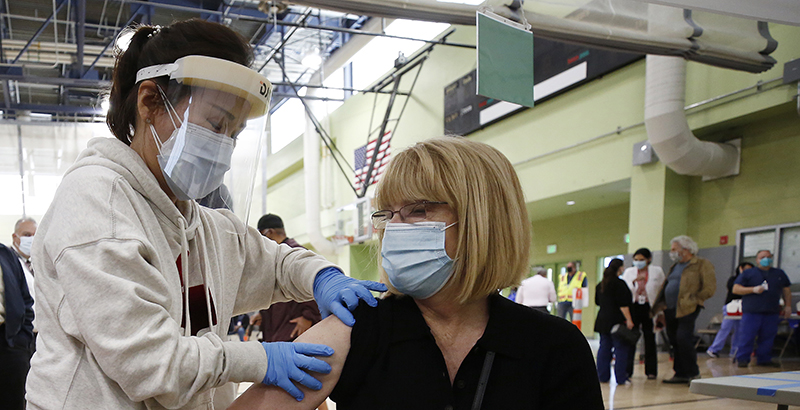 Get stories like these delivered straight to your inbox. Sign up for The 74 Newsletter
COVID rates are once again rising, just as students return to the classroom after two school years affected by shutdowns and disrupted learning. America's children cannot afford yet a third year of isolation at home and schooling from a screen. We must keep schools open, full-time, five days a week. That's why the district I lead in San Antonio, Texas, is requiring all staff to get the COVID-19 vaccine — and why I am urging all other school systems to do the same.
The Food and Drug Administration has fully approved the Pfizer vaccine, further affirming that it is safe and effective. Scientific and medical experts reviewed extensive clinical trial data and other evidence — in fact, never before has the agency had so much information to determine whether a shot is safe. Data showed the Pfizer vaccine was 91 percent effective at preventing COVID-19. We owe it to ourselves and one another to get the vaccine.
It saves lives. It will help keep schools open. And it is how we will finally end this pandemic.
Ninety percent of the staff in my district have already been vaccinated. We have set up clinics for employees and families at all our large high schools. Students and parents are participating in our outreach and have recorded videos about their experience. We are also partnering with local doctors to answer any questions people may have.
This is what my community expects and demands: Families have made clear that schools must be open this year, and that the district must use every available tool to protect health and promote stable classrooms. These tools include not only the vaccine, but the health measures recommended by the Centers for Disease Control and Prevention — like masks and regular COVID testing — that prevented the virus from spreading in our schools last year and that continue to make a difference this year. As the school year started, the positivity rate in Bexar County hit 20 percent. In our schools, however, it is less than 2 percent.
As we are seeing in San Antonio, there is support nationally for requiring teachers to get the vaccine. In addition, the U.S. military, some of the nation's largest employers and many colleges and universities are doing so. States such as California, New Jersey, Oregon and Washington have instituted vaccine mandates for educators and certain other workers. Increasingly, leaders are requiring the vaccine because they understand that it is necessary in order for our country to emerge from the COVID crisis and begin to recover.
As chairman of Chiefs for Change, a bipartisan network of school superintendents and state education commissioners who collectively serve one-third of the children in the United States, I know that, 18 months into the pandemic, educators continue to face tremendous COVID-related challenges in their communities. The school year just started, and already colleagues are scrambling to figure out how to feed students and get them to school, since so many food service workers and bus drivers are in quarantine.
In Arizona, the governor has said he will withhold federal relief funds from school districts that require masks. Florida is withholding salaries from school board members in districts with mask mandates. Here in Texas, the attorney general sued my district and me over our vaccine mandate. That lawsuit has since been dropped. In the latest case of political posturing at the expense of students and families, however, the governor recently issued a new executive order maintaining his ban on vaccine mandates for school district staff — despite full FDA approval of the Pfizer vaccine.
This is not the time for politics. I encourage my fellow educators to stand strong against partisan interests and intimidation and to just do what is right for children. Everyone can see the devastating impacts of the pandemic, and we all know that kids urgently need the kind of learning and supports they get in school.
To help schools stay open, a few K-12 systems, including those in New York, Los Angeles, Chicago and Philadelphia are, like San Antonio, adopting staff vaccine mandates. For the good of our nation, I hope all districts will do the same. With the safe and effective vaccine, we have a way out of this pandemic. Let's not lose sight of that. We must all do our part by getting the shot and following the health guidance that we know works. Students are not going to have a successful academic year unless everyone who is eligible gets vaccinated. The shot must be required in schools. It is just that simple.
Pedro Martinez is superintendent of the San Antonio Independent School District and chairman of Chiefs for Change, a bipartisan network of district and state education leaders.
Get stories like these delivered straight to your inbox. Sign up for The 74 Newsletter