'Waiting for Someone Else to Blink': Next Move DeSantis as Florida Districts Refuse to Rescind Mask Mandates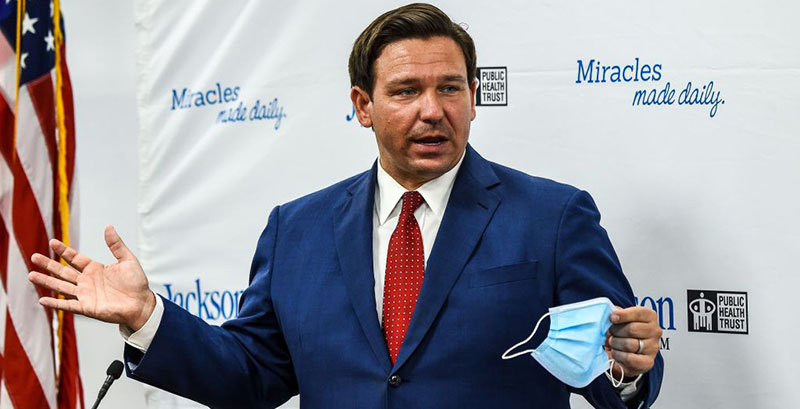 Support The 74's year-end campaign. Make a tax-exempt donation now.
The Florida Department of Education is considering its next move now that two districts, targeted by Republican Gov. Ron DeSantis for defying his ban on universal masking of students, say they won't back down even if it means losing salaries.
"Everyone is waiting for someone else to blink, and I can't imagine how frustrating it is for parents and principals," said Julia Martin, legislative director at Brustein and Manasevit, a law firm specializing in education.
On Friday, the state board sent the Broward County and Alachua County school districts in Florida a letter saying they were out of compliance with a health department order that requires districts to allow parents to opt out of having their children wear masks. The state gave the districts 48 hours to either comply or turn over the salary figures for school board members who voted for a mask mandate.
"We don't believe we have done anything inappropriate," Broward County school board President Rosalind Osgood said Tuesday, adding that the district is seeking "legal avenues that we can challenge those things that we believe are unlawful and out of line."
Broward's detailed response pointed to the circumstances in which a student would not have to wear a mask and did not provide salary information.
Alachua County Public Schools Superintendent Carlee Simon's letter listed salaries, but also stressed that the district was in compliance with the health order. She said the number of positive COVID-19 cases is "growing every day."
The Miami-Dade County Public School is among the other districts in the state requiring masks for students, but the district has not yet received a similar letter, a spokeswoman said.
The responses from Broward and Alachua were the latest move in a three-way chess game involving several Florida districts, DeSantis and President Joe Biden. The administration has said the districts can use federal relief funds to cover any salary costs that the state withholds and that parents can file civil rights complaints if they think a ban on universal masking means their child is missing out on learning. U.S Secretary of Education Miguel Cardona suggested in a Sunday interview on "Meet the Press" that the department doesn't plan to withhold funds from Florida or any other state banning local mask mandates because it "adds insult to injury to these students who are trying to get into the classroom." But in a letter last week to North Carolina Rep. Virginia Foxx, ranking Republican on the House education committee, he said states standing in the way of districts "adopting science-based strategies" are infringing on districts' ability to follow federal law.
Martin added that using the civil rights route is a slow process that could drag out for months. The virus might be less of a threat by the time an investigation is complete.
On Monday, a lawsuit over DeSantis's mask order went before a circuit court judge in Leon County, where pro-mask parents argue local school boards have the authority to set their own policies while the attorneys for the state say districts are out of compliance with a parents' "bill of rights."
In her letter, Foxx asked whether districts had to require masks to receive relief funds. Florida is among the states that have not yet submitted a proposal for how it would use American Rescue Plan funds for K-12. Arizona, another state banning universal masking, has submitted its plan, but the department has not yet approved it. The department released $81 billion to the states in the spring — two-thirds of the relief funds — and requires states to submit a plan to receive the remaining third.
Richie Taylor, a spokesman for the Arizona Department of Education, said the state's plan notes the June 30 state law banning districts from mandating masks, but that the state "has not yet received feedback." Since the state submitted its plan, Gov. Doug Ducey has launched an additional grant program, using federal relief funds, that awards an additional $1,800 per student to districts without mask bans. But the U.S. Treasury Department said the state can't use the relief funds to discourage districts from following Centers for Disease Control and Prevention guidance.
In Florida, education department spokesman Brett Tubbs said he was unaware of any discussions over whether the mask controversy could impact approval of the state's plan, once it's submitted. "It will be interesting to see how it plays out," he said.
The department has already approved plans from other states with bans on universal masking — Iowa, Oklahoma, South Carolina, Tennessee, Texas and Utah. But officials have a couple options if they decide not to approve Florida's or Arizona's, Martin said.
They could say that the states' plans don't adequately consider CDC guidance, or that the state is not considering feedback from parents and school employees who want everyone to wear masks. A Quinnipiac University poll released Tuesday finds 54 percent of Floridians think schools should require masks.
What's tricky, Martin said, is that the rule regarding the relief funds was written in April before the Delta variant sparked another wave of positive cases and increased hospitalizations.
"We've gotten into a situation where all the documentation was in the spring," Martin said, "and we have a very changed landscape now."
Support The 74's year-end campaign. Make a tax-exempt donation now.