The Coronavirus Wipes Out New York City's District-Charter Collaboration Program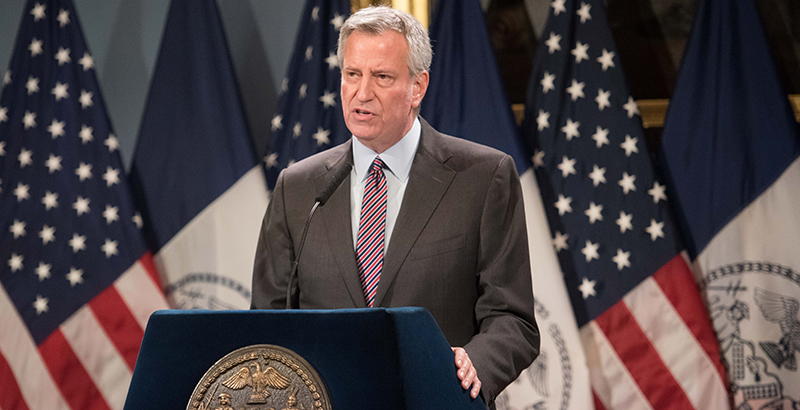 The novel coronavirus crisis has done a comprehensive job of upending almost every aspect of American life. For many, our work has conquered our homes. For others, work has become a daily risk gauntlet with masks hiding furrowed brows and clenched jaws.
There is no joy in Mudville, or anywhere else, since the baseball season never started — and basketball, soccer and hockey seasons were all interrupted. And, of course (wrote the slowly collapsing father of two elementary schoolers and a 1-year-old), schools everywhere are closed for the foreseeable future.
Everything is either stalled or crumbling.
Meanwhile, the subsequent slowing of the economy (other than businesses selling home baking supplies) is forcing local leaders to prepare for a future with far fewer tax revenues to spend. While the federal government is exploring additional coronavirus relief bills, Senate Republicans, led by Majority Leader Mitch McConnell, are resisting efforts to include support for state and local budgets in future legislation.
This means cities are preparing cuts. New York City is no exception: on April 16, Mayor Bill de Blasio released a budget proposal that would slash more than $800 million from public education. The reductions include delays in the expansion of public pre-K seats for 3-year-olds and a requirement that any new teaching hires come from what's known as the city's Absent Teacher Reserve (teachers on the city's payroll but without permanent teaching positions).
The proposal would also eliminate NYC's District-Charter Collaborative, a five-year-old program that provides funding to free educators' time and attention for trading regular observations with their counterparts on the other side of the district/charter school line. It also facilitates educators' discussions of what they saw during those "intervisitations" — and whether they might be able to implement any of those ideas in their own classrooms.
Participants in the program — which I featured in a column last fall — wax enthusiastic about how it improved their work. Daniel Nee, a seventh-grade humanities teacher at Future Leaders Institute Charter School in central Harlem, participated in a two-year DCC program working on restorative discipline practices. He eventually joined the collaborative as a part-time facilitator for other schools.
"The beauty of the District-Charter Collaborative was that it was a way for a lot of schools to strip down some of those barriers and realize that there's a lot of benefit from us just collaborating," he says. "And that ability to exchange ideas and information just fosters a lot of interesting, creative work that ultimately better serves our kids."
Participating school leaders repeatedly identify city resources as particularly critical for collaboration. The relationship between the New York City Department of Education and charters is "not always collegial," Zachary Mack, assistant principal at Brooklyn's P.S. 59, said last fall. "The DCC is a really unique program because it allows for collaboration … but it also gives the resources needed to collaborate."
Without those resources, Mack noted then, collaboration with NYC charter schools would be much more difficult. "Collaboration is a great thing to talk about, and no one would say, 'No, collaboration is bad,' but … a lot of opportunities to collaborate are completely unfunded. That can be so difficult because every dollar you spend on something like that you're taking out of a classroom."
Elisa DiMauro, principal at Democracy Prep Charter High School, agrees. "We won't continue the work that we're doing next year if we don't have the DCC," she says. "Without somebody to coordinate it, without it being clearly someone's responsibility to do that, it's going to end up on some random teacher or assistant principal's to-do list."
For years, critics have argued that charters should work more intentionally and collaboratively with districts to share ideas and promising practices. NYC's District-Charter Collaborative was an effort to bridge (and soothe) the divide between these schools and the city's school district.
Nee calls that one of the DCC's "main selling points." He continues, "It was amazing to see how much misinformation was out there and, once that was kinda stripped away, how similar our experiences were with our kids and how similar our goals were. And it just really defined for me that this charter-versus-district thing is so politicized."
These are unprecedented times, and it may well be true that New York can no longer afford to support formal collaboration between charters and district schools. This is an emergency. Millions of city residents are short on food, and the city's schools won't reopen until the fall — at the earliest. When students return to campus, educators across the city will likely be scrambling to provide remedial instruction and help children work through trauma related to the prolonged school closures. It's entirely understandable to decide that schools won't have time for observations and sober, reflective discussions about what peer schools are doing. That's a fair position for the city to take.
"Professional development and adults getting the support and resources to get better at what they do is certainly core to the success of education," says DiMauro. "Unfortunately, it's one of the things that often gets cut first … the danger of that, then, is we get into these ruts or these challenges and we expect to find the solution and we can't find the solution because we cut the places where the solutions are more likely to come about."
Cutting the collaborative program will save the city $4.4 million next year, according to Mayor de Blasio's budget proposal. The program helped schools in both sectors experiment with different approaches to instruction and lowered political tensions between district and charter schools. The DCC was a small down payment on using charter schools as testing grounds for innovations that could eventually be scaled across school districts, which harks back to the original charter vision.
In a moment like this one — a formative generational crisis — those sorts of advantages understandably recede from view. The benefits of this kind of collaboration are undramatic and slow developing — sometimes to the point of being indiscernible. But that doesn't make them any less real, and we should still regret their loss. What's more, the next time critics complain that charter schools aren't sharing their innovations with the rest of the district, they'll have to face the fact that the city eliminated its support of that sort of collaboration this year.
"When you have a bunch of educators in a room for professional development where everybody's made a commitment to get better, you realize we're all here for very similar reasons," says DiMauro. "We all care about kids, we all want to be good at what we do, and we want our work to be meaningful. And I think the DCC was just a really well thought-out program that made those understandings happen with both district and charter schools."
Support The 74's year-end campaign. Make a tax-exempt donation now.