From NYC Parents to Principals, Mayor De Blasio's Decision During COVID-19 to Fill Teacher Openings From Troubled Absent Teacher Reserve Sparks Worries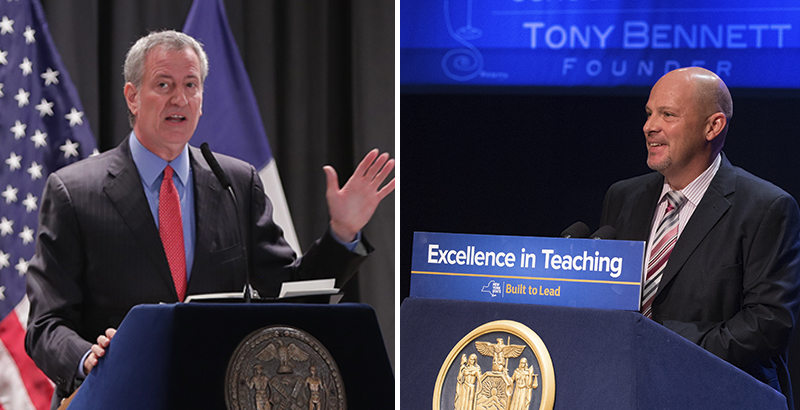 Updated, May 20
As the coronavirus continues to ravage the United States and its economy — and as Education Secretary Betsy DeVos redirects federal relief money earmarked for poor students to those in wealthy communities — state and district leaders have been left scrambling in anticipation of significant financial losses.
New York City, the largest school district in the country, is no exception. Last month, Gov. Andrew Cuomo warned that the state's school funding could get cut in half, and Mayor Bill de Blasio introduced a citywide savings plan that included slashing the education budget by roughly $827 million, according to Chalkbeat.
The proposed cuts include one point of particular controversy: a hiring freeze that's expected to save more than $100 million, which involves filling vacant teacher positions with educators from the Absent Teacher Reserve, a kind of purgatorial pool of 553 New York City educators who don't have a specific assignment. That number has been reduced from approximately 700 members in January 2020, according to the Citizens Budget Commission, and a high of 1,523 in 2013, a Department of Education spokesperson said.
Educators can end up in the ATR for a variety of reasons: They can get funneled there because of bad performance reviews, or because schools underwent budget cuts or closures. They can also get placed there as a result of past disciplinary infractions — which accounts for 23 percent of those currently in the ATR, according to the DOE. 
Historically, most of the ATR pool has been placed in struggling schools with a higher-than-average number of black and low-income students, according to research published by The Education Trust-New York. That fact has advocates and others worried, particularly now.
"My initial reaction was concern," says Paula White, the executive director of Educators for Excellence's New York office. "In this moment, we are seeing that issues of equity become more entrenched. What we know about the ATR is that placement has disproportionately been in educational settings that are already disadvantaged. [These educators have been] going disproportionately into schools that have high needs and a high percentage of black and brown children."
Others who spoke with The 74, including parents and the head of the school principals union, also expressed concern about the district's plan having an outsize impact on low-income students whose neighborhoods have been disproportionately devastated by the disease, some of whom are struggling to get basic needs met to the point that they can learn at all during the coronavirus. It's these learners, experts have warned, who could bear the brunt of the educational losses sustained during the pandemic, and who are likely to need the most support in combating the so-called Covid slide when kids eventually return to school.
"At a moment when so many families are struggling and schools will be making up for lost time, it would be malpractice to cut school funding," state Sen. Andrew Gounardes told the Brooklyn Reporter. "The budget has ballooned by $20 billion under Mayor de Blasio, and we need to exhaust every option to raise revenues from the wealthiest and cut nonessential programs rather than cut a single dollar from our schools."
The educators, parents and advocates interviewed for this story were not surprised that the city is taking the ATR approach; after all, the mayor has been working for years to reduce the size of the costly crew through strategies like placement and early retirement. In 2018, the pool cost the city $136 million, according to a report from the Citizens Budget Commission. The average ATR teacher makes about $15,000 more than comparable DOE employees; the most handsomely paid earns $119,472 due to accruing time in the system, the report stated. New York City isn't the only district that has an ATR, but it is the only one with no time limit stipulating how long a teacher can linger there. The average ATR member has been on the city's payroll for 18 years, and in 2017, a quarter of the teachers in the pool had been there five years earlier.
The DOE declined The 74's request for data on the number of New York City public school teachers who have filed for retirement or submitted resignations since the virus hit the city in March. The department also refused to delineate the timing of the hiring freeze and ATR placements, or to clarify whether or not any of those placements will involve teachers with a disciplinary record.
"New York City schools have high-quality teachers," said district spokesperson Danielle Filson. "And because of the investments we've made in teacher training and leadership programs, we will have strong options for next school year. We are adjusting our strategies during these challenging times to help principals meet their staffing needs."
The district reported that, as of May 8, the coronavirus had taken the lives of 70 school-based employees, 30 of them teachers, 28 paraprofessionals. Most worked in Brooklyn, Queens and the Bronx.
Farah Despeignes is a parent of two, a former teacher and the president of District 8's Community Education Council in the Bronx. She has a number of concerns about where Mayor de Blasio's budget axe will fall, and about how the ATR teachers will be assigned.
"If nothing else, this pandemic is illuminating disparities and what the solutions to those need to be," she said. "As we talk about cutting the budget for schools, we need to ask, 'Who are the people who will suffer the most?'" With the recently proposed budget cuts, she fears, "It's us, the people who need more."
Mark Cannizzaro, president of the Council of School Supervisors and Administrators, would like to see the DOE take steps to ensure that the ATR hiring doesn't affect one school more than another. "If one school, for example, has three vacancies in a particular license area, I'd like to see that they're not necessarily expected to hire from the ATR pool again, until all the other [schools] have hired from it," he explains. "I wouldn't want to see any one school affected disproportionately."
The ATR emerged in 2005 as part of a deal struck between then-Mayor Michael Bloomberg and then-UFT head Randi Weingarten. It was intended to give principals freedom to make personnel decisions based upon factors other than seniority, while simultaneously protecting the jobs of teachers whose positions had been eliminated and those who were considered less-than-desirable hires.
"This difficult time makes it even more necessary that the DOE use its resources in a thoughtful way," UFT spokesperson Dick Riley said of the department's latest decision. "The teachers in the ATR pool are an important source of teaching experience."
Mike Loeb is a seventh-grade science teacher at the Urban Institute of Math in Despeignes's district in the Bronx. Teachers at his school balked at the mayor's budget proposal, he says, not because of the ATR reference but rather because they were afraid they might get fired or "excessed," meaning that they would lose their own positions and get shunted into the pool themselves.
"For many of them, this is the only school they've worked at," he said. "This is the only one that feels like home."
Loeb adds that the ATR pool creates a strange, sometimes counterproductive stigma that sticks to the teachers who end up there.
"People with very different backgrounds are in the same pool," he points out. In his 12 years teaching, he's seen that range of histories manifest in all kinds of ways. "We've had some really strong ATRs — paraprofessionals, teachers, guidance counselors — and then others have not been as strong."
Despeignes echoes that issue, explaining that her concerns about ATR placement don't stem from educators simply being in the pool, but rather from apprehension that, at worst, they could harm students and, at best, they could be incompetent.
"It depends on why the teacher is there," she says. "Is it because the school closed down and they can't find another assignment? Or is it because of disciplinary issues? If so, what were the accusations? What were the findings? All of that matters."
Like any other kind of hire, Despeignes says, an ATR placement might not do well in a school because they're not the best fit for the culture or because they lack certain skills.
"Especially for us in the Bronx and some of our schools," she adds. "Needs are very high, resources are few, and there's a level of overextension required of teachers. You have to be more patient, understanding and creative because you have to do so much with so little to get the kinds of outcomes we're looking for."
White, of Educators for Excellence, worries in particular about the degree of technological savvy required of educators in the era of the coronavirus. "Things have been traveling at the speed of light," she says. "Actively practicing educators had a learning curve coming into this pandemic and going to an online platform. If it's hard for some of our regular educators, then certainly I'm concerned about the competency of educators, many of whom have been sitting idle."
Cannizzaro, the principals union head, would like to see the DOE resolve that problem by offering an exception to the hiring freeze if a position is identified that an ATR member can't satisfactorily fill. He mentions high school physics, an area where it's notoriously challenging to find hires, as an example, continuing that he'd welcome financial incentives from the DOE for taking on an ATR teacher in general — "especially for schools that are struggling budgetarily."
White agrees, saying that, given the circumstances, she hopes the DOE will provide some degree of financial support for the hires. The department might enter a hybrid agreement with schools, she suggests, whereby the district funds the first year or two of the ATR hire, so that by the time the educator is transitioning onto the school's budget, the principal has had some time to weigh the contributions of that individual, an idea similar to how the DOE has funded ATR placements in the past.
"There isn't a lot of transparency with regard to the ATR," White says. "There may be a lot of unknowns. I don't think it would be unreasonable for the Department of Education to shoulder at least a portion of that burden."
Updated: This story has been updated to reflect information provided by the Department of Education on the current percentage of teachers in the Absent Teacher Reserve who are there for past disciplinary infractions.
Get stories like these delivered straight to your inbox. Sign up for The 74 Newsletter