The Big Three: Trio of Heralded Reformers Take Top Posts at Nation's Largest School Districts, to Great Expectations … and Headaches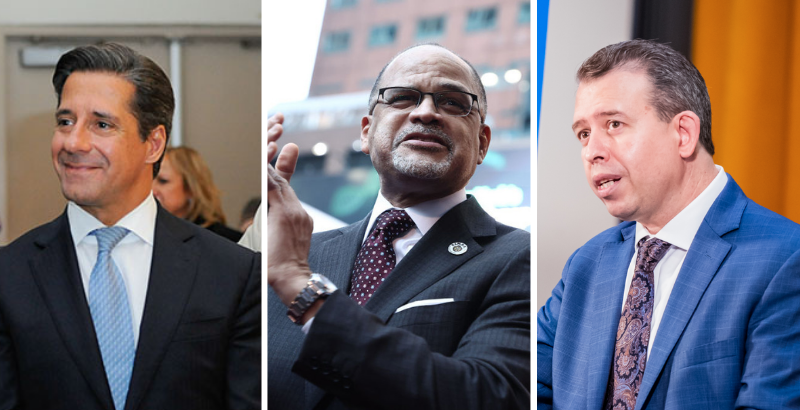 Get stories like these delivered straight to your inbox. Sign up for The 74 Newsletter
Four years ago, Miami-Dade County Schools Superintendent Alberto Carvalho came within a hair's breadth of becoming New York City's schools chancellor.
Offered the job by then-Mayor Bill de Blasio, Carvalho reportedly accepted in private, then presided over a televised school board meeting that featured three hours of supporters all but begging him to stay. In the end, Carvalho remained.
Cheers and applause greeted the move in Miami, but it didn't go over so well in New York, home to the nation's largest school district: Eric Phillips, de Blasio's press secretary, tweeted, "Who would ever hire this guy again?"
Four years later, Phillips has his answer: Carvalho now leads Los Angeles Unified School District, the nation's second-largest school system.
The drama of the hire was underscored by Pedro Noguera, dean of the University of Southern California Rossier School of Education, who likened the move to "LeBron coming to the Lakers." But Los Angeles offers only the most recent example of an oversize personality with huge ambitions taking over a district's top job. Right now, all three of the nation's largest school systems are run by energetic reformers, a rarity even in big-city schools circles.
All of them greet Spring 2022 full of promise — and problems. Over the next few years, they'll enjoy unprecedented funding as taxpayers throw billions of dollars at schools to scrub away deficits caused by the COVID-19 pandemic.
But all three districts are rapidly losing students. And unions, emboldened by 2021 victories around remote instruction and, in recent years, high-profile strikes, could be formidable obstacles to their priorities. In Chicago, new schools CEO Pedro Martinez has already faced down a citywide teacher walkout.
In addition to Carvalho and Martinez, who are both immigrants, New York City Mayor Eric Adams in December named David Banks, the founder of a small network of public boys' schools, as the new school chancellor. Banks's schools have stood out for, among other reasons, employing many male teachers of color.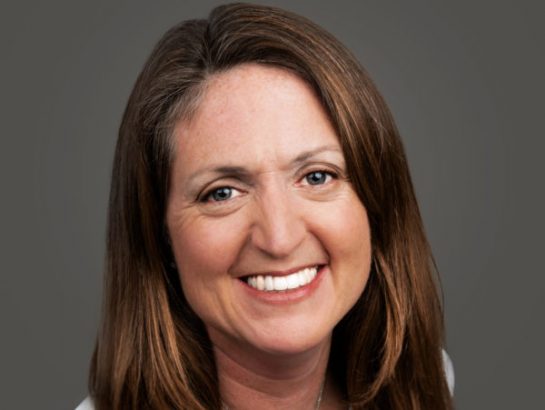 All three "definitely seem reform minded, which I think is super exciting and a real breath of fresh air," said Kathleen Porter-Magee, superintendent of the Catholic independent Partnership Schools network.
"I think it really speaks to the moment we're at as we're coming out of COVID," she said. The pandemic "provided an uncomfortable reminder" of the need for leaders who will put children's needs first.
Billions in new funding … until 2024
Martinez, Chicago's new schools CEO, is board chair of Chiefs for Change, a group that advocates for increased school choice, effective teacher preparation, and standards-aligned curricula. But it also rails against "onerous bureaucracy" in schools. That credo will certainly be challenged by the sheer scale of federal intervention: some $190 billion in COVID-related relief since 2020.
In New York, state lawmakers in 2021 increased funding to New York City by nearly half a billion dollars. By next year, a lawsuit settled last year to equalize urban school funding could bring that to $1 billion, said Shael Polakow-Suransky, president of Bank Street College and New York City's former senior deputy chancellor. "So there is a significant infusion of new dollars into the school system that can be used to dig into systemic issues. And that's very rare."
As in districts large and small elsewhere, the three leaders are "all drinking from a firehose" of funding, said Nina Rees of the National Alliance for Public Charter Schools. But that also places extra responsibility on them: "No one can blame lack of funding as their excuse for not getting things done," she said.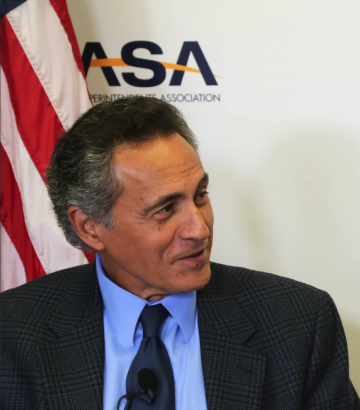 But unless Congress acts, all that extra funding will run out in 2024. None of the three new leaders agreed to be interviewed for this piece.
Dan Domenech, who leads the AASA, the nation's school superintendent's association, said many leaders are using the cash to upgrade facilities. But spending it on generous raises or new instructional positions could actually put them at odds with unions, since those jobs won't be sustainable.
"The financial cliff is only two years away," he said.
A 'friend of charters back at the helm'
A product of New York City's public schools, Banks cut his teeth founding and running the network of five unionized Eagle Academy public schools in New York City and Newark.
While the schools aren't charters, Banks has said he supports charter schools. He told The New York Times in December that families "are desperate for quality seats, quality schools … And if the traditional public schools were offering that, you wouldn't see such a mass rush to the charter schools."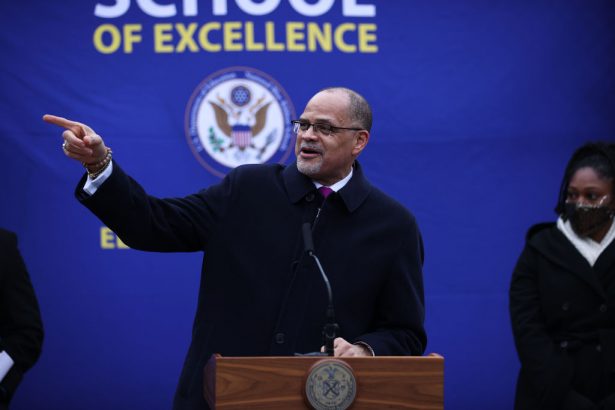 Banks created the Eagle Academy schools to serve academically struggling boys of color in grades six through 12 who often face harsh discipline. As chancellor, he said, his first priorities are to expand early childhood education, improve career pathways for older students, and to combat students' trauma.
Michael Mulgrew, president of the United Federation of Teachers, the city's union, has known Banks for years. "I've been at his schools and I found them to be quite well-run," he said. All the same, running the largest school district in the nation will force him to tame the city schools' "mammoth bureaucracy."
The last two mayors have restructured the school system six times, Mulgrew said. "And every time, all they did was add another layer."
In his first major policy speech, Banks on March 2 acknowledged that many families have "decided to vote with their feet, and to say, 'We're going to find other alternatives and other choices for our children.'"
He promised an overhaul of the bureaucracy, including requiring district superintendents to reapply for their jobs. And he took direct aim at the way many schools teach reading, criticizing a method developed by a Columbia University Teachers College professor that "has not worked" with many children. He promised to shift to a method that emphasizes explicit phonics instruction, among other changes.
Banks has also said he'd like to transform city schools from the bottom up by handing more autonomy to "principals who know what they're doing," according to the speech. He also wants to tweak how standardized tests are used, allowing students to show they've mastered content in other ways.
His ascendance stands in contrast to previous leaders who have looked suspiciously on the charter sector. New York actually caps the number of charter schools statewide at 460, with just 290 allowed for nearly 1 million students in New York City. While it'd take a state-level change to allow more, choice advocates said Banks can eloquently make the case.
"It feels to me like this is the moment where we can really see that there is a friend of charters back at the helm of New York City schools, which I think is really great to see, and I know is probably sending some shockwaves," said Porter-Magee.
So far, at least, Banks hasn't forcefully pushed to lift the cap, telling an interviewer in December, "We want to scale excellence. So if that means opening a few more charter schools, that's what we're going to do … if we can get the state to approve it." But he said he's also encouraging the philanthropic community "to lean in on the traditional public school system, because at the end of the day, most of our children will continue to go to our traditional public schools."
Enrollment downturns
Carvalho, who led Miami-Dade schools for 14 years, has been able to compete with charters by creating centralized data systems that allowed him to keep track of students' academic progress better than most big-city leaders during the pandemic, Rees said.
A Portuguese immigrant, Carvalho grew up in Miami and worked restaurant and construction jobs early on. He came up through the ranks in Miami-Dade, starting out as a high school science teacher and becoming a new breed of area leader: one who sticks around. Before he took the top job in 2008, Miami-Dade "was a revolving door for superintendents coming and going," Domenech said.
Sticking around paid off. In 2012, the district won the coveted $1 million Broad Prize for Urban Education, which recognizes school districts that have shown academic improvement while narrowing the achievement gap. More recent findings from the district's Office of Academics and Transformation paint a less rosy picture: While Black students' graduation rates rose from 62.4 percent in 2011 to 85.6 percent in 2020, just 40 percent of Black students in 2019 were proficient in reading; 44 percent were proficient in math.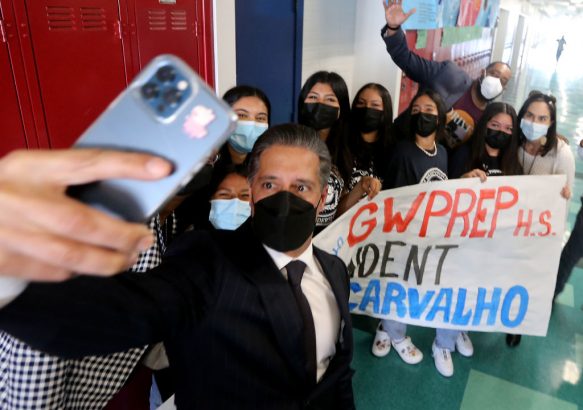 With parents clamoring to remediate lost instructional time during the pandemic, Domenech said Carvalho brought in "a very creative" program that contracted with camps to provide summer school.
Carvalho's long tenure — the average big-city leader sticks around just six years — is "a testament to his savvy in terms of the politics, in dealing with the board, in dealing with the community, in dealing with employee groups," Domenech said.
He'll need that savvy in Los Angeles, which also has recently featured a revolving door of superintendents, a strong union and an outspoken, ever-shifting school board — it currently has three seats open in the next election. In Los Angeles, Carvalho will work at the pleasure of the school board. Meanwhile, Banks and Martinez will work for the mayors of their respective cities.
During his second week at LAUSD, Carvalho unveiled a 100-day plan that includes expanded preschool, year-round learning and a "Parent Academy" offering coursework to help parents understand their children's education. He'd also lengthen the school year and offer teachers more professional development. He acknowledged that he'd have to negotiate with the city's teachers union about those last two ideas.
Carvalho last month told The 74 the district must expand school choice if it wants to keep from "bleeding out students" from a system that, while much bigger than Miami, has fewer than one-third as many school choice options.
Los Angeles students, he said, basically have two choices at the moment: magnet schools and charter schools. "Whoever decided to restrict choice on the basis of those parameters?" he asked. "Where are the programs in L.A. where we see long waiting lists of parents? Why aren't we expanding more of those programs to where the demand is?"
He has since suggested the district consider an "explosion of offerings" for students, including dual-enrollment programs, International Baccalaureate programs, fine and performing arts magnet schools, and single-gender schools, among others. "I'm less concerned about the dynamic of dialogue that usually separates people into two camps: charter versus non-charter. I'm more interested in programmatic offerings that benefit kids — period."
Carvalho suggested that the district analyze which programs motivate students to travel long distances from their neighborhoods and offer more of these. "I can fill an entire wall with a repertoire of options for parents. Why aren't we offering all of that?"
Throughout the pandemic, all three cities have struggled to retain and, in some cases, even find their students. All have seen substantial downturns in enrollment.
Myrna Castrejon of the California Charter Schools Association said a crashing birth rate across California is a cause for concern. And net migration has actually dipped "into the negatives" as immigrants return home due to anti-immigration policies and economic uncertainty.
"This is not about 'The affluent went to Tahoe during the pandemic to hunker down,'" she said. "This is real and it's permanent and it's creating challenges across the state."
An 'innovative and data-informed' school integration experiment
Born in Mexico, Martinez emigrated to the U.S. with his family when he was 5. He is the oldest in a family of 12 children with deep ties to Chicago's public school system — three of his sisters teach in the district and some 28 nieces and nephews attend local public schools.
Martinez was working in finance for the Archdiocese of Chicago in 2003 when then-Chicago Public Schools Superintendent Arne Duncan hired him as chief financial officer. He remained there until 2009 — Duncan moved on to serve as U.S. Education Secretary under President Obama. Martinez made a name for himself leading the San Antonio Independent School District through a redesign, beginning in 2015, that The 74 dubbed "one of America's most innovative and data-informed school integration experiments."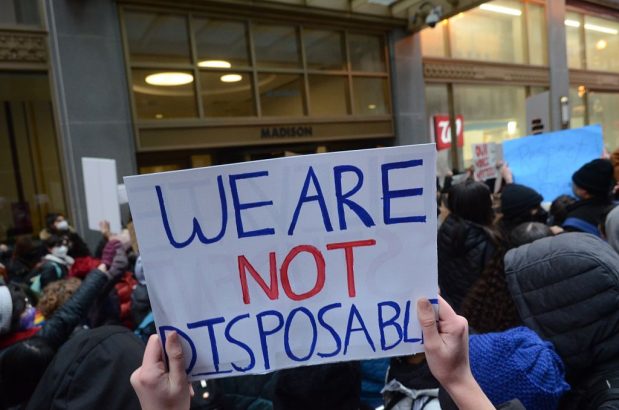 Using family income data, he mapped poverty levels for each city block. Then he integrated schools not by race but by income and, among other factors, by parents' education levels. Three years later, San Antonio's 90 schools and 47,000 students were among the fastest-improving in Texas.
In Chicago, he faces something entirely different: a 330,000-student system that's losing students as families leave the city. Recent enrollment data show that while 43,500 new students enrolled for the first time this year, 54,000 left between the last school year and this one.
On the job in Chicago for seven months, Martinez has already faced down his first major crisis: the city's teachers in early January voted to not show up for work until COVID-19 safety demands were met.
Martinez proposed a host of measures, including building-level testing to determine when to close schools. But the union, with memories of an 11-day strike in 2019 that ended with millions in extra spending, insisted on more strict measures, including negative PCR tests for all staff, students, and volunteers in order to keep schools open.
The strike lasted just under a week after the district agreed to increase testing options, allow remote learning on a case-by-case basis, and secure more KN95 masks. Despite the agreement, union Vice President Stacy Davis Gates blasted Mayor Lori Lightfoot as "unfit to lead our city. She's on a one-woman kamikaze mission to destroy our public schools."
'This is the moment that unions should be at their strongest'
John Bailey, a school consultant and occasional columnist for The 74, said the political climate in all three cities reflects a desire by voters more broadly and parents specifically, to pull back from "super-progressive" policies, such as the Defund the Police movement, to more centrist strategies that simply ensure a solid education for all. Parents "just want a school system they can count on, that's reliable, that is just serving their kids."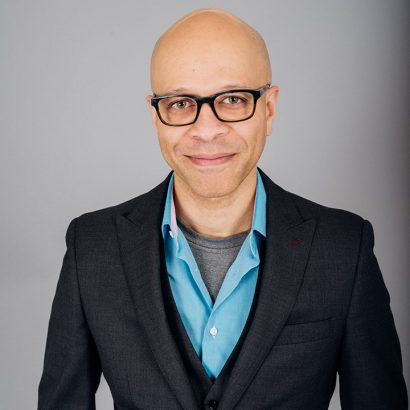 Derrell Bradford, president of the education advocacy group 50CAN, said Adams, the New York mayor, campaigned on not just a return to moderation but normalcy: "The schools are open, the subways are safe. The restaurants work. People are back in their offices. That's almost nostalgia now, and people crave that. And I think these candidates got that. And their education choices reflect that too."
At the same time, unions are on the ascent. With their defiant responses to in-person instruction amid COVID-19 spikes and a handful of recent high-profile strikes in recent years, they've seen their political power and influence grow after years of declining membership.
"This is the moment that unions should be at their strongest," said Andy Smarick, a resident senior fellow at the R Street Institute, a libertarian Washington, D.C., think tank. "This is a health crisis, and unions are designed to make sure that they're protecting the health and safety of their members."
But over the past few years, he said, unions in many places have "overplayed their hands" by demanding that instruction stay remote. The arrival of these new leaders may signal something different altogether: The new leaders are by no means union supporters, even if voters in each of their solidly blue cities are.
Rees, of the charter schools group, noted that Banks hired Dan Weisberg as first deputy chancellor. Since 2015, Weisberg has served as CEO of TNTP, a national nonprofit (formerly called The New Teacher Project) that has trained thousands of teachers outside of traditional teachers colleges. Since its founding in 1997, it has had a complicated relationship with unions.
In 2018, after the U.S. Supreme Court dealt unions a blow by making a portion of members' dues optional, Weisberg wrote in a blog post that he disagreed with the decision, calling it "a matter of basic fairness that teachers who reap the benefits of collective bargaining should also share in the costs."
But Weisberg also called the Janus v. AFSCME decision "a blessing in disguise" for unions, which he said "are now forced to finally confront an existential threat that's been brewing for years: They're losing touch with more and more of their members."
Rees said Weisberg's hiring "gives us confidence that there's a new sheriff in town and that things are going to be a little bit different, or at least that the reform community and the charter school community will have a seat at the table."
Get stories like these delivered straight to your inbox. Sign up for The 74 Newsletter