The Carvalho Show: In Extraordinary Education Drama, Miami Schools Chief Offered Top NYC Schools Job — and Turns It Down on Live TV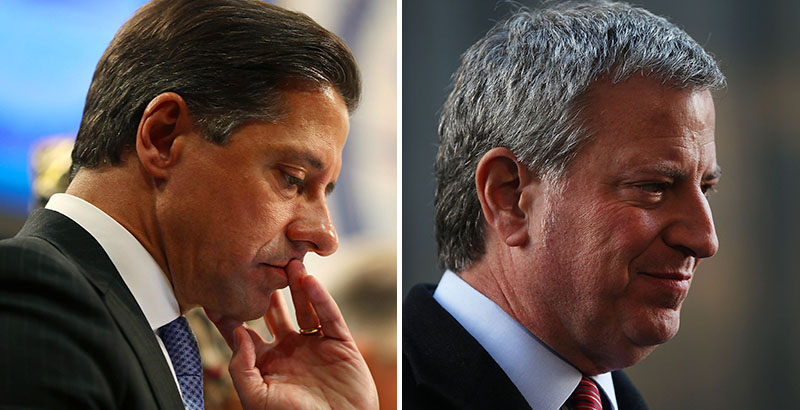 Political drama in Florida gave Broadway a run for its money Thursday as the education world tuned in for live coverage of a Miami-Dade school board meeting where Alberto Carvalho, superintendent for about 10 years, was widely expected to accept an offer to become New York City's next schools chancellor.
But that announcement never came. Instead, in a surprising twist that followed hours of testimony and two lengthy recesses — much of it covered live by media in New York and Florida — Carvalho shot down the offer.
"We may have the strength to break an agreement with an adult," Carvalho said during the school board meeting. "I just don't know how to break a promise to a child, how to break a promise to a community."
After requesting two recesses — presumably to call Mayor Bill de Blasio to turn down the offer — the superintendent announced he was "breaking an agreement" and would stay in Miami, America's fourth-largest school district.
It was a radical turn in a day that left the New York media at a loss for adjectives. On Wednesday evening, de Blasio announced he had found "a world-class educator with an unmatched track record of success" to lead America's largest and highest-profile public school system, with more than 1 million students. The decision came two months after Chancellor Carmen Fariña announced she would retire after four years on the job. The job offer, and the decision to leave a city he's called home for decades, "has weighed on me over the past 24 hours like nothing has weighed on me before," Carvalho said.
Meanwhile, the reaction from the mayor's camp was swift. In a series of tweets, de Blasio press secretary Eric Phillips took a stab at Carvalho, saying he agreed to take the job more than a week ago. "Who would ever hire this guy again? Who would ever vote for him?" Phillips said.
From Florida newspapers and television stations to the crowded media landscape in New York City, journalists tuned in to witness a seasoned education veteran accept America's highest-profile schools job. As the spectacle grew longer and more incomprehensible, several journalists mocked the proceedings on Twitter with the hashtag #TheCarvalhoShow.
Even Phillips seemed confused for a bit, tweeting that de Blasio's staff was "also sorting through the weirdness." Just an hour earlier, Phillips remarked on the "good personnel choice," noting that "a good bulk of the questions from reporters are some version of, 'Is the mayor worried this guy might be *too* good?'"
In a City Hall press conference Thursday afternoon, de Blasio said he, too, was caught off guard. The mayor noted that the search for a new chancellor has resumed, and that Fariña has agreed to stay in her post through March.
"You can imagine how surprised I was to get a phone call from him a few hours ago," de Blasio said, adding that he's never had "a situation like this before."
During Thursday's "emergency" school board meeting, members of the Miami community pleaded — for more than two hours — for Carvalho to retain his current job. Every present member of the school board spoke at length about Carvalho's accomplishments in Miami, and at one point they offered the superintendent a unanimous "vote of confidence." Even rapper Luther Campbell showed up at the meeting, calling Carvalho's potential move a travesty.
"The bus drivers told me to tell you to stay. The custodians told me to tell you to stay. The cafeteria workers told me to tell you to stay. Everyone that I crossed this morning asked me to tell you to stay," board member Dorothy Bendross-Mindingall said. "You will make us more successful."
When Carvalho started speaking, just over two hours into the meeting, he did not address the job offer. Instead, he offered remarks on gun violence (the fatal shooting in Parkland, Florida, reportedly delayed an announcement about the offer) before outlining the highs and lows of his career as superintendent since 2008. He offered a shout-out to Miami's immigrant youth, whose humble upbringings mirror his own. Carvalho is an immigrant: a Portuguese native who grew up in poverty and came to the U.S. in the 1980s — New York City, in fact — as an undocumented teen, speaking no English.
But then, Carvalho's voice began to crack, and his tone began to change. He called for a five-minute recess, which ended up taking 25 minutes, and stood from his chair — leaving the room, and viewers watching on television and laptops, in suspense.
When he returned from the first recess, he said he had finally made up his mind. But because he's "a man of honor," he said, he needed to speak first to the person who hired him — presumably de Blasio. The job as New York City chancellor is often considered the highest-profile public education job in the United States, perhaps even more prominent than U.S. Secretary of Education. Speculation began to build that maybe Carvalho would deliver the blow to de Blasio after a second recess. Providing confirmation, he returned to the room and told the audience he would turn down the job "against probably my personal best interest." The room erupted in applause.
"I underestimated the emotional tug, the level of commitment, the power that crying members of the community have had on me," he said. "The decision I made about that position is a decision I can no longer sustain."
Those comments, however, quickly irked observers who noticed they didn't align neatly with statements from his communications team. On Wednesday evening, Carvalho spokesman John Schuster told The 74 that although de Blasio had offered Carvalho the job, the Miami superintendent had not yet accepted the offer. It remains unclear why Carvalho decided at the last minute — and in such a public setting — to turn down the job. During the afternoon press conference, de Blasio said he had offered Carvalho the position two weeks ago and that the superintendent had accepted more than a week ago. Carvalho last spoke with de Blasio about the new job at 8 p.m. Wednesday "and all systems were go," the mayor said, though he declined to speculate as to when — or why — Carvalho changed his mind.
This is not, however, the first time Carvalho has shot down a high-profile job offer, despite long-standing rumors that he has higher political ambitions. In 2008, Carvalho rejected an offer to become superintendent of Pinellas County Schools in Florida when — just a few hours later — he was offered the chance to lead Miami-Dade. In 2012, Carvalho reportedly turned down a job as assistant secretary of education under then-President Obama's first education secretary, Arne Duncan.
"Educators all over the country want this job, and we've had a huge amount of interest," de Blasio said. "He told me repeatedly this was his dream job."
Get stories like these delivered straight to your inbox. Sign up for The 74 Newsletter