Success Academy Founder Eva Moskowitz: 'We Are Making Progress, but It's Frustratingly Slow'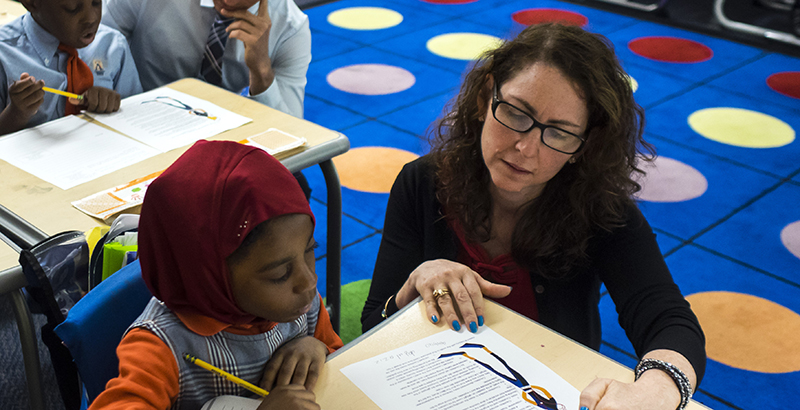 Washington, D.C.
Success Academy founder and CEO Eva Moskowitz has more in common with her longtime foe New York Mayor Bill de Blasio than you might think, she told an audience in Washington Tuesday.
"This may sound strange, but I share a lot in common with Bill de Blasio. I do think there's a tale of two cities, educationally, I do think there is a level of injustice in the city, around the state of New York, around the country. I just think my solution to that problem, educationally, is a lot different," she told an audience at the conservative-leaning American Enterprise Institute.
Moskowitz spoke to an audience of several dozen in an event to promote her just-released book, The Education of Eva Moskowitz. Success Academies, which opened in 2006 and now educate 15,500 students across 46 campuses, most of them low-income students of color, are some of the top-performing schools in the state.
(The 74: Success Academy Students Outscore Every District in New York State on Annual English and Math Exams)
De Blasio believes in bigger, one-size-fits-all government, which Moskowitz, a former city councilwoman, called a "1970s vision of government." She, however, believes in top management practices, investment of resources, and attracting top talent, she said.
"I think we are making progress, but it's frustratingly slow," she said.
De Blasio and Moskowitz have long feuded about space for Success schools in empty or under-utilized buildings owned by the city. Moskowitz has been waiting 10 months for more space for her middle schools, despite there being 112 chronically underutilized buildings with 65,000 available seats, she said.
Moskowitz and other charter leaders held a rally last month at City Hall to protest what they said was illegal foot-dragging by the de Blasio administration on space requests for the 2018–19 school year.
A city Education Department spokesman told the New York Daily News that the city follows applicable state law and addresses space requests in a timely manner.
Moskowitz and de Blasio are also locked in an ongoing court battle over how much control the city can assert over Success's proposed preschool program.
(The 74: Appellate Court Hands Success Academy a Victory in Dispute With NYC and State Over Pre-K Control)
Moskowitz, who may be the best-known education reform advocate in the country, was believed to be on the short list of education secretaries for the Trump administration, before she made a public statement saying she didn't want the job. She had also for a time been considering a run against de Blasio, who is all but assured re-election to a second term in November.
(The 74: Success Academy Leader Eva Moskowitz Doesn't Want Ed Secretary Job, Defends Trump Platform)
Success this year won the prestigious Broad Prize for public charter schools.
Moskowitz and Success have been criticized for harsh discipline, heavy test prep and failure to serve high-needs kids. She was asked directly about "cream-skimming," or recruiting and keeping only high-achieving kids.
Given the effort put into recruitment, use of a random lottery, and high retention rates, "cream-skimming" just can't be the source of their success, she said.
"It's mathematically impossible to get the results that we are getting by quote-unquote creaming," she said.
The ultimate goal for Success is to serve 50,000 students in 100 schools, Moskowitz said. Leaders are also focused on expanding their online education institute, which shares curriculum and the like for other schools and educators.
Campbell Brown is a co-founder of The 74 and sits on the board of directors of The 74 and Success Academies. Charles Strauch, a funder of The 74, is also a Success Academy board member. The Walton Family Foundation and The Eli and Edythe Broad Foundation provide financial support to both The 74 and Success Academies.
Get stories like these delivered straight to your inbox. Sign up for The 74 Newsletter