Success Academy Leader Eva Moskowitz Doesn't Want Ed Secretary Job, Defends Trump Platform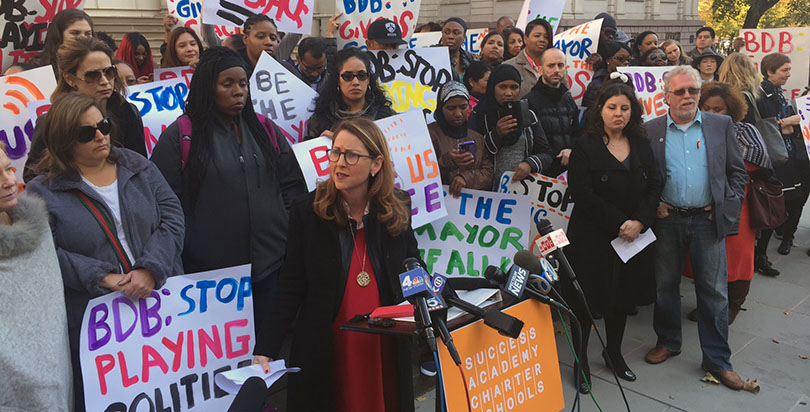 New York City
Eva Moskowitz will not serve as President-elect Donald Trump's education secretary, the leader of New York City's high-performing but controversial Success Academy Charter School network said Thursday.
"I believe I can best serve our country's children by continuing to expand Success Academies, developing best educational practices that can be used around the country, and by working as a private citizen to advance educational reform at the national level, just as I have done in New York," Moskowitz said at a press conference on the City Hall steps.
However, Moskowitz embraced Trump's "strong support for school choice," calling it "one of the most powerful education reform ideas ever," though she acknowledged voting for Hillary Clinton and said she was "disappointed by the result of this election."
She declined to discuss specifics of a
meeting she had with the president-elect
Wednesday at Trump Tower in Midtown Manhattan — even whether she had indeed been offered the education secretary job — but called on Americans to stop "rooting for Trump's failure." Echoing his rhetoric over the past week, Moskowitz called a
New York Times
article "ridiculous" for reporting that Trump's transition efforts are in disarray.
"Many presidents change when they assume office and realize that they now need to represent all Americans," Moskowitz said, adding that "many positive signs" signal that Trump will govern differently than he promised during the campaign. She pointed to his meeting Wednesday with New York City Mayor Bill de Blasio as a sign that Trump is "trying to listen to new voices."
With her statement Thursday, Moskowitz became the second candidate to say she was not interested in the education secretary post. Neurosurgeon and former Republican presidential hopeful Ben Carson previously
turned down
the job.
Other
names that have been floated
for the position include Betsy DeVos and Kevin Chavous of the American Federation of Children, Indiana Rep. Luke Messer, Gerard Robinson of the American Enterprise Institute, Bill Evers of the Hoover Institution, former D.C. public schools chief Michelle Rhee and Wisconsin Gov. Scott Walker.
A number of prominent education leaders and education reform advocates told
The 74 they
wouldn't be interested
in working in the Trump administration, raising red flags about whether the president-elect will be able to secure qualified staff. On Thursday, Democrats for Education Reform President Shavar Jeffries called on fellow Democrats to decline education secretary offers.
Any Democrat who accepted the job under Trump "would become an agent for an agenda that both contradicts progressive values and threatens grave harm to our nation's most vulnerable kids," Jeffries wrote in a media release, adding that Trump has proposed eliminating school accountability and cutting Title I funding. "Most pernicious, Trump gives both tacit and express endorsement to a dangerous set of racial, ethnic, religious, and gender stereotypes that assault the basic dignity of our children," Jeffries wrote.
During the campaign, Trump said little about what his presidency would mean for America's 50.4 million students, beyond promises to end the Common Core State Standards, support local control of schools and expand school choice through charters and voucher programs.
While these declarations have been short on specific policy proposals, he did say he would "reprioritize" $20 billion in federal dollars to give school choice to children who live in poverty. In October,
a Trump surrogate
called the U.S. Department of Education's Office for Civil Rights "self-perpetuating absolute nonsense." The office investigates discrimination in schools, and in January it received
a complaint
alleging Success Academy pushed out disabled students.
Success Academy is New York City's largest charter school network, with 41 schools and about 14,000 students, the vast majority of them children of color from low-income households. The network's students
far outperform
their peers at the city's traditional public schools on standardized tests. Moskowitz has come under criticism for strict discipline, heavy test preparation and failure to serve high-need students.
Moskowitz has long battled the mayor over space for her schools in city-owned buildings, and she was flanked at the press conference by Success Academy educators and families demanding that de Blasio provide Success Academy middle school students with "permanent locations." Parents waved signs that called on the mayor to "give us space" and to "stop playing politics" over classroom accommodations.
"If I left and went to D.C., who would keep their eyes on Mayor de Blasio?" Moskowitz asked.
Disclosure: The 74 Editor-in-Chief Campbell Brown is a Success Academy Charter Schools board member. She also sits on the board of directors of the American Federation of Children, of which Betsy DeVos is the chair. The Dick & Betsy DeVos Foundation provides funding to The 74. Brown was not involved in writing or editing this story.
Support The 74's year-end campaign. Make a tax-exempt donation now.