Success Academy Launches Online 'Education Institute' to Share Curriculum, Professional Development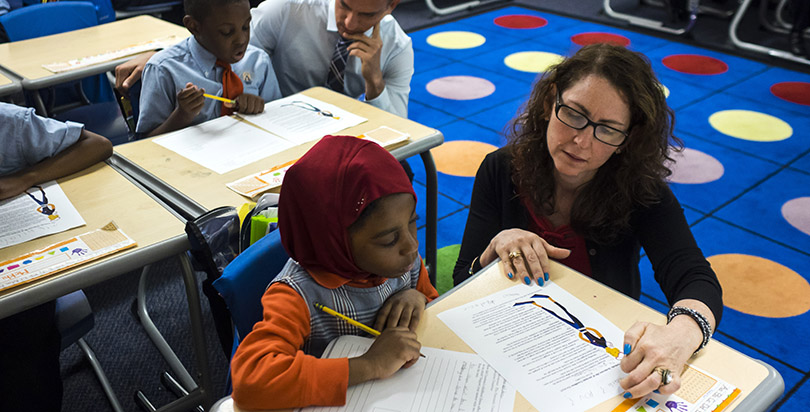 New York City
Success Academy founder and CEO Eva Moskowitz said she had two goals when she launched New York City's largest charter school network a decade ago: Open high-performing schools while working to improve American education more broadly.
Plans to expand Success Academy outside of New York City aren't currently part of the equation, she said, but a new online platform aims to grow the network's footprint beyond America's largest school district.
Dubbed the "Success Academy Education Institute," which Moskowitz and other Success Academy leaders unveiled Wednesday from their headquarters in Lower Manhattan, the free portal offers access to the curriculum and teacher development strategies that are employed at Success Academy's 41 schools across the city.
"There are far too many kids across the country who are trapped in schools where they don't learn to read and write and do mathematics and science at the most basic level, so we feel incredible pressure to be part of the solution," said Moskowitz, an outspoken former Democratic New York City councilwoman who last year withdrew herself from consideration as an education secretary candidate under President Trump. "The Ed Institute is our vehicle for sharing all that we have developed to support this model with educators around the country and, frankly, around the world."
Success Academy's track record in closing the achievement gap and improving the academic outcomes of low-income students of color was recognized this week when it won the $250,000 Broad Prize, which is meant for college readiness programs, such as scholarships or campus visits.
(The 74: Success Academy Wins 2017 Broad Prize, Unveils Ambitious Plans to Launch Digital Platform to Share Curriculum)
Success Academy's latest effort gets at the heart of the charter school movement's founding principles more than 25 years ago: to experiment with approaches to education, and to share lessons learned with the broader education community.
The online platform, which currently offers the charter network's literacy curriculum for kindergarten through fourth grade, is the first step in a broader effort to introduce teachers across the country to the Success Academy mantra. In the fall, the network plans to open a teacher-training facility at Hudson Yards in Manhattan with a lab school for students in kindergarten through eighth grade.
Some 15,000 educators across the country received emails on Wednesday promoting the new platform. Educators who sign on will receive invitations to attend workshops, conferences, and in-person training sessions at the Hudson Yards facility, said Liesel Anthony, the Education Institute's managing director. Beyond the training session, she said, participants will be invited to observe how their approach manifests in the classroom at the school next door.
At Success Academy, where 76 percent of the 14,000 students are low-income and 93 percent are African-American or Hispanic, its elementary and middle schools were among the top 10 percent of campuses statewide on English, math, and science tests last year.
At the foundation of the network's success, Moskowitz said, is its focus on improving student literacy. That's why the new website, which includes how-to videos, planning templates, book recommendations, and specific lesson plans broken down step-by-step, has been launched with the network's THINK Literacy curriculum. The Education Institute was designed to eventually house Success Academy curricula in humanities, math, and science.
"If we could have one resource for our schools, it would be books," said Michele Caracappa, Success Academy's chief academic officer. "We have spent tons and tons of time and effort hand-picking every single book that goes into a Success Academy classroom library, and we are so excited to share these read-aloud lists with our educator colleagues across the world."
Moskowitz has frequently battled with New York City Mayor Bill de Blasio over space for her in-demand charter schools and won a legal fight with the city and state last week when an appellate court ruled that its authorizer, not the New York City Department of Education, should oversee Success Academy's participation in de Blasio's universal pre-K program.
(The 74: Appellate Court Hands Success Academy a Victory in Dispute With NYC and State Over Pre-K Control)
The network has grown from one school to more than 40 in a decade, making it larger than 95 percent of school districts across the country. It reported in April receiving roughly 17,000 applications for 3,017 available seats for the 2017–18 school year.
Moskowitz and the network have come under fire, particularly for strict discipline, emphasis on test prep, and allegations that it fails to serve or pushes out high-needs or underperforming students. Success has denied that charge.
Disclosure: Campbell Brown, The 74's co-founder, sits on Success Academy's board of directors.
---
---
Get stories like these delivered straight to your inbox. Sign up for The 74 Newsletter