Success Academy Wins 2017 Broad Prize, Unveils Ambitious Plans to Launch Digital Platform to Share Curriculum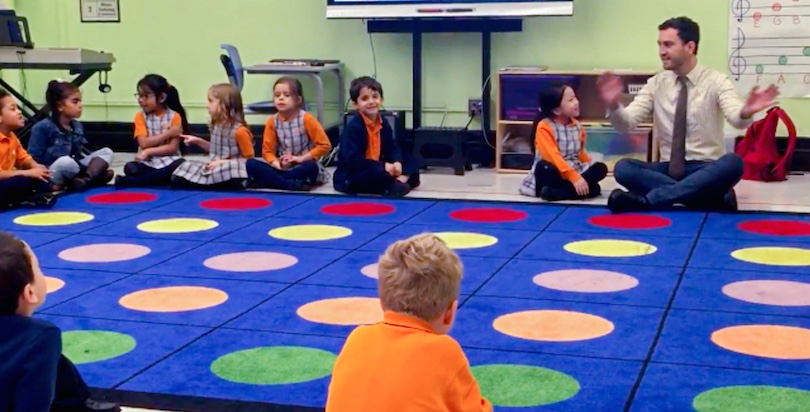 Success Academy, the high-performing, high-profile New York City charter network, won the prestigious $250,000 Broad Prize for its success in closing achievement gaps and boosting academic performance for low-income children and children of color.
The prize, given annually to large charter management organizations, will go toward college readiness programs. It was presented Monday morning at the National Charter Schools Conference in Washington, D.C.
"I simply don't believe that ZIP code has to determine destiny," Success Academy founder and CEO Eva Moskowitz said of her schools' success as she accepted the award. "I wanted to show what was possible for children if we were only willing to rethink, reinvent, and reimagine schooling."
Moskowitz said she aims to grow Success to 100 schools serving 50,000 students. The results of a network that size, comparable to the Atlanta or Boston school systems, would provide a "proof point" for charters' success, she said.
"We believe that schools should be magical places, where kids would come even if they didn't have to. What we are doing isn't magical — it is efficient and practical and systematic," she said.
She also announced that Success will launch a digital platform later this week to share its curriculum, training, pedagogy, school design, and other intellectual materials with charters around the country.
According to the news release circulated by the National Alliance for Public Charter Schools, a 10-member selection committee named Success based on its academic outcomes and scalability.
"As a nation, we must do more to close persistent gaps in opportunity and achievement that, too often, separate students of color and students from low-income families from their more advantaged peers. Success Academy has been successful in closing those gaps," former education secretary John B. King said in a statement. King is now president and CEO of The Education Trust and was a member of the prize review board.
All of the network's elementary and middle schools were in the top 10 percent of schools statewide in tests on English, math, and science in 2016, according to the release. Black and Hispanic students outperformed white students statewide, and low-income students performed better than wealthier students statewide at the proficient and advanced levels in all three subjects, according to a press release.
Success is the largest charter network in New York City, serving 14,000 students, 76 percent of whom are low-income and 93 percent of whom are African-American or Hispanic. It was founded and is run by Moskowitz, an outspoken former Democratic New York City councilwoman who turned down an overture by President Donald Trump last year to be his secretary of education.
(The 74: Ivanka Trump Visits Success Academy Day After Eva Moskowitz Says No to Ed Secretary Job)
The network has grown from one school to 41 in a decade, making it larger than 95 percent of school districts across the country. In April it reported receiving roughly 17,000 applications for 3,017 available seats for the 2017–18 school year.
"At the heart of Success Academy's incredible academic achievements are its teachers, students, and families," Gregory McGinty, executive director of the Broad Foundation, said in a release. "Their dedication has made it possible for Success to grow rapidly to serve thousands of students, all without sacrificing academic progress. We hope other public schools across the country will be inspired by Success's example."
(The 74: Long-Vacant NYC Courthouse Will Get New Life as Success Academy's Second High School)
Success was also a finalist last year when IDEA Public Schools, which serves mostly Hispanic, low-income students in San Antonio, Austin, and Texas's Rio Grande Valley, won. The other finalists this year were Texas's Harmony Public Schools and DSST Public Schools, which operate in Denver.
(The 74: Denver, Texas, NYC: Meet the 3 Finalists for This Year's $250,000 Broad Prize for Public Charter Schools)
Moskowitz and Success have become almost shorthand for opponents' criticism of charter schools, in particular for strict discipline, emphasis on test prep, and allegations that it fails to serve or pushes out high-needs or underperforming students. The network and Moskowitz have denied that charge.
Nina Rees, president and CEO of the National Alliance for Public Charter Schools, highlighted the network's "innovative approach," including art shows, ballroom dancing, chess, and service days.
"Success Academy is redefining what an impactful, well-rounded academic approach can look like," she said in a release. "Such innovation and determination is at the heart of the charter school movement."
Moskowitz has frequently battled with New York Mayor Bill de Blasio over space for her in-demand schools and the rules governing the city's universal pre-kindergarten program. An appellate court last week sided with the charter network, saying Success Academy's pre-K program should be overseen by its authorizer, not New York City's Department of Education. Other city charter networks also wanted to be able to extend their educational programs to 4-year-olds without having to give up the autonomy that is central to charter schools.
Nonprofit charter management organizations with at least five schools and 2,500 students, serving a sizable number of low-income students and children of color, are eligible for the Broad Prize. Networks cannot apply for the award.
Disclosure: The National Alliance for Public Charter Schools and The 74 both receive funding from The Eli and Edythe Broad Foundation, the Bill & Melinda Gates Foundation, The Doris & Donald Fisher Fund, the William E. Simon Foundation, and the Walton Family Foundation. Campbell Brown, The 74's co-founder, sits on Success Academy's board of directors.
Get stories like these delivered straight to your inbox. Sign up for The 74 Newsletter