'Showdown' Over Transgender Students' Rights: Title IX Rewrite Expected to Spark Litigation from GOP-Led States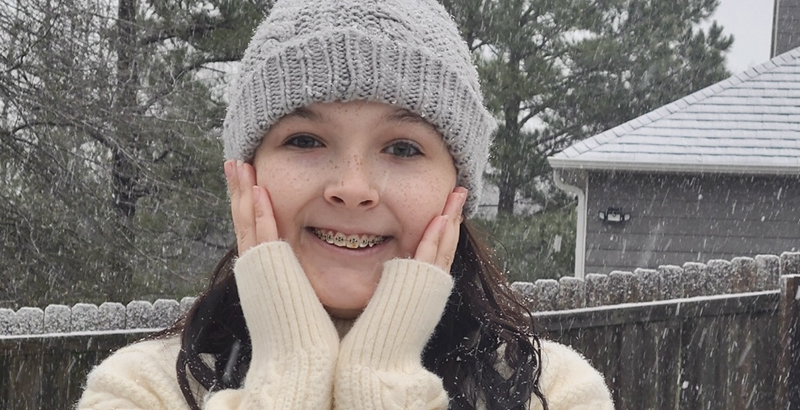 Support The 74's year-end campaign. Make a tax-exempt donation now.
Harleigh Walker, an Alabama ninth grader, was among the guests at the White House last month when the Biden administration recognized Transgender Day of Visibility. But officials at Auburn Junior High School didn't think meeting with Vice President Kamala Harris was a valid reason to miss school.
"They wanted more evidence that she had gone," said the trans student's father, Jeff Walker. "I said, 'I'll send you media, pictures, an invitation from the White House.' They still did not excuse the absence."
The episode would certainly be in keeping with the spirit of laws signed by Alabama Gov. Kay Ivey, a Republican, that restrict trans students' lives in and out of school. One, similar to legislation in Texas and Arkansas, targets doctors who provide trans health services, like the prescription of puberty blockers, to minors. The second keeps trans students out of bathrooms and locker room facilities that match their gender identity. Like Florida's so-called "don't say gay" legislation, it also prohibits discussions of sexual orientation and gender identity in the elementary grades.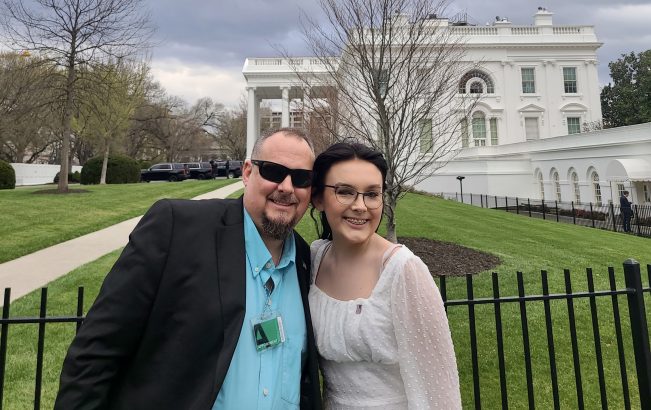 Such legislation might soon be on a collision course with federal law, as the U.S. Department of Education puts the finishing touches on a long-awaited rewrite of Title IX. That update is widely expected to codify the rights of trans students for the first time. Department officials have already said that Title IX, which prohibits sex discrimination and harassment in programs receiving federal funds, will echo the Supreme Court's 2020 decision in Bostock v. Clayton County, Georgia, which extended protections against sexual harassment and discrimination in the workplace to LGBTQ employees.
A department spokesperson said Tuesday that it expects to release the new rule in May.
Alabama is among 15 Republican-led states ready to legally challenge it. In the last year, a dozen states have passed bills prohibiting trans females from competing in girls' and women's sports. But the wave of legislation targeting LGBTQ students has since spread to encompass "just about every moment of their daily lives," Sam Ames, director of advocacy and government affairs for the nonprofit Trevor Project, said earlier this month during a department webinar.
Experts expect the rule to put school districts in the center of what will likely be a long legal battle.
Max Eden, a research fellow at the conservative American Enterprise Institute, called it "a very unenviable place."
"It sets up a big showdown between states and the federal government," he said during a recent online event, "and schools will be caught in between the two forces."
Parents Defending Education, a nonprofit leading the campaign against what it calls districts' "indoctrination" of students on issues of race and gender, organized the event to inform parents about the upcoming rule. Eden also warned of an unpleasant tug-of-war between schools that teach gender as a "fluid construct" and parents who oppose references to gender identity in the classroom.
"It gets to a fundamental question of what is a human being," he said. "If a school says one thing and Mommy and Daddy say another thing, a kid has to pick, and that's not a fun place to put an 8-year-old."
The public is clearly divided over such policies. A recent poll from the University of Chicago and the AP-NORC Center showed that allowing trans students to use bathrooms that align with their gender identity receives the most support from Democrats (52%) Hispanic adults (35%) and those with a college degree (45%). Nine percent of Republicans supported such policies. Forty-seven percent of those who voted in a recent school board election and follow news about their local board were opposed, compared to 35% who don't follow such issues.
The tension is already on display in Oklahoma, where Attorney General John O'Connor told the Stillwater Public Schools that it's illegal to let a trans girl use the girls' restroom, while state education officials say it's a matter for the district to decide.
For districts that could face similar directives in the future, "federal law always wins," said W. Scott Lewis, co-founder of the Association of Title IX Administrators. "The writing is on the wall. This is a protected class."
That might change if federal courts weigh in against the department. Two current federal cases involving trans athletes — one in Idaho and another in Connecticut — could work their way to the U.S. Supreme Court. Despite Republicans' questioning, newly confirmed Justice Ketanji Brown Jackson declined to comment on the issue during recent confirmation hearings.
While the education department's interpretation of the Bostock ruling doesn't mention sports, the Biden administration made its position known in a brief filed last year in a West Virginia case. The plaintiff, a transgender girl who wants to compete with girls on her middle school cross country team, is challenging the state's 2021 law banning students born as male from participating in girls' sports.
"Although the regulations allow recipients to operate or sponsor separate teams based on sex, the regulations do not define 'sex' or address how students who are transgender should be assigned to such teams," the brief said. "When assigning students to single-sex sports teams, a recipient must still comply with the statutory prohibition against discrimination based on sex in Title IX itself."
In a year marking Title IX's 50th anniversary, some experts say the administration's position could undermine years of work toward achieving equity in women's sports.
"Imagine you go to a meet to watch an event called 'the Girls' 100,' which includes both males and females — some of whom identify as girls, some as boys, some as nonbinary. Specifically, what is it that makes the assembled individuals all 'girls' so that having them compete in a separate event from the 'boys' is defensible?" asked Doriane Lambelet Coleman, a Duke University law professor and co-director of the Center for Sports Law and Policy.
Some of the males could be on testosterone suppression, while some of the females are taking testosterone, she explained, adding that "such a field would only rarely allow a female who is not taking testosterone to win in a category that was originally designed for her, to secure her equal access to the social goods that flow from competitive sport."
Lewis, with the Title IX administrators organization, predicted the issue will reach the court during its next term.
"They can't let it sit any longer," he said.
The issue could also play out in Congress if Republicans regain control during upcoming midterm elections. But any legislation aimed at Title IX "will be entirely symbolic," because it would need 60 votes in the Senate to pass initially and President Joe Biden would veto it, said R. Shep Melnick, a political science professor at Boston College.
"Congress has rarely amended Title IX, and never on a major substantive issue," he said. "The conflict will play out in the administrative and judicial arenas."
'Breaking a confidentiality'
Even before Biden took office, he pledged to revise the Trump administration's Title IX rule, which increased protections for those unfairly accused of sexual misconduct. Once in office, he ordered the department to begin the lengthy process of rescinding the rule and restoring elements of Obama-era guidance that directed schools and colleges to address sexual assault.​
Those changes, already controversial, were quickly overshadowed by the administration's efforts to incorporate the rights of LGBTQ students into Title IX. During a weeklong public hearing last year, the department invited comment from those experiencing discrimination based on sexual orientation and gender identity, further signaling that the rule — which will be put out for public comment upon its release — would address those issues.
It's unclear whether the regulation will include detailed guidance about issues like preferred names and pronouns or sex-specific school uniforms, but advocates for trans students hope the department will supplement the rule with examples of how districts can address those issues.
Schools should "make it clear what nondiscrimination looks like" said Asaf Orr, senior staff attorney for the National Center for Lesbian Rights. "Dictating that teachers can't discuss anything related to gender identity is fostering a school environment that is not welcoming to LGBTQ students."
Walker, who described his daughter Harleigh as "100% girl," is a plaintiff in a lawsuit challenging Alabama's new Vulnerable Child Compassion and Protection Act, which criminalizes transgender health services for children. He's also concerned that requiring Harleigh to use the boys' restroom will "open her up to assault."
"My fear is some administrator at her school will try to make an example out of her," he said. "They say this is going to protect my child. It's not going to protect anyone."
While the Alabama provision, which only applies to K-5, doesn't affect Magic City Acceptance Academy, a Birmingham-area charter school that serves many LGBTQ students, Principal Michael Wilson said he's concerned about a requirement for school officials to inform parents if students question their gender identity.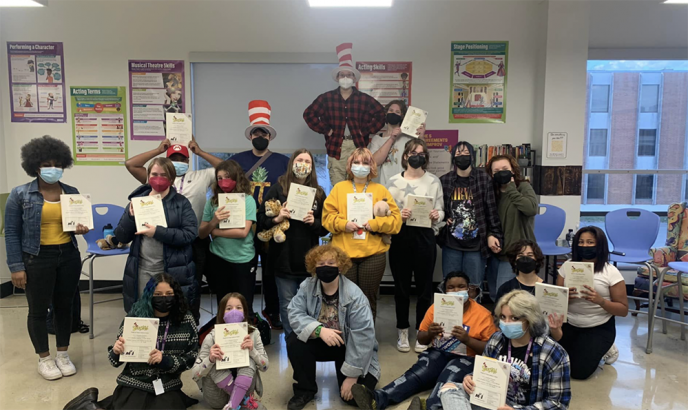 "You're breaking a confidentiality, a relationship that you have formed with kids," he said, noting recent data showing increases in LGBTQ students seriously considering or attempting suicide.
The education department's webinar highlighted what some schools are already doing to support trans students.
Sam Long, a trans biology teacher at Denver South High School in Colorado, talked about working with two other LGBTQ educators to "clean up" teaching materials on reproduction.
"We can be more accurate and be more inclusive," he said. "It's ovaries that produce eggs. We're acknowledging that not all women produce eggs, and also not all egg producers are women."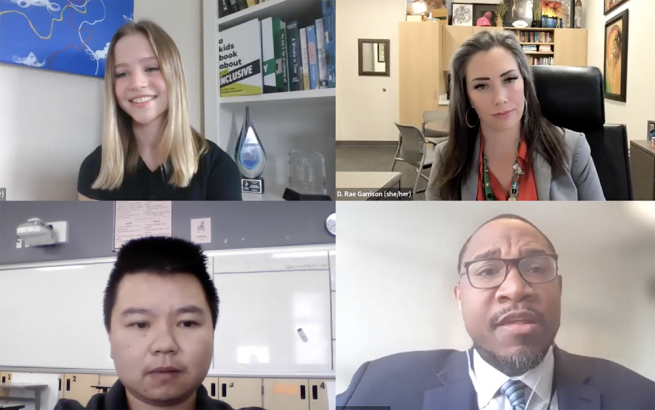 Rebekah Bruesehoff, a trans student and activist from New Jersey, said she's always "looking for clues" throughout her school — like preferred pronouns on a teacher's ID badge — to see which educators are more accepting.
"I don't just walk into class at the beginning of the year and announce that I'm transgender," said the ninth grader, who described herself as a "total nerd" who loves school, plays field hockey and participates in musical theater. "It's one tiny part of who I am, but there's so much more to me."
Support The 74's year-end campaign. Make a tax-exempt donation now.