Deja Vu as Ed Department Once Again Revisits the Contentious Landscape of Title IX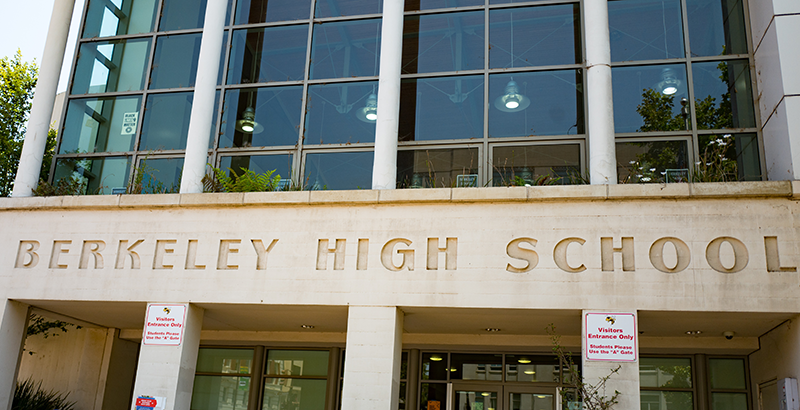 Get essential education news and commentary delivered straight to your inbox. Sign up here for The 74's daily newsletter.
A group of girls from Berkeley High School will go before a federal judge in California this Thursday to argue that former Education Secretary Betsy DeVos left victims of sexual assault or harassment with fewer protections and shielded those accused of misconduct.
The state of Texas, led by Republican Gov. Greg Abbott, has tried to join the case as a defendant, arguing President Joe Biden's justice department won't provide a "robust defense" of the DeVos's interpretation of the rule, known as Title IX, because it has "expressed open hostility to the provisions."
As it happens, the San Francisco court is hearing the case just as Biden's education department launches a weeklong public comment period on the future of Title IX — a key step in the administration's promise to rewrite the controversial rule.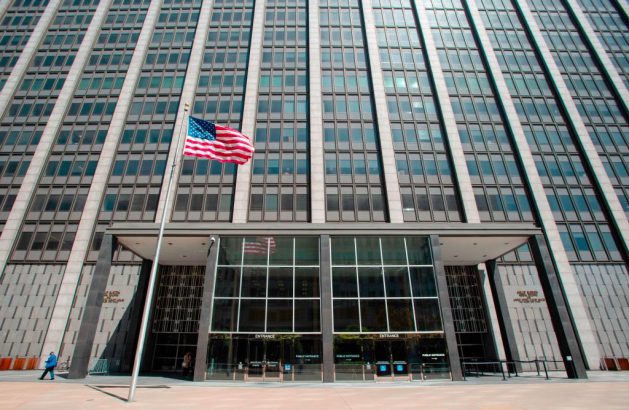 But the process this time is more than just a chance for Democrats to wipe away what DeVos said would be her lasting achievement. The U.S. Supreme Court's 2020 ruling protecting gay and transgender employees against discrimination — and the justice department's interpretation that the opinion extends to schools — shows that the policy landscape has grown more complicated than it was even in 2017.
"The stakes have always been high," said Liz King, the senior program director for education at The Leadership Conference on Civil and Human Rights. "This is a question of whether or not students will have access to an education free from discrimination."
The White House is signalling the importance it attaches to the measure by the extensive time it is granting for public input and by its intention to bring back an expert hand who was instrumental in writing guidance that held colleges responsible for addressing on-campus sexual violence.
An 'effort in public engagement'
While she's not yet been confirmed, Catherine Lhamon is poised to return to her former position as the education department's assistant secretary for civil rights. Lhamon has briefly served as deputy director for racial justice and equity on the White House Domestic Policy Council. Her nomination "shows how serious the Biden administration is taking civil rights," said Shiwali Patel, senior counsel with the National Women's Law Center.
The department especially wants to hear this week about discrimination based on sexual orientation and gender identity, according to the notice.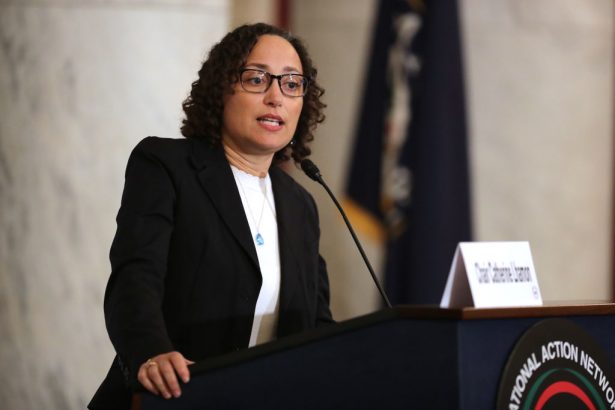 Civil rights attorney Seth Galanter, with the National Center for Youth Law, called this week's hearing "an extraordinary effort in public engagement."
"As far as I know, there's not been public hearings held around Title IX since the 1970s, when the department was first issuing regulations," said Galanter, who is representing the Berkeley students. "It will be a great opportunity for people who don't normally participate in the notice-and-comment process to have their voices heard directly by the leadership of the department."
DeVos held one day of listening sessions to hear from victims of sexual harassment and assault and from men's rights groups that argued some students had been being falsely accused of misconduct.
On Zoom 'with a harasser'
Before DeVos finalized the current rule, over 124,000 public comments were submitted, with many in opposition. Multiple lawsuits — including one involving 17 states and the District of Columbia — were filed in protest.
In the Berkeley students' case, the complaint said victims are often assigned to the same classrooms as the students who sexually assaulted them off campus and that remote learning hasn't alleviated the trauma that some victims experience.
"Even when learning takes place primarily online, as it does this school year due to COVID-19, victims are required to be in small video 'breakout rooms' with their harasser," according to the complaint.
The justice department said Texas has no "claim or defense" in the Berkeley case. The state made the same argument in another lawsuit opposing the DeVos rule in Massachusetts, but a federal judge denied the motion. The state, however, successfully intervened in the multi-state case, now on hold as the administration works to rewrite the regulation.
Others don't want to see the DeVos rule torn down because they say it recognizes the rights of those unfairly accused of sexual misconduct.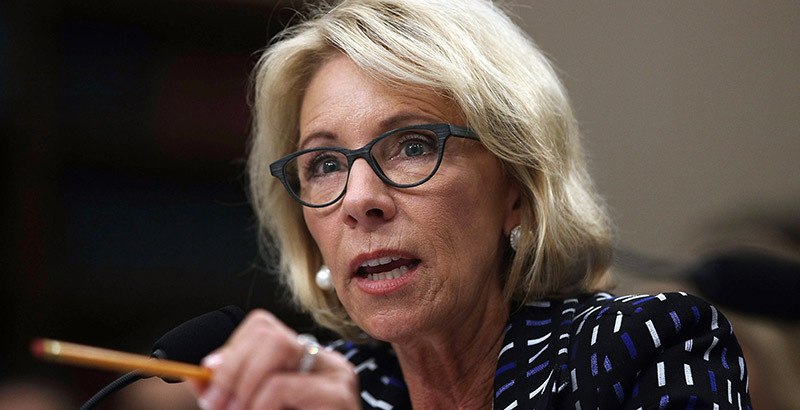 Reversing the rule could "once again force schools to deprive accused students and faculty of constitutionally guaranteed safeguards like the right to confront the evidence used against them," said Caleb Kruckenberg, an attorney with the New Civil Liberties Alliance. He added that despite multiple federal courts upholding due process in campus disciplinary hearings, "the department seems poised to ignore those bedrock constitutional principles."
As Kruckenberg noted, federal courts in recent years have shown greater deference toward the accused, agreeing that some colleges demonstrated evidence of bias against males when handling complaints. But Patel, whose organization is representing plaintiffs in the Massachusetts case, said institutions can protect due process rights while still providing fairness to victims.
"Sexual harassment is very pervasive in K-12 schools," she said, "and rather than requiring schools to do more reporting, the DeVos changes swept sex harassment under the rug."
Civil rights data released last year showed incidents of sexual violence in K-12 schools increased by more than half between the 2015-16 and 2017-18 school years, and the number of rapes or attempted rapes increased from almost 400 to nearly 800.
The DeVos rule limited what counts as sexual misconduct under Title IX. School officials, for example, are no longer obligated to investigate incidents that occur off campus, but with virtual school, that distinction is less clear. In a recently issued Q&A document, the department indicated that schools must investigate complaints of discrimination or harassment that occur during remote learning.
Disagreement over Title IX is one reason why Congress didn't reauthorize the Higher Education Act while former Sen. Lamar Alexander chaired the education committee, leaving both the Trump and Biden administrations to implement the policy through regulation. That means if a Republican administration returns to the White House in four years, the pendulum could swing back the other way.
The back-and-forth over the policy probably means that no matter what happens, the issue is destined to continue to play out in court.
"We'll have to wait and see what the Biden administration does," said Kenneth Marcus, who led the Office for Civil Rights under DeVos. "But if they repeal the Trump Title IX regulations and replace it with something that looks more like the Obama rules, then we will certainly see this either struck down by the courts or reversed as soon as Republicans regain control."
'A different landscape'
The comment period is also taking place as debate continues to escalate over whether transgender girls should be allowed to compete against biological girls in high school and college sports — a question Title IX didn't previously address.
"This is a different landscape than it was in 2016," when President Donald Trump was elected, said Sasha Buckert, a senior attorney with Lambda Legal, a civil rights organization focusing on LGBTQ issues. "The court has weighed in."
The day he took office, President Joe Biden issued an executive order regarding the U.S. Supreme Court's workplace discrimination ruling in Bostock v. Clayton County, Georgia, stating, "Children should be able to learn without worrying about whether they will be denied access to the restroom, locker room or school sports."
But at least 20 states are considering or have already passed legislation banning students born biologically male from competing against females. And the issue has sparked heated exchanges between Republicans and Education Secretary Miguel Cardona the two times he's appeared before Congress.
"We can create transgender leagues, I don't mind," Congressman Andy Harris of Maryland told Cardona during an appropriations committee hearing on the federal budget in early May. He added that his daughter is an NCAA all-American athlete, who in no way "could compete against biological males," and that he was disappointed in Cardona's stance on the issue.
The NCAA isn't considering separate leagues, but does require testosterone suppression treatment for transgender women to compete in women's sports at the college level. High school athletic associations began allowing trans girls to compete in events for girls over 15 years ago, and some experts argue there's little evidence of trans women dominating women's sports.
Cardona hasn't veered from the firm position he took during his confirmation hearing. "Transgender students deserve every opportunity to participate in all school activities," he told Harris.
Republicans have introduced the Safety and Opportunity for Girls Act, which would only define sex under Title IX as those born male or female, not gender identity. But the House has already passed the Equality Act, which would extend civil rights protections in housing, education and employment to LGBTQ people and mostly clarifies what the courts have already decided, Buckert said.
If passed, the bill "would hopefully prevent all of these lawsuits and would prevent [the Supreme Court] from creating some kind of horrific carve-out in Title IX," she said, adding she's concerned Congress could say "discrimination against transgender people in general is against the law, but not in athletics."
Get stories like these delivered straight to your inbox. Sign up for The 74 Newsletter