This Trans Teen Says Gender-Affirming Care Saved His Life. How a Texas Order Equating Such Therapy to Child Abuse Could Inflame the Youth Suicide Crisis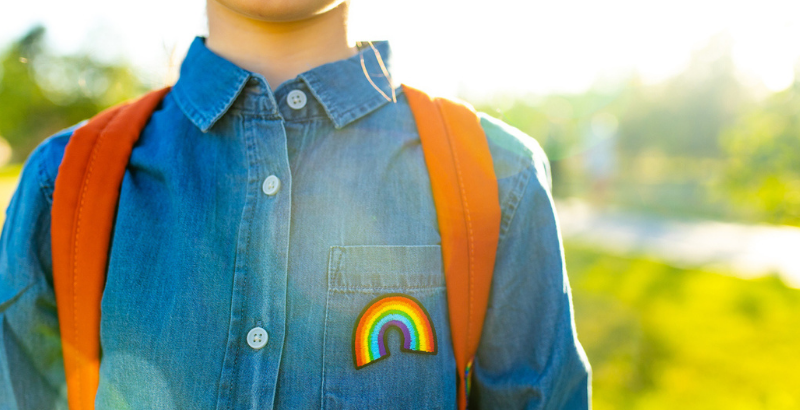 If you are in crisis, please call the National Suicide Prevention Lifeline at 1-800-273-TALK (8255), or contact the Crisis Text Line by texting TALK to 741741. For LGBTQ mental health support, contact The Trevor Project's toll-free support line at 866-488-7386.
Hunter, a 17-year-old from suburban Houston, was so nervous his aching stomach prevented him from falling asleep. So after practicing in front of a mirror over and again, he overcame crippling anxiety and told his parents a secret he'd kept hidden for years.
He came out as transgender, a revelation that was met with violent rejection. His mother hit him in the face, he said, while his brother's reaction cut like a knife: No matter what, he told Hunter, he would never be a boy. With his worst fears validated, Hunter, who was 12 at the time, grabbed a razor blade and slit his wrist.
Depression, anxiety and gender dysphoria — a clinical level of distress when someone's gender identity differs from their sex assigned at birth — prompted a years-long battle with self-harm and suicidal ideation that nearly cost Hunter his life. Yet he said involuntary placement in a psychiatric hospital didn't help. Instead, it was gender-affirming health care, including puberty blockers, that saved him.
Today, Hunter faces a new threat and his health care remains in legal limbo as the Texas governor and attorney general seek to define puberty blockers and other forms of gender-affirming care as child abuse.
Critics argue the move puts children's lives at risk.
"I'm scared because they say it's child abuse and I hate when they say it's child abuse because it's not. It's not child abuse at all," said Hunter, who spoke on the condition of anonymity due to fears he could become the subject of a state investigation. Hunter knows all too well the harms of being mistreated because he's lived through them himself. "My child abuse was not like what they're saying. My child abuse was horrible."
Transgender youth experience higher rates of mental health challenges than their cisgender classmates and are far more likely to die by suicide. A growing body of research suggests that gender-affirming medical care improves mental health outcomes for transgender teens. Meanwhile, blocking access to that care "has been shown to increase youths' risk for suicidal ideation and other negative mental health outcomes," according to the American Academy of Child and Adolescent Psychiatry.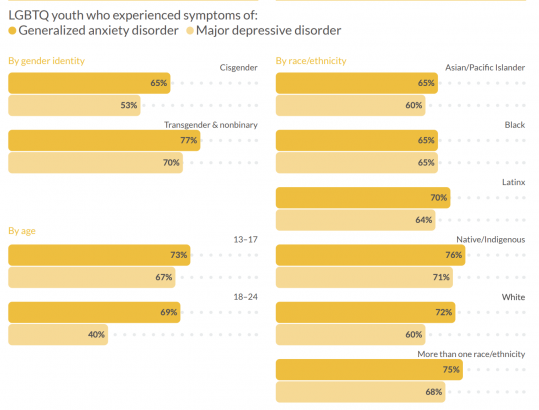 Because Hunter is in the foster care system, he's at the mercy of the state for gender-affirming treatment — even as the state has openly declared itself hostile to that very care.
Last month, Texas Attorney General Ken Paxton issued an opinion that equated gender-affirming medical care, such as puberty blockers and hormone therapy, to child abuse.
"The Texas Family Code is clear — causing or permitting substantial harm to the child or the child's growth and development is child abuse," Paxton wrote. "Courts have held that an unnecessary surgical procedure that removes a healthy body part from a child can constitute a real and significant injury or damage to the child."
Acting on that memo, Gov. Greg Abbott directed the state Department of Family and Protective Services to launch "a prompt and thorough investigation of any reported instances of these abusive procedures," and child protective services opened nine inquiries into the parents of transgender teens.
Among those who supported the move is Terry Schilling, president of the American Principles Project, a conservative think tank in Virginia. Ultimately, he said he wants the state to ban gender-affirming care and to go "after the doctors and the pharmaceutical companies that are pushing this on kids."
"We want kids to feel comfortable in their own bodies. We want them to accept themselves for who God made them to be and for who they are," Schilling said. In February, prior to Abbott's order, the American Principles Project prodded the governor to take action, spending more than $600,000 on television ads accusing him of failing to protect children. "It's abusive to remove the body parts of a child if it's not necessary, and I don't believe it's necessary and I do believe it's wrong."
After the parents of a transgender child and a psychologist filed suit, Travis County Judge Amy Clark Meachum issued a temporary injunction and declared Abbott's order was "beyond the scope of his authority and unconstitutional," and stated that he was likely to lose in a trial scheduled for July. Representatives for Paxton, Abbott and the family services department, which employs one of the parents who's suing, didn't respond to requests for comment.
Abbott's order is part of a broader national push among conservatives to stifle youth access to gender-affirming care and resources. In Florida, legislation dubbed the "Don't Say Gay" bill would restrict classroom instruction on "sexual orientation or gender identity." During a virtual roundtable on Thursday, Education Secretary Miguel Cardona blasted the legislation in Florida and elsewhere.
"Laws around the country, including in Florida, have targeted and sought to bully some of our most vulnerable students and families, and create division in our schools," Cardona said. "This administration won't stand for bullying or discrimination of any kind."
The legal fight in Texas is far from over and teens like Hunter remain in uncertain territory. Paxton appealed the injunction and tweeted that the "Democrat judge's order permitting child abuse is frozen," and that investigations could carry on. On Thursday, the American Civil Liberties Union and Lambda Legal, which sued to stop Abbott's order, asked an appeals court to grant an emergency order to ensure the statewide temporary injunction remains in place during the appeals process.
"The targeting of Texas families of transgender youth is unconstitutional and wrong, as the district court's order made clear," Brian Klosterboer, an ACLU of Texas staff attorney, said in a media release. He said the state "should stop these cruel and senseless investigations and focus on addressing real problems plaguing" the state's child protective services.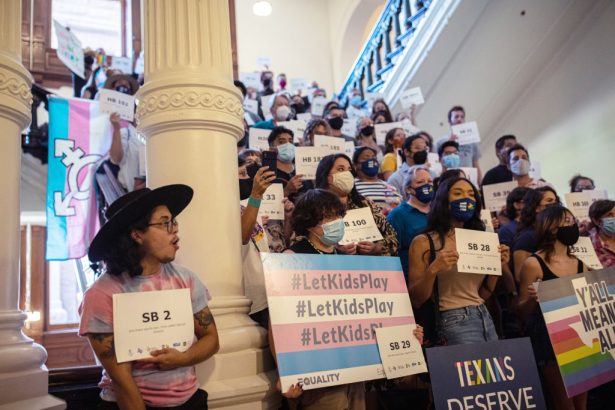 'State of terror'
The suicide and self-harm crisis facing LGBTQ youth is more than a data point to Hunter. Initially, he said that he started cutting because it "made me feel safe for some reason."
"It made my anger go away and my pain go away," he said. "Then, after I kept doing it, it made me fall into depression and that got worse."
While suicide is the second-leading cause of death among all teens, rates are particularly stark for LGBTQ youth.
In a 2021 survey by The Trevor Project, a national nonprofit focused on suicide prevention among LGBTQ youth, more than half of transgender and nonbinary youth reported "seriously considering attempting suicide" in the past year. The situation was particularly bleak for youth who reported experiencing discrimination. Research suggests as many as half have attempted suicide.
Amy Green, the group's vice president of research, said the efforts in Texas and elsewhere are already "taking a toll on the mental health" of transgender youth. She cited a recent poll by her group and Morning Consult in which 85 percent of transgender and nonbinary youth reported that "recent debates about state laws restricting the rights of transgender people have negative impacted their mental health." In another survey, more than half of transgender adolescents reported experiencing "long-term mental health problems" compared to just 17 percent of their cisgender peers.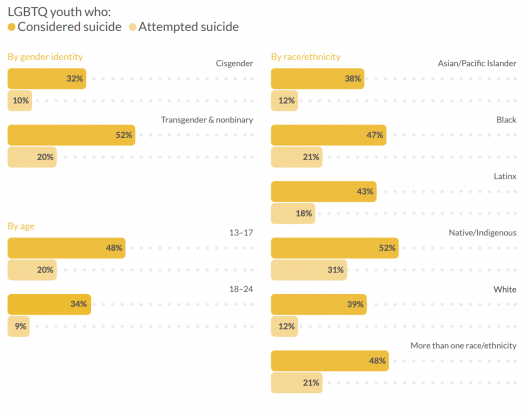 For Hunter, gender-affirming care became a positive force for his mental health. These days, he said his self-harm and suicidal ideation have grown infrequent. Instead, he sees a future where he's comfortable in his own skin.
"On the inside, everything is just normal and my mental health is normal," he said of that hoped-for day. "I don't cry any more, no more suicidal thoughts."
Research suggests that other transgender youth have had similar experiences. Studies have found that gender-affirming care can reduce anxiety, depression, suicidal ideation and gender dysphoria, which recent research found can start as young as 7.
Among the child welfare groups fighting Abbott's order is Disability Rights Texas, which provides legal representation and advocacy for Texans with disabilities. In a letter to Abbott, the group argued that gender-affirming care is medically necessary — especially for transgender teens with disabilities. In a 2018 report, the Disability Rights Education and Defense Fund found that 59 percent of transgender youth have long-term mental health needs, with family and community rejection being a key driver.
Meredith Parekh, the supervising attorney at Disability Rights Texas' foster care division, said efforts to define gender-affirming care as child abuse is "an absurd premise on its face." As an attorney who represents children in the foster care system, she has firsthand knowledge about the state of child abuse in Texas. Parents who consent to gender-affirming care at their child's request, she said, are "attuned to their child's needs" and are acting in stark contrast from parents who are "willfully ignoring what their child needs."
"The idea that these parents who are paying attention and trying to do their best by their children by following well accepted, prevailing medical advice is just ludicrous," she said. Instead, she accused Abbott of attempting to "drive these children and their families underground."
Beyond the parents with transgender children who have faced CPS investigations, Parekh said Abbott's order has had a "chilling effect" on all transgender youth receiving gender-affirming care that's placed them "in a state of terror."
"As attorneys who represent kiddos, our job is to make sure we get these kids to adulthood, to make sure these children are protected and safe and loved and cherished," she said. "We cannot do that if we are burying them."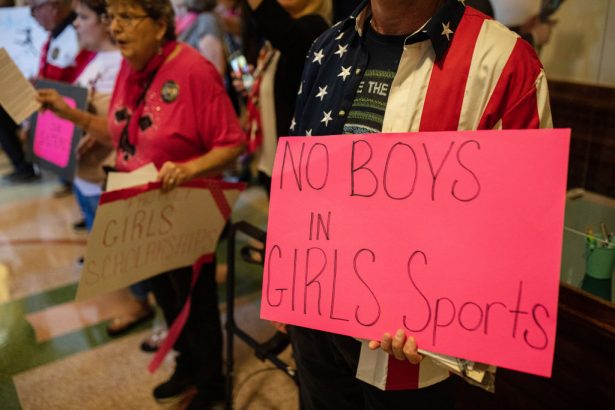 'Bad guys'
Schilling, of the American Principles Project, acknowledged that he's never talked to a transgender teen about their gender-affirming health care. He cheered recent developments that have already limited access to such care as a result of Abbott's order. He noted that the Texas Children's Hospital halted hormone therapies due to the directive. Preventing health care providers from providing gender-affirming care, he said, "is ultimately the goal."
"The real bad guys are not necessarily the parents who are often exploited as well," he said. "Big pharma is a bad guy here, these gender clinics are a bad guy here."
He acknowledged that transgender youth face a heightened risk of suicide, a reality he said is is driven by "the fact they feel uncomfortable in their own bodies."
"My heart really goes out to these kids just as much as my heart goes out to anyone else who feels uncomfortable in their own bodies, you know, anorexic people, people that struggle with keeping weight off," Schilling said. Instead of treatments like hormone therapy, he said, people should focus on "making kids accept their body and getting them to feel comfortable in their own body" because they are made in God's image.
Motivating his advocacy, he said, are the stories of people who came to regret their decision to transition. Children, he said "don't always make the best decisions," and "sometimes they're little jerks and sometimes they exaggerate and sometimes they do crazy things.' Stories of people who decided to "detransition," he said, are "horrific."
Estimates on the proportion of people who decide to detransition are as high as 13 percent. Some people who detransition do experience regret, but a recent study by Jack Turban, a chief fellow in child and adolescent psychiatry at Stanford University School of Medicine, found they're in the minority. Instead, four-fifths of those who detransitioned attributed their decision to external factors like family pressure, non-affirming school environments and an increased vulnerability to violence.
"For most people," Turban said in a media release, "it appears detransition is forced upon them."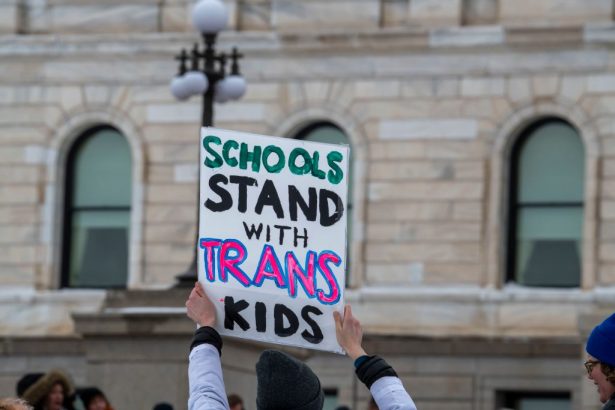 'Let them be happy'
For Hunter, gender-affirming care has been critical to improving his medical care. Why, he asked, would anyone want to take that away from him?
Gender-affirming care is "mostly for the kids to be happier," Hunter said. "If they're sadder when you say it's child abuse, why would you want them to be sadder? Let them be happy."
For him, regret isn't part of the equation. Asked whether adolescents are too young to advocate for themselves, Hunter offered a response that centered on individual rights.
"They know what they want. You should just do it for them and see how it goes," he said. "Let them figure it out by themselves. It's their choice, not yours."
For Hunter, Abbott's order has already had a chilling effect. He plans to begin testosterone therapy but has decided to wait until his 18th birthday. He said he's worried about potential health ramifications if he goes onto testosterone, but is forced to stop. Should his gender-affirming care get cut off altogether, Hunter predicts a future with deteriorating mental health.
"My suicidal thoughts would start again," he said. "I would just be staying in my room cooped up, doing nothing, losing interest in everything. I'd be drowning in my own guilt and sorrow."
If you are in crisis, please call the National Suicide Prevention Lifeline at 1-800-273-TALK (8255), or contact the Crisis Text Line by texting TALK to 741741. For LGBTQ mental health support, contact The Trevor Project's toll-free support line at 866-488-7386.
Get stories like these delivered straight to your inbox. Sign up for The 74 Newsletter