Youth Anxiety, Depression and Abuse Surged During COVID. 6 Charts from New CDC Data Show How Students Suffered — And Ways to Help Them Recover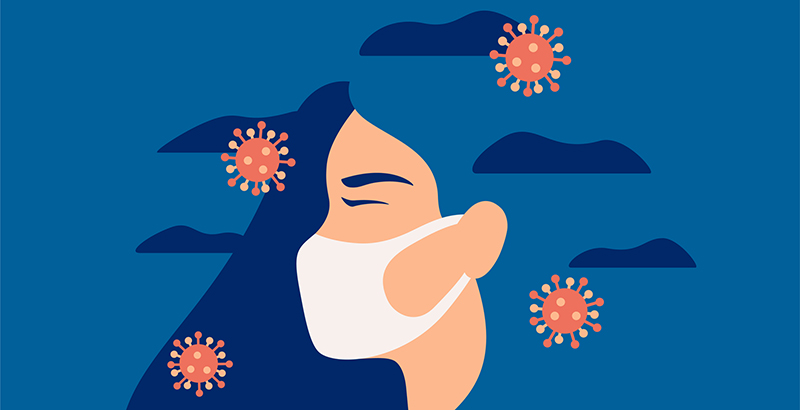 Get stories like these delivered straight to your inbox. Sign up for The 74 Newsletter
Mental health challenges, economic insecurity and parental abuse became a routine part of life for a staggering share of high school students during the pandemic, data released Thursday by the Centers for Disease Control and Prevention show.
More than a third of high school students reported experiencing poor mental health during the pandemic, more than half reported being subjected to emotional abuse at home and a quarter said a parent or another adult at home had lost their jobs, according to results from the first nationally representative survey of high school students' mental health and well-being during the pandemic.
Faced with sudden school closures, social isolation and the fear of family loss or illness, 66% of students reported that schoolwork became more difficult to complete after the pandemic shuttered campuses nationwide in March 2020.
Even before the pandemic, survey data suggests that youth mental health had grown bleeker and suicide was already a leading cause of death among teens. The new CDC data point to a situation that's grown even more dire, especially for LGBTQ youth and girls, two groups that reported particularly high levels of poor mental health during the pandemic.
In response, public health experts called on policymakers to act with urgency to reverse the trend. 
"Young people and their families have been under incredible levels of stress during the pandemic," Kathleen Ethier, director of the CDC's division of adolescent and school health, said during a press call Thursday. "Our data exposes cracks and uncovers an important layer of insight into the extreme disruptions that some youth have encountered." 
The results come from the Adolescent Behaviors and Experiences Survey, which was completed by a nationally representative sample of 7,705 public and private high school students. The CARES Act-funded questionnaire was conducted online between January and June 2021. Since then, the country has entered a new phase of the pandemic as mask mandates and other public health measures are lifted, but while the death toll approaches 1 million. Public health officials acknowledged it's unclear how youth well-being has fared since the survey was completed.
The figures are key to understanding the pandemic's effects on the health and well-being of American youth. Previous evidence has suggested the pandemic has had a deleterious effect on youth and contributed to trends like a surge in teen depression and anxiety, but the national survey is the first to asses the national prevalence of disruptions and adversities like parental job loss, personal job loss, homelessness, hunger and the extent of emotional or physical abuse at home.
They also reveal a promising strategy that school leaders can leverage to put youth on a better trajectory. Youth who feel connected to their school, the survey found, were significantly less likely than those who did not to report feeling hopeless or attempt suicide. Yet fewer than half — 47% — of teens reported feeling close to the people at their schools during the pandemic, when millions primarily experienced learning remotely. 
"Although our latest findings present an often-grim picture and there is much work to be done, it is clear that right now young people need all the support we can give them," Ethier said.
During his State of the Union address earlier this month, President Joe Biden addressed the youth mental health crisis, declaring that students "lives and education have been turned upside-down." His budget proposal released this week seeks $1 billion to double the number of counselors and psychologists in schools. 
Based on the CDC's survey data, these six charts show the challenges students faced during the pandemic — while also revealing promising strategies that could help them recover from more than two years of life-altering disruptions. 
As the pandemic shuttered businesses, many teens were forced to live through the hardships of an economic crisis.
Nearly a third of students reported that a parent or another adult at home had lost their job while 22% of teens reported experiencing job loss themselves. A quarter of teens reported experiencing food insecurity. Among white students 18.5% reported experiencing hunger while 32% of Black students said they lacked enough food to eat. In total, 2% of students reported experiencing homelessness. 
Teachers and other school officials are generally considered mandated reporters, putting them on the front lines of spotting issues like physical abuse at home. Remote learning heightened concerns that such abuse could go undetected at a moment when pandemic-induced stressors could exacerbate the problem. Indeed, the CDC data suggest that the physical and emotional abuse of teens has grown more alarming during the public health crisis.
More than half of respondents — 55% — reported that a parent or another adult at home had subjected them to emotional abuse and 11% said they faced physical abuse. Black students experienced the highest prevalence of physical abuse by a parent, at 15%, compared to 9.8% of white students. 
Those figures are substantially higher than pre-pandemic levels, when 13.9% of students reported experiencing emotional abuse in a nationally representative survey and 5.5% reported being subjected to physical abuse by a caregiver. These differences, CDC researchers concluded, highlights a reality that "increased stress contributes to violence."
The pandemic's devastating emotional toll on high schoolers was clear in the data. Overall, 37.1% of students reported experiencing poor mental health during the pandemic and an even larger share — 44.2% — said they felt persistently sad or hopeless during the 12 months prior to completing the survey.
And while a teen suicide crisis has been billowing for years, the new CDC data show the extent of the problem. While 19.9% of students reported that they seriously considered dying by suicide, a staggering 9% had actually tried. 
The pandemic-era mental health crisis was particularly grim for girls. Nearly half of girls reported having poor mental health during the pandemic compared to nearly a quarter of boys. Similarly, 5.3% of boys reported attempting suicide compared with 12.4% of girls. 
A widely reported previous CDC report found an increase in youth emergency room visits due to suicide attempts during the pandemic. In February and March 2021, suicide-related emergency room visits were 50.6% higher for girls and 3.7% higher for boys than they were during the same period in 2019.
Even prior to the pandemic, youth mental health was a critical public health concern. Among high school students nationwide, 26.1% reported feeling persistent sadness or hopelessness in 2009. By 2019, that rate jumped more than 10 percentage points to 36.8%. During that same period, there was a 5 percentage point increase in students reporting having seriously considered attempting suicide and a 2.6 percentage point increase in youth reporting having attempted suicide. 
CDC data suggest the pandemic has been particularly challenging for students who identify as gay, lesbian or bisexual. Perhaps more troubling, the data were released at a moment when Republican lawmakers have championed legislation that critics say would make life harder for LGBTQ youth. Just this week, Florida Gov. Ron DeSantis signed so-called "Don't Say Gay" legislation, a controversial law that bans educators from offering instruction about sexual orientation and gender identity to children in grades K-3. 
Nearly three-quarters of gay, lesbian and bisexual teens reported experiencing emotional abuse at home, compared to roughly half of their straight classmates. Similarly, more than a quarter of gay, lesbian and bisexual teens reported an attempt to die by suicide in the last year compared to 5.2% of heterosexual youth.
Although the survey doesn't highlight the experiences of transgender youth, previous surveys suggest they also faced heightened risks during the pandemic compared to their cisgender peers, Ethier said. 
Between January and June 2021, 31.6% of respondents reported using tobacco, alcohol or marijuana, or misusing prescription opioids. Nearly a third of students who said they'd used such substances before reported using more of them during the pandemic. 
However, CDC survey data suggest that overall teen substance use decreased during the pandemic. It's possible, researchers concluded, that students who attended schools virtually had limited access and greater parental supervision.
Students who attended schools virtually, the survey revealed, were less likely than those who attended in-person to use substances like tobacco and alcohol. For example, a quarter of in-person students reported using tobacco compared to just 9% of remote learners. 
Because youth get tobacco products from social sources such as friends, access to those products likely decreased during the pandemic, researchers concluded. However, more open alcohol policies like home delivery may have lowered barriers for youth attempting to purchase booze.
The CDC survey highlights the steep obstacles that teens have had to navigate during the pandemic, but it also recommends strategies that could offer a brighter future. While remote learning likely hindered students' feelings of connectedness at school, experts stressed it's not too late to make positive changes. 
The CDC survey reveals that feelings of connectedness at school are critical to youth mental health. More than a quarter of youth who felt connected at school reported poor mental health during the pandemic compared to nearly half of those who said they did not feel close to others at their schools. 
Youth who said they experienced racism during the pandemic and those who are gay, lesbian or bisexual were less likely than other student groups to report feeling connected at school. 
To foster greater connectedness and promote positive school climates, the CDC recommended that districts implement programs that focus on social-emotional learning and professional development centered on classroom management and fostering positive relationships between students, their families and school staff. Districts should also analyze school disciplinary policies to ensure they're implemented equitably across racial and ethnic groups, researchers recommended.
"There is much that can be done to make sure that LGBTQ youth and youth from racial and ethnic minority groups feel safe, supported and connected in their schools," Ethier said, noting the importance of such school efforts specifically designed to improve the mental health of LGBTQ youth and reduce their risk of suicide. "When schools are less toxic for youth at increased risk for severe outcomes, schools are less toxic for everyone." 
Get stories like these delivered straight to your inbox. Sign up for The 74 Newsletter