Investigation: Disciplinary Hearing Records Reveal Disturbing, Criminal, Sometimes Violent Behavior By NYC's Most Egregious Teachers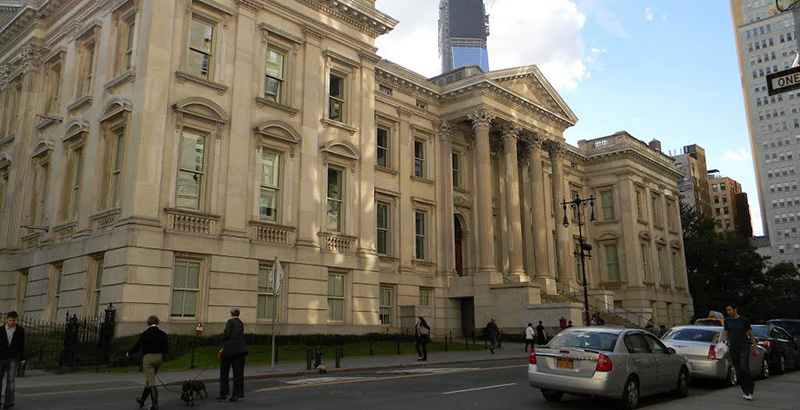 It began innocently. The sixth-grader stayed after school to help his teacher with small tasks. Eventually they ate lunch everyday in her classroom, and he began walking her home. One day in December, he later testified, she invited him to her apartment, where she offered marijuana and money and then performed oral sex and had intercourse with him.
He was 12, a student in her English class. He said their sexual relationship continued through his middle school years. Sometimes, they met at a motel located half a mile from school, where she would book a room for four hours. They drank vodka, he said, and she bought him presents: a phone, clothes, jewelry. Records show they texted or called each other more than 8,000 times.
Highlights of his testimony were included in a 2015 decision by an arbitrator terminating the teacher, Claudia Tillery, a 19-year veteran at Middle School 35 in Brooklyn's Bedford-Stuyvesant neighborhood. Tillery had been acquitted in a criminal trial and contested the arbitrator's right to fire her, but an appellate judge upheld the decision based on Tillery's own admissions confirming "a long history of furtive conduct unbecoming of an educator of children."
State education law gives tenured educators like Tillery the right to contest charges the city has leveled against them in front of an arbitrator. Her ruling was among 154 decisions handed down between January 2015 and April 2016 that The 74 obtained under New York's Freedom of Information Law. The city education department also provided overall disciplinary figures, at The 74's request, for the school years between 2012-13 and 2015-16.
The agency, which has been widely criticized for failing to respond to public information requests in a timely fashion, provided all the documents in August, 28 months after The 74 first requested them. It extended its initial deadline more than two dozen times.
Seventy teachers, three principals, and one school secretary were cited for misconduct on charges ranging from physical and verbal abuse to cheating, forgery, and theft. Some committed non-school-related crimes that included persistent shoplifting and what authorities called "one of the nation's largest and longest-running" tax fraud schemes.
Eighty were prosecuted by lawyers in the DOE's Teacher Performance Unit, which targets chronic ineffectiveness in the classroom.
A total of 75 were dismissed, 23 of them for misconduct.
The cases represent a tiny fraction of the city's 58,000 teachers with tenure. Critics say tenure protections in state law make it prohibitively expensive and laborious to root out all but the most egregiously defective teachers.
Union supporters say the results show that most teachers are dedicated to serving children, typically resign to avoid being fired, and need to be protected from capricious administrators.
Tillery's lurid case was the most publicized of the decisions during this period, but disturbing narratives of teacher behavior are captured in many of these cases, retold by students and administrators from the often high-poverty schools where the teachers worked. The incidents occurred in small struggling elementary schools and in sprawling high schools with thousands of students.
Teachers were fired for choking students, knocking them down, flipping them over, and throwing books at them. A 29-year veteran was discharged after mocking a student with disabilities who couldn't read a classmate's shirt. A Washington Heights elementary school teacher was fined for making a student wash his mouth out with soap. At Brooklyn's Clara Barton High School, a longtime English teacher required students to bring mints to use when nauseated and aspirin to prevent trips to the nurse.
A math teacher at Urban Science Academy, a Bronx school the DOE decided to close, used "counterfeit documents manufactured as part of a fraudulent scam" to become chair of the department. An arbitrator fined an Inwood teacher $3,200 for working a second job — the employer's name was redacted — during the school day; her principal argued on her behalf. The career of an art teacher ended after supervisors learned that he visited pornography sites like "Potbellied Goddesses" in his classroom — apparently when students were not around — and downloaded "numerous" explicit images.
Oblivious to student well-being
The bond between Tillery and her student frayed in eighth grade. When she stopped sending presents, he stole her daughter's laptop and camera. He told the arbitrator that "the whole entire school knew" about their relationship and students teased him, "How was sex with Ms. Tillery?"
Tillery did not admit wrongdoing, claiming that the student was needy and had been manipulating her. "In her view, she is the sole victim in this case," the arbitrator wrote, saying it "serves to demonstrate why termination of her employment is the only appropriate penalty in this case." (The decision also noted that the case created adverse publicity and eroded trust in city schools, which was a factor in a handful of other high-profile misconduct cases.)
Accused teachers often seemed deaf to the well-being of students. A Brooklyn middle school teacher named Dyonne Gordon called students "boti boy," a homophobic Jamaican slur, and referred to one as a "n*gger motherf**ker." A teacher who speaks that way to a student "has crossed a line," the arbitrator ruled, discounting Gordon's request for "corrective" discipline — a less severe penalty.
"Having crossed it, the Respondent aggravated the offense by denying it," said the arbitrator. "According to her, the students made it all up, the principal was a liar, the school secretary was a liar, the investigator was incompetent, and the paraprofessionals were spies."
Across the borough, at 4,500-student Fort Hamilton High School, a global history teacher named James Cullen told a student he was going to "f**k her mother" and said to another he looked at her "because I like staring at ugly things."
He called students Hitler, Fishhook Mouth, Barbie, the Arab, Fat Man, and Bitch, and directed students to buy him food, saying, "go get me f**king snacks." He promised higher grades to those who did.
DOE lawyers argued that Cullen was "like a bully" in his own classroom, with "his ninth-grade students the target of his harassment." After several students complained, Cullen expressed remorse but said he had been trying to get close to students.
He appeared to be liked by a number of students, as even extremely ineffective teachers in these cases sometimes were.
"Mr Cullen is definetly [sic] one of the coolest teachers i've ever had but he doesn't teach a single thing,"one said on a teacher rating site.
Teachers under fire see conspiracies
The demise of educators brought up on incompetence charges more closely resembled failure in other white-collar industries. The performance of routine duties became erratic as teachers fell out with principals and colleagues. Deadlines were blown; absences became frequent and were usually ascribed to health issues. When charges were brought, the teacher described being the target of a plot by school administrators.
An arbitrator summed up one teacher's view: "Principal Pedraja was some sort of vindictive puppet master that poisoned every subsequent administrator to view him negatively as part of a conspiracy theory because he had expressed dissatisfaction with a color-coding policy and choice of science textbooks."
In another color-themed conflict, a business teacher at the High School for Fashion Industries claimed the principal's use of red ink in commenting on her lesson plans constituted "a form of harassment."
In other cases, a Latin teacher at Bayside High School in Queens refused to submit mandatory lesson plans because he disliked the required format, a decision the arbitrator called "workplace suicide." He was terminated, as was a sinking Bronx instructor who, after negative evaluations, slammed her head against a file cabinet and smashed a desk to get her class's attention.
Anger may have deepened into illness for an instructor of 5- and 6-year-olds at a Harlem school. Her failure to plan, teach standards, or assess learning left her class falling behind its peers.
She neglected to fill out report cards and failed to complete learning programs for her disabled students. A student went missing during dismissal (the principal found him "being berated by another student's babysitter"). She refused the school's help — a fact weighed heavily by arbitrators — and sometimes returned home shortly after punching in.
During her hearing, she maintained that a "hostile work environment" at the school had made her ill — a claim echoed by other teachers who found themselves in a professional free fall. The arbitrator did not question the claim but found that "she was unable to provide a valid educational experience to her students."
Disclosure: David Cantor served as the Department of Education's press secretary under Mayor Michael Bloomberg from 2005 to 2010.
Support The 74's year-end campaign. Make a tax-exempt donation now.