Exclusive: Documents Show NYC's Education Department Failed to Answer 526 Public Records Requests Over Past 3 Years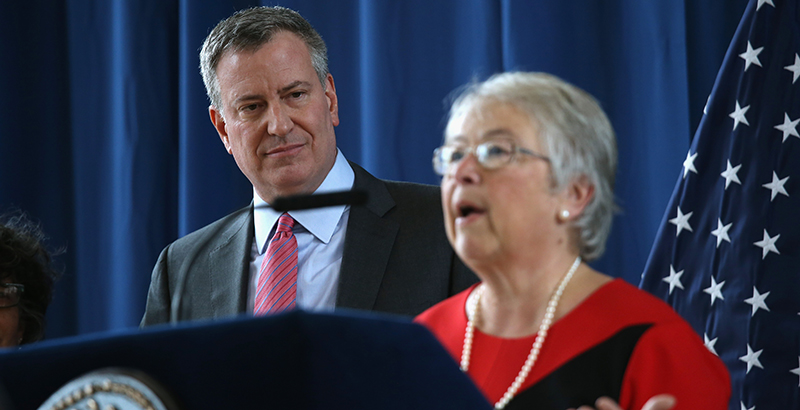 At the start of December 2014, New York Post reporter Susan Edelman sent an intriguing public records request to the city's Department of Education.
"Under the Freedom of Information [sic], I request all e-mail communications since Dec. 30, 2013 between Chancellor Carmen Farina and two others, Michael Mulgrew and Diane Ravitch. Please include e-mails both to and from Farina," Edelman said, according to a Department of Education summary.
In an email this week, the Post veteran told The 74 she "really can't remember after three years" what piqued her interest, but on its face the request reflected complaints by critics, like the Post, that the teachers union unduly swayed Mayor Bill de Blasio's education policies.
Correspondence between Fariña and Mulgrew, the union president, might bolster the case. Ravitch, an education progressive known for her scathing opposition to test-based accountability and charters, sat on the mayor's inauguration committee, defended his education agenda publicly, and served as an "informal advisor" on school issues, according to The New York Times.
The secrets lingering in those emails — if there are secrets, or emails, at all — remain unknown. New York's Freedom of Information Law requires government agencies to provide or deny records within 25 days; they must set a "date certain" for response if more time is needed. Edelman's request was neither denied nor granted, however: as of Wednesday, Oct. 4, her letter has sat for 715 business days in the Department of Education's records office, according to a spreadsheet listing all unfilled Freedom of Information requests on file with the department.
The 74 asked for that information in April 2016 under public records law and obtained it 341 business days later.
"In general, the DOE's response to FOIL requests has a chilling effect," Edelman said in her email. "You're almost loathe to file a request because you know it will fall into a black hole."
Edelman's long wait has not been solitary. Chalkbeat, building on research by The Village Voice, reported last spring that DOE responses take, on average, 103 days, making it the least responsive among city agencies in providing access to records.
In April 2016, The 74 also submitted a request for arbitrators' decisions in teacher misconduct cases that has gone unfulfilled for 369 business days. The 74 published a story on Aug. 23 of this year about the long delays and the department's overall poor response record under FOIL.
Advocacy groups and media outlets (including the Post on behalf of Edelman and two colleagues) sued the department in recent years because of its failure to provide records in a state-mandated "reasonable period" — instead sending monthly notices extending the expected response time by 20 business days. The head of the state's Committee on Open Government, which oversees FOIL, calls the DOE's practices "terrible."
In a statement, DOE General Counsel Howard Friedman pointed to planned improvements: "We are proposing changes to our FOIL regulation to help improve communication with individuals who submit requests and provide them with realistic response timelines. The DOE will continue to address FOIL requests in accordance with State law and remains committed to increasing transparency and more efficiently serving the public."
A snapshot of the period from March 2, 2014, which the DOE identifies as the date of its oldest open request, to Aug. 25, 2017, the last date for which it provided information to The 74, finds 526 outstanding requests, 221 of them filed prior to 2017.
Young Advocates for Fair Education, a Hasidic group that has pushed for more secular education in ultra-Orthodox schools, filed 11 requests that remained outstanding, more than any other entity. (Completed requests and those answered since Aug. 25 don't appear.)
Law firms accounted for 15 open requests, and advocacy groups for 25, ranging from Advocates for Children (three) to Class Size Matters (five) to StudentsFirstNY (eight).
Among media outlets, Edelman and her colleagues at the New York Post waited on 14 requests, Chalkbeat and The New York Times each waited on five, and Politico on four.
The names of more than 200 people who submitted requests were redacted; it's likely that most were students or parents whose identities are shielded by federal law. The requests are often very specific — for a student's records or "all records pertaining relating [sic] to AT&T corp payment check No. 0000160034013 in the amount of $1,175.39." Others are broad: "Please send me … copies of any and all materials produced, obtained, received, modified, sent, distributed, maintained, or recorded by the Office of Special Investigations." Neither approach has been successful.
Apparently straightforward requests by reporters, who tend to word theirs more carefully, remain unfulfilled, sometimes for years. On April 14, 2015, Politico's Eliza Shapiro asked for Chancellor Fariña's schedule for the preceding three and a half months. Pei-Sze Cheng, at WNBC-TV, asked on Sept. 23, 2014, for instances of corporal punishment reported to investigators from 2010–2014, including the number that were unsubstantiated.
On March 3, 2016, Katie Honan of DNAinfo asked for the number of mental health professionals placed over the past three years at Renewal Schools, the persistently struggling schools that the administration has poured hundreds of millions into to turn around. The Post's Carl Campanile asked on July 28, 2015, for copies of reports by DOE investigators showing test or grade tampering or inflation during the previous two years.
The DOE hasn't responded to these four requests for a collective 2,235 business days.
In September, responding to widespread criticism, the DOE announced new guidelines that would allow those who submit unclear or overly broad requests to make changes. The records office would discontinue sending monthly extension notices, providing instead specific dates for requests that demand more than 20 days.
These changes are more consistent with state law, said Robert Freeman, executive director of the Committee on Open Government.
Sixteen of the outstanding requests in DOE records dated from 2014; 56 were submitted in 2015, 149 in 2016, and 190 from the first six months of 2017. (Another 115 open requests were submitted after that.)  It remains unclear whether the DOE provided all open requests to The 74, however. Aaron Pallas, an education and sociology professor at Teachers College who writes frequently about education in New York City, filed a request in July 2011 for documents that might show if the DOE prepped students for the National Assessment of Educational Progress.
Pallas told The 74 that he had never received a response from the DOE, just monthly extension letters. "It got kind of comical because occasionally they'd miss a month and I'd have to write to them and say, 'You haven't sent me my monthly update letting me know that you haven't done anything yet,' " he said.
Pallas wrote about the delay in a February 2013 Hechinger Report column; soon after, he said, someone at the DOE contacted him off the record.
" 'Honestly, our unit was not doing test prep,' " Pallas says he was told. " 'Even if your request does get fulfilled, it's probably not going to give you the sorts of things you might have been expecting.' "
Pallas said the last communication he received from the records office was an extension letter dated Nov. 13, 2013. He followed up in July 2014, but never heard back.
Freeman remains hopeful. "I think that if [DOE officials] stick to them, the changes that have been made represent improvements," he said. "The hope is that we will see much more efficient response to FOIL requests. We will see fewer unreasonable and unjustifiable delays. We will see more seriousness given to compliance with FOIL."
The guidelines may be more of a next step than a more radical course put forth in 2013.
"Agencies that do not comply [with FOIL] should be sanctioned with a fine for each day of non-compliance," said then–Public Advocate Bill de Blasio, who made lack of transparency by city agencies one of his rallying cries. "In New York City, these fines would be assessed after a court finds an agency to be at fault — including in cases of excessive delays or a 'pattern and practice' of FOIL violations."
Get stories like these delivered straight to your inbox. Sign up for The 74 Newsletter