House Committee Advances Education Spending Bill With $41 Million Increase, Ends Long-standing Ban on Federal Integration Efforts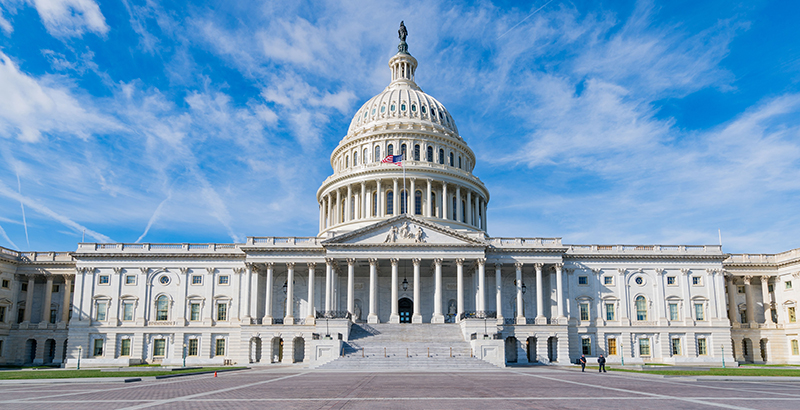 The House Appropriations subcommittee with jurisdiction over the Education Department approved a bill Friday that would slightly increase federal funding while giving the Trump administration almost none of its requests.
The bill would allocate $71 billion to the department for fiscal 2019, an increase of $43 million. The Trump administration had, for the second year in a row, sought big cuts to the department, largely by eliminating money for teacher training and afterschool programs. The subcommittee approved the bill on a voice vote, setting up consideration by the full House Appropriations Committee Wednesday.
Subcommittee chairman Tom Cole, Republican of Oklahoma, highlighted increases to career and technical education, special education, and a large block grant program that can be used for school safety and other purposes.
"I think we will improve this bill as we work through the [legislative] process," Cole said, adding that he hoped Democrats would vote for the final version.
Democrats, for their part, said they were disappointed that despite an overall higher spending cap for the year, the bill did not receive any additional funds. It also covers the Labor and Health and Human Services departments.
The subcommittee did not consider any amendments during its brief markup.
Notably, the bill, for the first time in decades, would overturn a ban on federal funding being used to transport students in an effort to integrate schools.
The provisions, which came amid a backlash to busing policies in the 1970s, have taken different forms over the years; President Jimmy Carter once vetoed a spending bill that would have banned the Justice Department from bringing lawsuits where busing could be a required remedy to school segregation, The New York Times reported in 1980.
In more recent years, though, educators, advocates and others have increasingly sounded alarms that America's public schools are getting more segregated, not less, even though students who attend racially integrated schools have better outcomes.
Advocates have recently made a concerted push to overturn the ban, and last year lawmakers exempted magnet schools, many of which are specifically designed to undo segregation, from the ban.
The decades-old provisions also contradict the Every Student Succeeds Act, which gives states and districts leeway in designing school turnaround strategies, the National Coalition on School Diversity said in a letter to Congress. The group pointed to New York, which included efforts to increase diversity as among its approved intervention strategies.
Among the largest programs, the Title I grants for low-income students would receive a level $15.8 billion, and grants for special needs students under the Individuals with Disabilities Education Act would get an additional $50 million, for $12.3 billion total. The allocation remains well below the 40 percent of costs the federal government said it would give to states when it passed IDEA decades ago.
The bill does not contain any of the new school choice programs the Trump administration has proposed, such as a private school choice program or increased funding for states to use their Title I dollars to promote public choice options. It maintains level funding for Title II grants for teacher training and the 21st Century Community Learning Center afterschool programs. The Trump administration, in its budget proposals, called for eliminating both, saying that money from other grant programs can be used for teacher development and that research doesn't show afterschool programs are effective.
Though the marquee programs are largely flat-funded, three funding areas where lawmakers have recently focused their attention would see bigger boosts.
The so-called Title IV programs, which can pay for anything from technology to school safety, would see a nearly 10 percent increase, to $1.2 billion for the year. Congress, in its final 2018 spending bill, poured money into the grants in the wake of the Parkland, Florida, school shooting amid a renewed national focus on school safety.
The Trump administration, in its budget released ahead of the Feb. 14 shooting at Marjory Stoneman Douglas High School, proposed eliminating funding for the grants, though Education Secretary Betsy DeVos later walked back that idea in a hearing.
Subcommittee Democrats, though, pointed out that the bill would reduce funding for a student mental health program run through the Department of Health and Human Services, as well as the Education Department's national activities for schools safety.
Career and technical education grants would get $1.9 billion, an increase of $115 million from the current fiscal year.
Rewriting the Carl D. Perkins Act, which decrees how the grants should be doled out, has been a top priority of House Education and the Workforce Committee chairwoman Virginia Foxx. The Senate Health, Education, Labor and Pensions Committee is set to mark up its Perkins rewrite Wednesday.
The charter school program would again be a big winner, getting an additional $50 million, for a total of $450 million. That's still shy of the $500 million the Trump administration had requested. Lawmakers have given the program huge increases in recent years, even amid largely flat funding for the department overall.
Current spending expires Sept. 30. The Senate Appropriations Committee has not yet begun work on its Education Department funding bill.
Get stories like these delivered straight to your inbox. Sign up for The 74 Newsletter