New Federal Funding Bill Pours Money Into School Safety & Early Education, With Smaller Bumps for Charters & Other Dept Programs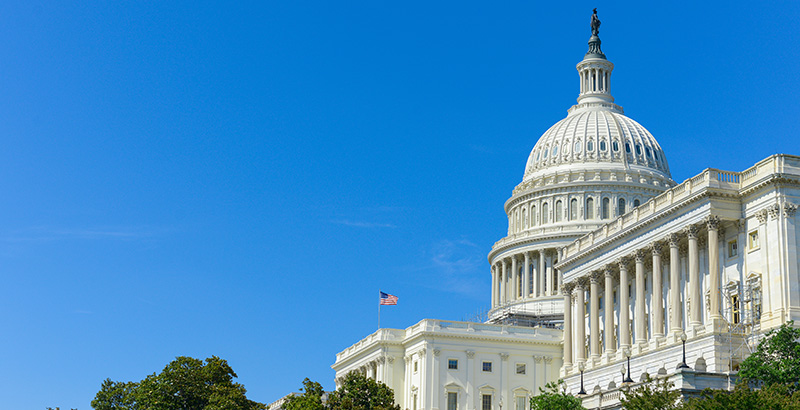 School safety programs saw big boosts in the latest federal appropriations bill, which also proposed increases in early childhood education spending along with smaller bumps for marquee K-12 programs.
The House Appropriations Committee in a press release touted $2.3 billion in increases for school safety, with funds coming through programs at the Education, Justice, and Health and Human Services departments.
Overall, the Education Department would get $70.9 billion under the bill, a $3.9 billion, or 5.5 percent, increase — the largest boost the department has seen in recent years. Charter school programs would receive $58 million, or about 17 percent more, although 2018 Trump administration budget proposals to fund private school vouchers or promote public school choice via Title I funds were nixed.
School safety has been top of agenda in D.C. since the February 14 shooting at Florida's Marjory Stoneman Douglas High School that killed 17 people. The momentum has been  fueled in no small part by the students' own advocacy, including a massive anti-gun-violence march on the capital set to take place Saturday.
Though the students, and their peers who also walked out of class last week, have called for more gun control, most of the bipartisan agreement has come in providing additional funding for school safety and mental health programs.
Lawmakers released the bill Wednesday evening and are in a time crunch to pass it before government funding expires at midnight Friday, when they're also supposed to leave for a two-week recess.
Most of the school safety money in the Education Department was added through Title IV of the Every Student Succeeds Act, a catchall grant that schools can use for broad purposes under the umbrella of providing "safe, healthy learning environments for students."
The bill would give $1.1 billion to the program, nearly triple the $400 million it has gotten in past years.
A report filed with the bill notes that the funds can have a "wide range of uses, including to expand access to or coordinate resources for school-based mental health services and supports, which may include trauma-informed practices and school counseling; bullying prevention; and professional development for personnel in crisis management and school-based violence prevention strategies."
The Trump Administration, in its budget released before the Parkland shooting, proposed axing the same program, something for which Education Secretary Betsy DeVos got flack during congressional testimony Tuesday. She told a House Appropriations subcommittee that schools should have the funds they need to provide counseling, violence prevention programs, and safe school infrastructures.
Appropriations committees also proposed increasing funding for the safe schools and citizenship program to $90 million, with the funds used for expanding evidence-based programs to improve school climate, prevent violence, and "respond to serious incidents."
Five million dollars of that funding is dedicated to Project SERV, federal grants that go directly to schools that have experienced trauma, including shootings and natural disasters.
Early education was also a big winner.
Lawmakers proposed nearly doubling funding for the Child Care and Development Block Grants, which help low-income families pay for day care, awarding $5.2 billion. The Head Start program, which provides preschool to low-income and homeless children, would get a $610 million increase, to $9.9 billion. The preschool development grants that help states create or start preschool programs would stay funded at $250 million, as they have for the past several years.
Sen. Patty Murray, the ranking Democrat on the Health, Education, Labor and Pensions Committee, touted the early-childhood investments in a press release.
"As a former preschool teacher, I know that investing in our youngest learners isn't just the right thing to do, it's the smartest thing we can do, so I hope we can keep working together until high-quality, affordable early learning and care is a reality for all," she said.
Other key K-12 programs also saw increases:
Title I, which aids the education of low-income children, would get $15.8 billion, an increase of $300 million.

The federal charter school program would get $400 million, an increase of $58 million, including $7.5 million set aside to establish or expand charters in "underserved, high-poverty, rural areas."
Special education grants under the Individuals with Disabilities Education Act would be funded at $12.3 billion, an increase of $275 million.
Impact Aid would receive $1.4 billion, an increase of $86 million. The program funds the education of "federally connected" children, such as those whose parents are in the military, and helps districts pay for lost tax revenues due to the presence of federal property like military bases or tribal lands.

Career and technical education grants would get $1.2 billion, an increase of $75 million.
After-school programs, funded through the 21st Century Learning Centers programs, would get $1.2 billion, an increase of $20 million. The Trump administration has twice proposed eliminating the program.
Teacher training grants known as Title II would get $2.1 billion, about equal to last year. The Trump administration has also proposed eliminating that program, and House Republicans axed it in a bill they passed earlier this year.

The Office for Civil Rights would get $117 million, an $8.5 million bump. The report filed with the bill directs the office to increase its staff "in order to effectively and timely investigate complaints; execute and report on the civil rights data collection; thoroughly monitor corrective actions of institutions and meet other critical workloads." The Office for Civil Rights's role in overseeing campus sex assault investigations and issuing directives on school discipline has been a focus for DeVos.

Get stories like these delivered straight to your inbox. Sign up for The 74 Newsletter