Former Obama Ed Secretaries Urge More Details on Democrats' Big Education Spending Proposals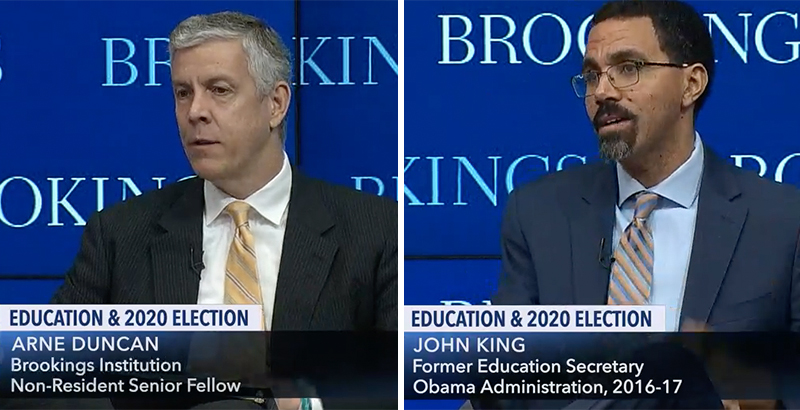 Washington, D.C. 
Democratic presidential candidates' proposals to spend more money on education should come with more detail on how their plans will get better results for students, two former Democratic education secretaries said.
The 19 Democrats left in the race have proposed several high-priced education plans, including universal pre-K, dramatically increased spending on low-income students and free college. Hours before the event, Montana Gov. Steve Bullock, a long-shot candidate, released his education plan, which his campaign touted as doubling the federal investment in K-12.
As they work through these proposals, candidates should focus on broad goals, like raising the high school graduation rate or making the U.S. the nation with the most college graduates, former education secretaries John King and Arne Duncan said. Both declined to endorse a candidate.
"We have to think about more dollars with the things we know will make a difference," King said Friday at an event on the 2020 election and education at the Brookings Institution.
Many candidates have, for instance, proposed dramatically increasing spending on Title I, which helps the education of low-income students. But increased dollars could be tied to more targeted efforts such as increasing teacher diversity or integrating schools, King said.
Proposals to add federal dollars to boost teacher salaries, meanwhile, could be vehicles to examine teacher pay models, outside the usual step-and-lane system that ties salary increases to years of experience, to give higher raises to top-performing teachers earlier in their careers, Duncan suggested.
On the subject of free college, similar issues arise. The former secretaries pointed to low college completion rates, particularly for students of color.
"We have to talk about results. Are people just being admitted to college, or are they actually walking across the stage [at graduation]?," Duncan asked. (He also said he'd prioritize free pre-K over free college.)
In many states, programs that purport to be "free college" aren't well-targeted to the neediest students, or are littered with catches that make them difficult to use, said King, now the president of The Education Trust. And many states are spending less on their public higher ed systems now than they were before the recession, a factor that drives up costs for all students, he added.
"The details of the policy matter, and we have to design them in a way that is focused on equity," King said.
Though the candidates generally agree on the broad contours of education policy, like universal pre-K, higher teacher pay and some level of free college, one area where the field has split is charter schools.
Both King and Duncan, who now works on gun violence issues at the Emerson Collective, are longtime supporters of charters. King, in response to a question, cast part of the blame for some Democrats' opposition to the schools on the Trump administration and Education Secretary Betsy DeVos, particularly her support of what he called "low regulation, low oversight and low accountability" for the sector.
Duncan, meanwhile, said Democrats shouldn't be swayed by Republican support when making their own policy choices. "As Democrats, as citizens, we should have a moratorium on bad schools and we should want a lot more good schools," he said.
Though he had plenty of thoughts about policy, Duncan, who since leaving office hasn't shied away from criticizing the Trump administration, said education shouldn't be the deciding factor next year.
In a normal election, more people should be voting on education — but this isn't a normal election, Duncan said.
"This election should not turn on any one education policy … This is not a time to support or not support any given candidate based on some agreement or disagreement on some education policy," he added.
Get stories like these delivered straight to your inbox. Sign up for The 74 Newsletter