Bernie Sanders Wants New Limits on Charters, but Impact May Be Less Than Revolutionary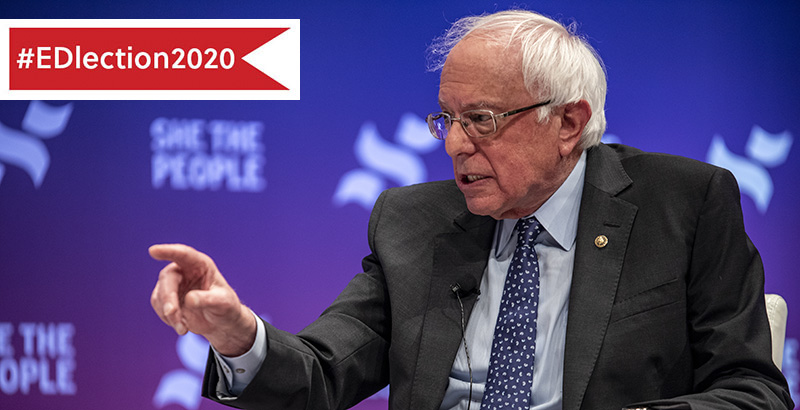 Sen. Bernie Sanders on Friday made some of the first comments on school choice in the 2020 Democratic presidential primary, using a newspaper op-ed focused mostly on school segregation and the anniversary of Brown v. Board of Education to call for limits on charter schools.
Sanders, running second in most polls of the ever-expanding Democratic field, said he supports groups like the NAACP, which have called for an end to for-profit charters and a moratorium on funding for new charters "until we can ensure they're operating with transparency and accountability," he wrote in the Citizen-Times, a newspaper based in Asheville, North Carolina, where he spoke Friday.
Representatives from the National Alliance for Public Charter Schools on Friday afternoon released a statement expressing "deep dismay" over Sanders's "wrong-headed call for a moratorium on high-quality charter schools."
Though the ideas represent some of the first salvos on choice in the contest, they're far from revolutionary.
Indeed, they seem to reflect somewhat confusing comments Sanders made in the 2016 contest, when he said, "I believe in public education and I believe in public charter schools. I do not believe in privately controlled charter schools."
Though he wasn't ultimately the nominee, the 2016 Democratic platform said the party doesn't support for-profit charters and called for "increased transparency and accountability for all charter schools."
Sanders's call for a moratorium on funding for charters differs in one critical way from the NAACP's 2016 proposal: His op-ed specifically says he'd call for a moratorium on federal funds to new charters, while the NAACP's resolution called for opposition to any state or federal laws that sent money to charters.
Sanders's reference to federal funds presumably refers to the federal Charter School Program, which goes to states and schools to help start and replicate high-quality charters — an amount that pales in comparison to other federal K-12 spending and a decision that's ultimately in the hands of Congress. As president, Sanders would have no ability to bar states from funding charters, so while he could support the NAACP's broader call, it would be a largely empty gesture.
The federal Charter School Program is currently funded at $440 million a year and has received bipartisan support and big increases in recent years, though House Democrats proposed reducing that funding by about 10 percent for next fiscal year.
By comparison, the largest federal education investments in public schools, Title I grants for low-income students, are funded at about $16 billion this year.
Sanders will expand on his charter school proposal in a speech in South Carolina Saturday, his campaign told CNN, including matching employment practices and collective bargaining agreements between district schools and charters, and supporting unionization efforts by charter teachers.
Get stories like these delivered straight to your inbox. Sign up for The 74 Newsletter