Free College. Debt-Free College. Higher Ed Affordability. Whatever You Call It, It's the First Big Education Issue of the 2020 Campaign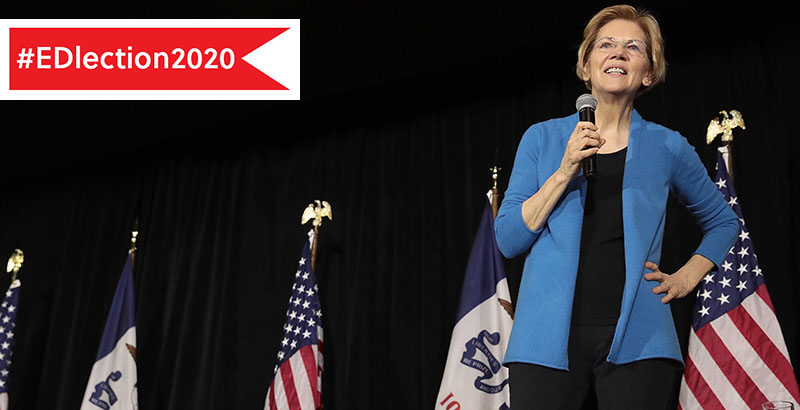 As the contours of the 2020 presidential race take shape, one prominent education issue has come to the fore in the burgeoning Democratic primary: higher education affordability.
"It's clear now that college affordability and student loan debt are kitchen table issues that affect families and students across the country, and those are understandably showing up more and more in big federal policy proposals, including those of presidential campaigns," Debbie Cochrane, executive vice president of The Institute for College Access and Success, told The 74.
Polling by the Campaign for Free College Tuition found that 81 percent of respondents in November 2018 either strongly or somewhat favored states providing free tuition at public universities. Americans hold more than $1.5 trillion in student loan debt.
Given those figures, it's not a stretch to think higher ed will be a major driver for young people, and candidates are "going to have to have credibility on this issue," said Reid Setzer, policy director of Young Invincibles, a group that advocates for young people on issues like health care and education.
Every top-tier candidate in the 2020 primary has addressed the issue in some fashion, but the field is divided on specifics.
"If you want a real easy sound bite for a 30-second TV ad, free college resonates pretty well, but the devil's always in the details … That makes a world of difference in who might get support," Mack Shelley, chair of the political science department at Iowa State University, told The 74.
Very generally, the candidates fall into three camps: those favoring free tuition, those arguing for debt-free college and others who haven't gone as far on the issue. Several candidates have supported multiple proposals.
The "free tuition" camp's leader is Sen. Bernie Sanders, whose College for All Act would eliminate tuition and fees at public colleges for students from families making less than $125,000 a year, and end tuition and fees at community colleges for all students. Sens. Elizabeth Warren and Kamala Harris co-sponsored it. (Vice President Joe Biden, who hasn't yet officially declared his candidacy, is also in the free tuition group.)
The "debt-free" college camp includes Harris, Warren, and Sen. Cory Booker, who all co-sponsored the Debt-Free College Act. That bill would include things such as living expenses, textbooks and meal plans in the covered costs, but instead of universally available aid, grants would be targeted toward needier students, with those from wealthier families expected to pay as they are able.
Thus far, Sen. Amy Klobuchar; former South Bend, Indiana, mayor Pete Buttigieg; and former representative Beto O'Rourke fall into the "other" category.
Klobuchar, for instance, said she is "not for four-year college for all" but does support free community college and expanding other federal aid programs. Buttigieg told a college paper in California that he would expand the Public Service Loan Forgiveness Program and address debt in other ways, but stopped short of free tuition or debt-free college.
And O'Rourke told students at Penn State that he is "not there" on free tuition for four-year colleges.
"I think the best place to start is debt free for education," O'Rourke said. "To make sure that we are not just talking about four-year universities [and] community colleges, but also trade schools and apprenticeships."
As the race heats up and candidates look to define themselves on the issue, all eyes will be on New Hampshire, which holds the first primary.
It's a particularly potent issue in the Granite State, where in-state tuition is the second-highest in the country, at $16,460 for the current academic year. That's $6,000 more than the national average.
Higher education affordability will be one of the top three issues for young people, along with climate change and voting rights, and will be make or break for some, Amelia Keane, executive director of New Hampshire Young Democrats, told The 74.
State-specific issues in New Hampshire, like the opioid crisis in 2016, often get national recognition thanks to the state's early place in the electoral calendar.
"We're hoping to use New Hampshire to elevate issues nationally like that again, but hopefully on college affordability and not the drug problem," Keane said.
Beyond the campaign trail, the issue will be front of mind for the many candidates who are also members of Congress, where a reauthorization of the Higher Education Act is at the top of education committees' agendas.
For college affordability activists, the details are important — just saying "free college" doesn't cut it.
"There is value to having a universal message of free without an income cap," but if that means that available resources don't go to students who need them most, "that's not a trade-off worth making," Cochrane said.
Universal "free college" programs help set the expectation for high school students that they will all have the financial backing to go to school, which helps get political buy-in from a larger population. But when there's a limited amount of funding, a universally available program can mean that the most resources don't go to the students who need them the most.
"The ability to summarize an idea in one or two words and therefore cut through a noisy environment is really prized," Richard Reeves, a fellow at the Brookings Institution, said at a panel event in Washington last month. "The danger is the very simplicity of the idea will do a disservice to the complexity of the problem it purports to solve."
Get stories like these delivered straight to your inbox. Sign up for The 74 Newsletter