Chiefs for Change Urges Trump to Protect DACA & Immigrant Students, Calling It a 'Moral Issue'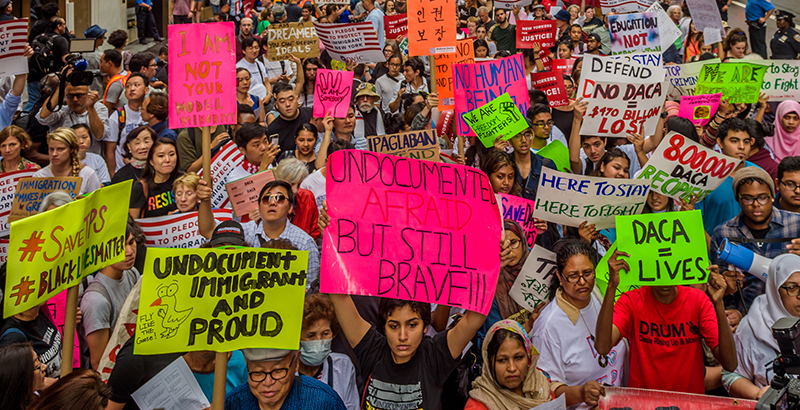 State and district leaders Wednesday urged the Trump administration to continue protections for undocumented young people brought to this country as children, as the president faces a deadline within days to decide their fate.
"Whatever you think about immigration policy, it's not in our national interest to push our students into the shadows or have them deported," Washington, D.C. State Superintendent Hanseul Kang, herself formerly an undocumented immigrant, said on a call with reporters.
Kang and Broward County, Florida Superintendent Robert Runcie, who was born in Jamaica, highlighted the statement released earlier this week by Chiefs for Change, a coalition that advocates for educational reforms. The group is urging the Trump administration to continue protections granted under the Deferred Action for Childhood Arrivals program until a broader bipartisan immigration reform law is passed.
The politics of the issue can be complicated, and Chiefs for Change is a bipartisan group, but it was a "moral issue" for the group's members, CEO Mike Magee said on the call. DACA offers young people, often known as Dreamers, protection from deportation and permission to work legally in the U.S.
(The 74: As Immigrant Students Worry About a New School Year, Districts & Educators Unveil Plans to Protect Their Safety (and Privacy))
There's been little opposition to the work Broward schools have done to reassure immigrant students and parents, including a supportive resolution by the school board, Runcie said.
"I'm sure there's some [opposition] out there, but given the demographics of where we are, it's been very strongly supported," he said.
There are relatively few DACA recipients in K-12 schools in America, perhaps less than 3 percent of an estimated 800,000 total recipients. Elementary and secondary schools must educate all children in the U.S., regardless of immigration status, and DACA was in most cases only open to students who are at least 15. They also must have clean criminal records, and be enrolled in or graduated from school, or honorably discharged from the military.
But undocumented children who don't have a pathway to legal status have more limited opportunities for college or careers, Kang noted.
There are also an estimated 20,000 DACA recipients currently serving as teachers, she said.
A school principal in Washington told Kang that an undocumented mother had asked the principal to consider assuming legal guardianship of her child, should the mother be deported.
"This is not abstract for us," she said. "We are talking about real students in our schools."
The status of the program — and the nearly 800,000 young people currently given protections from immigration removals — is now in limbo. President Donald Trump on the campaign trail pledged to end the program begun in 2012 under President Obama immediately, but has since said the decision is "very, very hard," CNN reported.
Ten attorneys general sued the federal government to stop a companion Obama-era program that would protect parents of Dreamers, and have given the Trump administration until Sept. 5 to rescind DACA. If not, Texas, one of the states suing, will add it to the pending lawsuit, according to CNN.
Louisiana State Superintendent John White was scheduled to be on the call, but was needed elsewhere as Hurricane Harvey, which has devastated southeastern Texas, made landfall in his state Tuesday morning.
The chiefs aren't the first education leaders trying to work to prevent undocumented young people from the threat of deportation. Nearly 2,700 education leaders have signed a petition, started earlier this year by the education advocacy group Stand for Children, calling on the president to leave DACA as-is. On Wednesday, The National Alliance of Public Charter Schools urged people to sign a petition supporting pending legislation that would offer legal status and a path to citizenship for Dreamers.
(The 74: What John King and Other Education Leaders Who Signed Petition Want Trump to Know About DACA)
Support The 74's year-end campaign. Make a tax-exempt donation now.