As Immigrant Students Worry About a New School Year, Districts & Educators Unveil Plans to Protect Their Safety (and Privacy)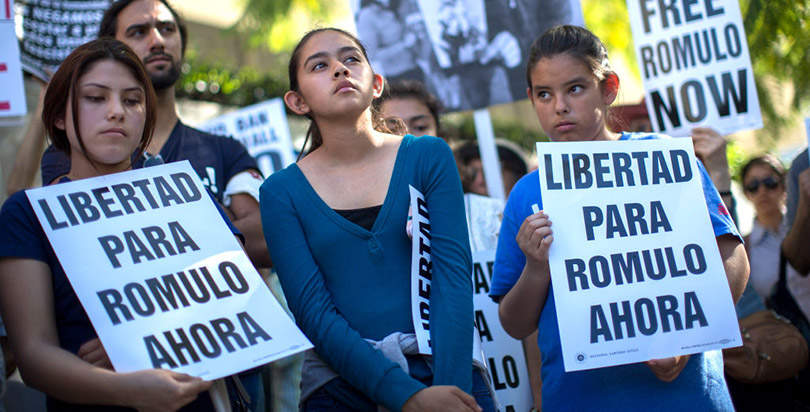 This is the first article in a series produced in collaboration with
The Guardian
examining the climate affecting immigrant school children and their parents as the new school year begins. See a version of this article today at TheGuardian.com.
If federal immigration agents come knocking, don't open the door. You have the right to plead the Fifth Amendment and refuse to speak. Consult an attorney before signing any papers. Designate a trusted adult who can care for your child if you cannot. Develop a family preparedness plan, in case an emergency arises.
These are among recommendations to families that the Los Angeles Unified School District rolled out Aug. 8, a week before the start of school, to address concerns among its large immigrant population. That
"We Are One" campaign
put the nation's second-largest district — where an estimated one-quarter of the students are either undocumented or the children of undocumented immigrants — at the forefront of a national resistance movement among school districts to the immigration policies of President Trump, whose White House victory was propelled in part by promises of aggressive enforcement.
Coincidentally, in the days after LA Superintendent Michelle King announced the campaign, the target of one such enforcement action got a reprieve. The February arrest of Rómulo
Avelica-González as he dropped off his teenage daughter at her Los Angeles middle school had been captured by the crying girl on
video
that went viral — and immediately came to symbolize fears of immigrant families being torn apart under the new administration. On Aug. 10, an immigration appeals court
threw out the father's deportation order
. He could be released on bond by the end of the month, though deportation proceedings could take years.
Following a summer of anxiety and uncertainty for
Avelica-González's daughter Fatima and other students who are undocumented or have undocumented parents, the unveiling of the LA campaign was just the latest move in a city that had already
voted
to join a lawsuit challenging the president's authority and strengthened a "sanctuary district"
resolution
, which banned federal immigration authorities from schools without superintendent approval and called for educator training to help families navigate U.S. Immigration and Customs Enforcement inquiries.
---
---
Los Angeles is not alone. Across the country, educators have declared their schools and school districts "sanctuaries" from Trump's immigration policies. Superintendents and school board members from districts as diverse as Milwaukee, Wisconsin; Chicago; New York City; and Des Moines, Iowa, have created or revised "sanctuary school" resolutions, vowing to shield students' personal information from immigration authorities and block federal agents' access to school property unless they present a warrant.
Ahead of the new school year in Oakland, California, principals and assistant principals received training this month on what to do under the district's sanctuary resolution should enforcement activity occur at or near a school, said Nicole Knight, executive director of the district's English Language Learner and Multilingual Achievement Office.
Each school now has posters — in multiple languages — that proclaim, "Oakland schools are sanctuary schools. You are welcome here." "Walls speak," Knight said. "When the community comes in and this is one of the first messages that they see, that's comforting to them. They know that the school has their back."
A sanctuary school
resolution
in Portland, Oregon, clearly lays out student data protections: School staff may not disclose the immigration status or other personal information about students, citing the Family Educational Rights and Privacy Act, the federal student privacy law.
One of the first education leaders to speak out was Alberto Carvalho, superintendent of Miami-Dade County Public Schools. For him, solidarity with undocumented students is personal: Carvalho was a teenager when he left grave poverty in Portugal for the promise of a better life. Now the leader of America's fourth-largest school district, where nearly
20 percent
of students are English language learners, he
took a strong stand
in March against any federal agents who might try to enforce immigration laws at his schools: "Over my dead body."
Back in California — where about
250,000 undocumented children
are enrolled in public schools and 750,000 have at least one undocumented parent — lawmakers are debating a
"sanctuary state" bill
that, in part, takes aim at potential data mining that could use students' personal information to uncover their immigration status. That legislation would bar school police from assisting with immigration enforcement, creating a "database firewall" around student records maintained by officers, said Adam Schwartz, an attorney at the Electronic Frontier Foundation, a nonprofit advocacy group that fights for online privacy protections. Statewide, about 60 schools and county education offices
have adopted resolutions
that safeguard undocumented students.
"It's not that the public school necessarily has a file that says 'These kids are undocumented' and 'These kids aren't undocumented,' " he told The 74. Rather, schools collect all kinds of personal information about students, including addresses and languages spoken at home. "One database by itself might not tell you anything," he said, "but when you sew it all together, when this mosaic comes together, a motivated party could use this to begin to identify who undocumented immigrants are."
Though experts say "sanctuary school" resolutions are largely symbolic, supporters say they hope the message has the power to both sway public attitudes and assuage the fear that has been coursing through school hallways.
In the first six months of the Trump presidency, immigration courts ordered 57,069 people to leave the country,
up by nearly 31 percent
since last year, according to the most recent Justice Department data. Additionally, federal agents detained 650 people during a four-day enforcement operation in July that targeted undocumented immigrants who entered the country as unaccompanied children and as family units, according to an ICE media release.
"The level of fear that we're seeing amongst our students is big; the level of fear amongst our families is huge as well."
Along with the heightened enforcement, say public school leaders across the country, has come increased anxiety in the classroom. Students who are undocumented or have undocumented parents have brought their fears for themselves and their families to school, making teaching much more difficult. Particularly after the election, some schools saw marked drops in attendance as immigrant parents, afraid of exposing their children to the authorities, kept them home.
For example, a district spokeswoman in Las Cruces, New Mexico, said schools saw a 60 percent spike in absences following a
local immigration raid
in February. That coincided with a national Day Without Immigrants protest — when several districts across the country reported a surge in absences — but many students didn't return to class for a month or longer. Now, as school reopens, the Las Cruces district is opening "international welcome centers" at four high schools to better serve students who are new to the U.S., said Roberto Lozano, the district's chief officer of equity, innovation, and social justice. The centers — which were in part a response to the election — began the year helping to ensure that students enrolled in classes matching their proficiency levels, Lozano said.
In Milwaukee, a student
who advocated for a sanctuary schools policy
in her district said some undocumented families moved back to Mexico after the election, fearing Trump's rhetoric would quickly become reality. In New York City, a visit by U.S. Citizenship and Immigration officers to a school in May
ignited an immediate firestorm
of fear that a fourth-grader was being targeted for deportation.
"The level of fear that we're seeing amongst our students is big; the level of fear amongst our families is huge as well," Tania Romero, a social worker at Flushing International High School in New York, said during a May panel discussion. "We've had a particularly challenging time this year to even get parents to come out to our know-your-rights workshops," which outline legal resources for undocumented families, she added.
Though they don't carry much legal weight, sanctuary school resolutions help ease parents' and children's anxiety by ensuring that teachers and principals know how to respond if immigration agents go to a school or request student information, said Jessica Hanson, an attorney at the National Immigration Law Center.
"What we're seeing is really schools realizing that they do have a role to play in ensuring that the educational space is a space where students can actually learn," she said. "And that requires the space to be free of threats to students' physical safety, as well as psychological well-being."
With about
1 million undocumented children
living in the U.S., and an estimated 5.5 million kids with at least one undocumented parent, sanctuary school resolutions "add a layer of security in the sense that everyone is acting consistently and knowing that ICE and other immigration agents are not allowed to access students' information or come onto campus unless they have specific judicial documents and go through the school's legal counsel," Hanson said.
Since 2011, ICE has
maintained a policy
of avoiding enforcement activities at schools. In a statement, agency spokeswoman Jennifer Elzea said the policy remains in effect under the Trump administration, adding that the Department of Homeland Security is "committed to ensuring that people seeking to participate in activities or utilize services provided at any sensitive location are free to do so without fear or hesitation."
Still, Elzea said, federal immigration authorities "will no longer exempt classes or categories of removable aliens from potential enforcement."
In the first 100 days after Trump signed executive orders ramping up immigration enforcement, federal agents arrested more than
41,000 people
for civil immigration offenses, a 38 percent increase over the same period in 2016. Trump's proposed
2018 budget
, which faces an uphill battle in Congress, calls for hiring an additional 1,500 immigration agents at a cost of $300 million and earmarks $1.5 billion for expanding detention and deportation efforts. On Aug. 2, Trump
announced a proposal
that would halve the number of legal immigrants admitted to the country over the next decade.
For school districts, required under the Supreme Court's 1982 Plyler v. Doe decision to provide children with access to public education regardless of immigration status, Trump's priorities put them squarely in the middle of a broader policy debate affecting millions of kids.
Francisco Negrón, chief legal officer at the National School Boards Association, said he fielded questions from education leaders after the election about district obligations under Plyler and the legality of sanctuary resolutions. His advice: Be cautious, because "sanctuary" is not a legal term and is, in some instances, "politically loaded." In those conversations, Negrón said, he warns districts not to "overpromise" the protections they can provide to undocumented families.
Despite the resolutions, schools don't have any real power to resist detentions and deportations, said Ira Mehlman, a spokesman for the Federation for American Immigration Reform, a nonprofit that advocates for strict enforcement. Sanctuary school policies, he said, are "purely political."
"It's basically just them venting a little bit," he said of the sanctuary districts. "There's no indication whatever that ICE is interested in enforcing immigration laws in schools."
Rep. Mike Ritze, a Republican member of Oklahoma's House of Representatives, took a similar stance. In
a television interview
, Ritze said the cash-strapped state spends $60 million to educate non-English-speaking students and that officials should "identify them and then turn them over to ICE to see if they truly are citizens, and do we really have to educate non-citizens?"
In clarifying his remarks to The 74, Ritze said he was referring to non-English-speaking students with criminal records. "If they're a criminal, they should be turned over to ICE," he said. "I think murder trumps educating a 16-year-old."
That sort of talk, some school officials say, is why sanctuary resolutions are so important.
"It is about making sure that we're clear on mission," said Los Angeles school board member Mónica García, who proposed her district's sanctuary policy. "We are not the body that decides who gets to be in this country or not, but we are the body that decides how we focus our services and continue to build a system that educates kids."
Get stories like these delivered straight to your inbox. Sign up for The 74 Newsletter