White House Says Betsy DeVos Will Chair Commission Focusing on School Safety; Will Consider Ending Obama-Era Discipline Guidance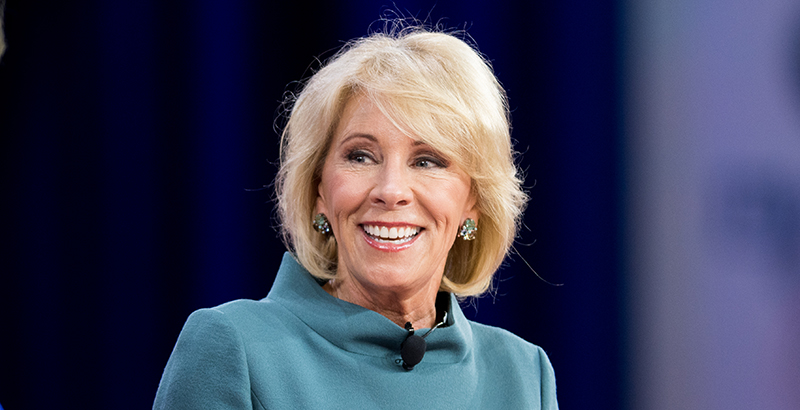 Education Secretary Betsy DeVos will chair a new federal commission on school safety, the White House announced Sunday evening, part of the administration's response to the school shooting in Parkland, Florida, that also includes efforts to improve mental health services and strengthen certain gun control measures.
"The plan that we're going to advance and talk about is a pragmatic plan to dramatically increase school safety, and to take steps to do so right away," DeVos said on a call with reporters a couple of hours before she appeared on 60 Minutes to announce the expansion to her portfolio of responsibilities.
A "wide array of practitioners," including teachers, will be on the commission, she said, and will seek to identify best practices that are already working in states.
The White House actions come almost exactly a month after the February 14 shooting that killed 14 students and three adults at Marjory Stoneman Douglas High School, and a few days ahead of a nationwide school walkout to honor the victims and press for stronger gun control measures, planned for Wednesday morning.
Student activists for gun safety have pushed for initiatives much broader than those the White House is currently backing, including banning assault weapons.
On the task force's agenda is the repeal of 2014 Obama administration discipline guidance, the White House said in a press release. The guidance was aimed at reducing suspensions and expulsions, particularly for children of color, as a way to end the school-to-prison pipeline.
Conservatives have long argued that it made schools more dangerous, and Florida Sen. Marco Rubio has urged DeVos and Attorney General Jeff Sessions to look into whether it played a role in the Parkland shooting, though the alleged gunman was expelled and had been reported to several different law enforcement agencies. Those agencies include the FBI, which has acknowledged that it did not follow up on warnings  about the accused shooter, Nikolas Cruz.
The commission will look into issues including age restrictions on firearms purchases, ratings systems for violent entertainment, best practices for campus safety, and the effects of press coverage on mass shootings, the White House said in a press release.
"No stone will be left unturned," as the commission looks at the root causes of school violence, Andrew Bremberg, chair of the Domestic Policy Council, told reporters.
There is no timeline for any report or recommendation from the commission, though officials said they anticipate action in under a year and pledged to move quickly.
The White House also announced a small step toward one of President Trump's more contentious school safety proposals: arming teachers.
The administration will use an existing Justice Department program to help state and local law enforcement train teachers. Officials couldn't say how much money would be available. Meanwhile, on 60 Minutes, DeVos said that arming teachers should be an option available to states and communities that want to pursue the policy. 
The president will also call on Congress to pass and fund the STOP School Violence Act that would give grants for violence prevention; the House is slated to consider the bill this week.
Besides the commission, the president is calling on Congress to pass a bill that penalizes federal agencies for not reporting information to the national background check system, and on states to pass laws that let law enforcement take away guns from those who might pose a danger to themselves or others.
Florida Gov. Rick Scott on Friday signed a law that raises the age to buy guns in his state and institutes a three-day waiting period to purchase them, makes it easier for police to confiscate weapons from people who might pose a danger, and permits certain adults to carry weapons on campus. The National Rifle Association is suing the state to block the law.
Support The 74's year-end campaign. Make a tax-exempt donation now.