Complicated Crusader to Accused Federal Conspirator: Ex-Puerto Rico Education Secretary Julia Keleher's 'Surreal' Journey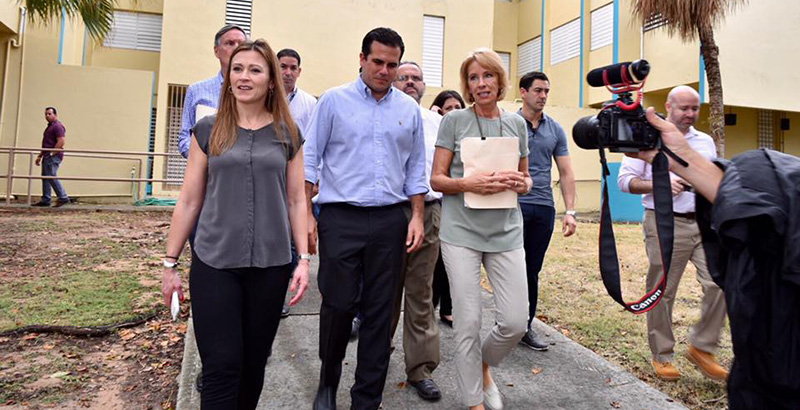 Just four days after her abrupt resignation as Puerto Rico's education secretary, Julia Keleher went to Yale University to deliver a highly charged and unusual speech. The subject was leadership, an apt one for an education management conference, but it was also Keleher's own story — a defiant and sometimes bitter narrative of pushing for change against the island's culture of corruption.
Before she became secretary, Keleher told the hundreds of people assembled at New Haven's Omni Hotel in April, getting things done in Puerto Rico's tangled education system amounted to "basically political favoritism."
"Who you knew determined what job you had, irrespective of your experience or your capacity to perform," she said. Ending that practice "won me armies of people that literally would have been happy to take my head off."
But even then, Keleher was the target of a large-scale corruption probe by the Federal Bureau of Investigation that threatens to upend that portrayal.
In July, she and five others were indicted as part of an alleged conspiracy to illegally direct more than $15 million in federal funds to organizations with personal and political connections. The charges helped bring down the administration of Gov. Ricardo Rosselló, who, although not implicated in the case, had appointed Keleher to revolutionize the island's education system in 2016. Keleher and her co-defendants pleaded not guilty to the charges, and her attorney stressed that she is not accused of benefiting financially from the scheme.
At the Yale event, Keleher, 44, dismissed a reporter's question about rumors of federal investigations then swirling around her departure. "I have no comment on the investigations," she said. "Investigations have been happening at the Department of Education since forever."
What may have sounded like a brush-off hinted at a deeper irony. Years before becoming education secretary, Keleher worked on a U.S. Department of Education team tasked with fixing compliance problems involving waste, fraud and mismanagement of federal funds in Puerto Rico's school system — issues that had led to the conviction of another former education secretary nearly two decades earlier.
Her role on the other side of the island's federal education probes is one of many lingering riddles to have emerged since her arrest. Friends and former colleagues describe Keleher as a fierce advocate known for 2 a.m. emails and sometimes little sympathy for those lacking her single-minded work ethic. But they also recall her as someone too smart to cut corners and too tough to get ensnared in someone else's scheme.
"She just wants to cut through all of the crap, essentially, to get something done," said Ellen Forte, CEO and chief scientist at edCount, an education consulting firm. The two met while working to correct compliance issues on the island — meetings that left Forte feeling that Keleher would never "engage in anything that wasn't above board."
"It's so bizarre," she said. Speaking of Keleher's monitoring duties on the island, she said, "It's surreal in a way that someone who was doing this is suddenly charged with being the criminal."
'Big data' whiz
As Puerto Rico's education secretary, Keleher portrayed herself as being on a mission to rescue the island's moribund school system. In 2017, she seized on Hurricane Maria's devastation to close hundreds of schools and embrace new charters and private school vouchers. Amid the ensuing protests and online ridicule, Keleher didn't back down.
A look at her life and career reveals that her frustration with the status quo started early.
Keleher grew up in the Philadelphia suburbs and, after graduating from Cardinal O'Hara High School, a Catholic school, attended the University of Pennsylvania for her bachelor's and master's degrees.
It was during grad school, after spending time with struggling students in North Philadelphia, that she observed that "we could probably do this better," according to a 2018 profile by Penn's alumni magazine.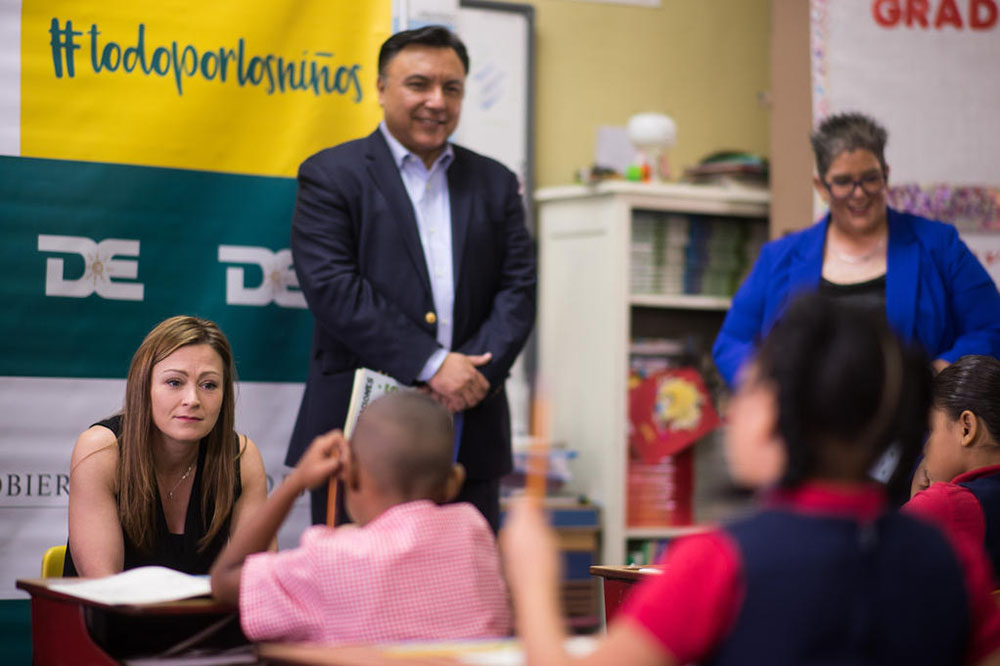 That drive carried into a seven-year stint at the Red Clay Consolidated School District in Wilmington, Delaware, where she worked her way up from guidance counselor to special assistant to the superintendent.
Delaware colleagues took note of Keleher's long hours and tireless work ethic.
"If there's such a thing as a workaholic," Keleher was it, said Deborah Fetzer, a retired teacher who worked with her at a district middle school.
Jennifer Shields-Russell, a former district administrator and elementary school principal at Red Clay, remembers well Keleher's middle-of-the-night emails. On one occasion, Shields-Russell submitted a proposal to Keleher and, because the two belonged to the same gym, later observed her on an elliptical, reading the document while working out.
"She's articulate, she's definitely very bright, and she doesn't have a whole lot of empathy for people who don't share those traits," said Shields-Russell, who left the district in 2012 and is now retired. "If you want somebody to work really, really hard on something, she's the go-to kind of person. But if you're trying to balance some other things in your life, and you don't work that much, perhaps you weren't in her favor all the time."
Though Shields-Russell felt Keleher was young for her level of responsibility, she admired her drive to help other young women land leadership roles. Keleher's biggest achievement at the district, in Shields-Russell's view, was an effort to streamline the top-heavy school system.
"She definitely had a business model in mind," Shields-Russell said. "You couldn't come to her with just an idea. You needed to come to her with a full-scale business plan."
Keleher's reputation as a data whiz continued when she came to the federal education department in 2007. Alan Ginsburg, who worked there for 40 years before retiring in 2010 as director of policy and program studies, said he and Keleher helped create an internal system to compile data from a variety of sources to assist federal monitors. The system offered pinpoint information about state performance, school demographics and audit findings.
"She was terrific at big data. She also had a laser focus," he said. "She was the best down there in terms of focusing on what a data system should look like." During her tenure at the department, Keleher also worked as part of a team that monitored compliance in Puerto Rico's school system, which had a lengthy history of financial mismanagement.
"They just couldn't track the money," Ginsburg said. "They didn't have accounting systems set up, and the school system wasn't doing very well." Her work in Puerto Rico may have informed Keleher's data-wrangling, he said, giving her "some experience, I think, as to what would be needed."
An 'internal civil war'
The atmosphere in Puerto Rico's education department at the time resembled an "internal civil war," according to a former Obama administration political appointee who worked with Keleher at the federal agency. Puerto Rico's department lacked nonpartisan civil servants and was dominated by political cronies, said the official, who spoke on condition of anonymity due to the criminal charges against Keleher. Turnover was rampant, and the department frequently lacked critical expertise to help itself.
Keleher, the official said, was tasked with providing technical assistance on oversight and recognized that the department lacked the know-how to properly handle some of the obstacles it faced managing federal grants. She understood federal rules and knew the island's troubled track record of compliance failures.
Many of those challenges stemmed from the tenure of previous education secretary Victor Fajardo, convicted in a massive corruption scandal with some parallels to the indictment against Keleher and her co-defendants. Fajardo, the island's education secretary from 1994 to 2000, was convicted in 2002 of leading a $4.3 million theft, extortion and money laundering scheme. Much of the money had been earmarked for computers and teacher training on new technology. Instead, officials said, Fajardo used shell companies to pocket the cash and directed about $1 million to the New Progressive Party, helmed by then-Gov. Pedro Rosselló, the father of recently resigned Gov. Ricardo Rosselló. (Neither Rosselló was implicated in the case.)
Months after the indictments, the U.S. Department of Education designated Puerto Rico's school system a "high-risk" grantee, a much-feared label given to departments deemed financially unstable. The label places special conditions on federal grants and is designed to trigger stricter, more frequent federal oversight, with the worst offenders unable to receive federal funds. As a result, federal officials provided Puerto Rico's education department with technical assistance on grant requirements and fiscal issues for more than a decade.
Federal and island education officials didn't respond to requests for comment.
---
"You'd look at things and say, 'Well, I guess there were people who are up to no good and taking inappropriate steps and actions and maybe even personally benefiting.' And then, in other cases, you thought it was just complete incompetence."
---
Forte, the education consultant, said she met Keleher when the two worked to resolve those issues. Forte was helping Puerto Rico meet Title I requirements around standards and assessments, and Keleher was on a team focusing on a host of issues, including financial management. In those interactions, and in subsequent meetings when the two lived in Washington, Forte found Keleher to be "one of the most intense people I've known professionally."
"She really did seem to be almost always on the job, always thinking about stuff, never satisfied with just letting things go," she said.
At the time they met, Puerto Rico's education department — the territory's largest government agency — was in chaos, Forte said. At one point while she was there, she said, officials were taken out in handcuffs for mismanaging money. The department also frequently allowed federal grants to lapse without drawing down the funds.
"It was a mess in all directions, really," Forte said. "You'd look at things and say, 'Well, I guess there were people who are up to no good and taking inappropriate steps and actions and maybe even personally benefiting.' And then, in other cases, you thought it was just complete incompetence."
In her interactions with Keleher, however, Forte saw someone capable of standing up to the island's culture of corruption.
"She'll rub people the wrong way, for sure, but if you're doing something wrong, then I might be a little scared of her because she's going to figure that out," Forte said.
While at the federal department, Keleher helped carry out an agreement to address the island's unresolved compliance issues. In 2015, she co-authored a definitive report about the episode with a professor at The George Washington University, where she worked as an adjunct. The report focused on how districts and the federal department could work together to overcome "systemic problems that gave rise to repeated and unresolved audit findings." Officials at Puerto Rico's education department "demonstrated tremendous commitment and hard work throughout this process and were ultimately successful in addressing the identified risks," the report noted.
Her work on the island got noticed, and it made some believe she had the requisite skill to be secretary.
Eleuterio Álamo, who led the department's regional office in San Juan, recalled to Penn's alumni magazine how he met Keleher in 2010, when she helped oversee the agreement between Puerto Rico's department and the U.S. Department of Education to improve the island's management of federal grants. Those interactions, he said, gave him confidence in Keleher's leadership.
Álamo praised Keleher's ability as education secretary to combat political influence leveraged by union leaders and government officials. "Julia has made it clear," he told the alumni magazine, that politics must be "out of the system."
Inside The Matrix
Those qualities endeared her to Ricardo Rosselló, elected Puerto Rico's governor in 2016. The son of the former governor, he inherited a $7.5 billion budget deficit, and the island's bloated education department — essentially a third of its budget — was an easy target.
He expressed a desire for someone who understood Puerto Rico's education bureaucracy yet was willing to "break the system and rebuild it again."
That's what he saw in Keleher, who by that point had worked with the island's education department under three administrations. During her tenure, Keleher — a white woman from Philadelphia without personal ties to the island — was criticized as an outsider. But for Rosselló, her status was an asset.
"If you take somebody inside of the system, it's kind of like The Matrix — it already owns you," Rosselló told the alumni magazine.
As Keleher told the Yale audience in April, the view from inside The Matrix often wasn't pretty.
School buildings were crumbling. Many had mold or lead paint. The bureaucracy was large and unwieldy. Because the island operated as one giant school district, all 1,296 principals reported directly to Keleher. Transparency was difficult to come by. For example, she said, a student information system would place teachers in one location while a staff database put them in another. And only 5,000 people routinely registered in a time-and-attendance system meant to track 50,000 school employees.
---
"If you take somebody inside of the system, it's kind of like The Matrix — it already owns you."
---
On top of that, she told the Yale crowd, she found — and fought — a pervasive system of political favoritism, earning her a slew of enemies.
"I stopped the practice of providing contracts to people who funded campaigns because the way it used to work was that after the campaign, the secretary would take office and there was a series of people who'd line up to sell something," she said. Puerto Rico's education secretary has traditionally been a political appointee, she said, and contractors who worked on campaigns expected to secure contracts. "I would call that out," she said, "in a place where no one would call that out, no one was indignant, no one was upset about that."
The indictment against Keleher and her co-defendants, however, lays out a different story.
According to prosecutors, Keleher's attempts to steer contracts to close acquaintances began the month she became secretary in January 2017. That's when Glenda Ponce-Mendoza began working as Keleher's "special assistant," though she wasn't employed directly by the department, according to the indictment. The two allegedly helped Glenda's sister, Mayra Ponce-Mendoza, secure an education department contract for her company, Colón & Ponce, in what prosecutors describe as a "corrupted bidding process."
For Forte, news of Keleher's indictment triggered old memories. She immediately recognized the name of Glenda Ponce-Mendoza, who attended several meetings in Puerto Rico during Forte's time there.
"I was never really sure if she was a staff member in the department or how she was connected," she said, but "she seemed like a right-hand person to Julia."
Reached by phone, Keleher told The 74 that she would not comment on the specifics of the indictment. But she said she was frustrated with "incredibly damaging and hurtful" news stories that are "completely inconsistent from the facts."
Keleher's attorney, Maria Dominguez, and lawyers for the Ponce-Mendoza sisters also declined comment, citing an expansive gag order placed July 12 by U.S. District Judge Pedro Delgado-Hernández. In previous comments to The 74, Dominguez called the charges against Keleher "significantly different" from other public corruption cases because she isn't accused of accepting kickbacks or bribes. "We don't believe this is a meritorious prosecution," she said.
'Individual A'
As Colón & Ponce worked to secure an education department contract, prosecutors allege, an official at the consulting firm Keleher founded in Washington helped craft the proposal. The firm, Keleher & Associates, had multiple contracts — totaling nearly $1 million — with the department dating to 2013, pertaining to issues ranging from flexibility waivers on federal requirements to accountability under the Every Student Succeeds Act.
Named only as "Individual A," according to the indictment, the official from the firm was "authorized to execute all legal and administrative documents" related to ending Keleher & Associates' business on the island. The indictment says that document was signed "on or about" Jan. 25, 2018 — the same day, according to paperwork filed with the island's state department, that Vanessa Monroy renounced the six-person firm's business ties to Puerto Rico. Monroy, listed in a government filing as the firm's president, has extensive links to oversight in Puerto Rico. She helped the island's education department navigate federal efforts to correct "long-standing and serious compliance deviations that placed at risk billions in federal funding," according to her organizational bio.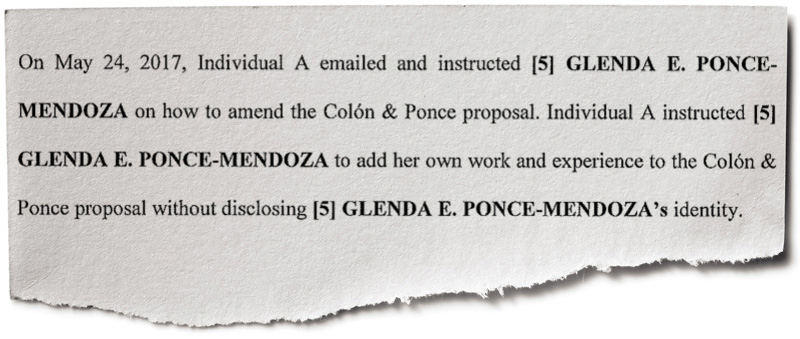 Six days after Keleher's resignation, and two days after her speech at Yale, island media reported that in August 2018, FBI agents raided Monroy's Puerto Rico home, seizing her phone and computer. Her husband told local reporters that Monroy and Keleher years earlier had worked together to resolve long-standing issues stemming from the corruption scandal that had brought down Fajardo, the previous education secretary.
Monroy didn't respond to multiple requests for comment from The 74. Neither did officials at the FBI nor the U.S. Attorney's Office in San Juan.
Though Puerto Rico's education department hadn't yet requested the services Colón & Ponce was offering, prosecutors allege that Keleher instructed the agency's director of federal affairs to award them a contract for $43,000, an amount later increased to nearly $100,000. An island official, the indictment said, determined it was "the only company not qualified for the contract, and was the worst applicant."
A department contract posted on the website for the island's comptroller indicated that the company's duties included helping to manage federally funded projects, implementing school improvement plans and evaluating student performance.
Prosecutors went on to accuse Keleher of another form of patronage. In June 2017, Keleher received an email from an unidentified 2016 gubernatorial candidate that included the résumé of his campaign director. Former candidate Manuel Cidre — who ran unsuccessfully against Rosselló in 2016 — later confirmed that he emailed Keleher on behalf of his former campaign director, Marie Estela Cestero. Because hiring Estela Cestero as a government employee "would not be feasible," according to the indictment, Keleher told her she'd be paid for her work as a "special assistant" by Colón & Ponce, totaling $15,000.
When the contract with Colón & Ponce expired, the auditing and accounting giant BDO continued the payments, awarding Estela Cestero $46,000 to continue her work as Keleher's assistant, the indictment said.
Reached by phone, Estela Cestero — who confirmed she did communications work for Cidre's independent gubernatorial bid — said she was surprised to see her employment with Keleher referenced in the indictment. She said she was hired by Keleher to design a safety plan for the island's schools, and though she received payment from Colón & Ponce and later from BDO, she said that wasn't suspicious because she worked as an outside consultant. According to the indictment, however, she had an official education department email address and represented herself as Keleher's special assistant in emails with government officials.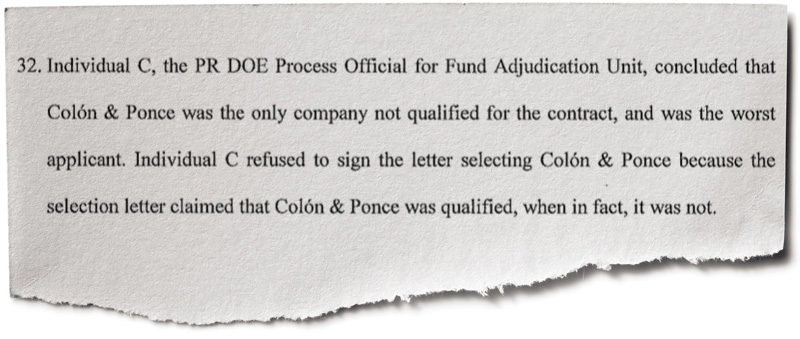 Attempts to contact Cidre for comment were unsuccessful.
As laid out in the indictment, Keleher's involvement with BDO represented a far more expansive scheme. Consultants diverted more than $13 million in education department contracts with help from "individuals with government influence" in order to "benefit and enrich themselves," the indictment said. BDO subcontracted with the company Azur, granting it a 10 percent commission to help secure contracts, thus inflating the cost of services.
Keleher put her thumb on the scale during the process, the indictment said, by using a personal email account to help company executives write their proposals, agreeing in one message to general language that wouldn't limit the scope of BDO's work.
The BDO official, Fernando Scherrer-Caillet, resigned from his position as managing partner following the indictment. Citing the gag order in the case, his attorney declined to comment. BDO officials didn't respond to calls to discuss the case but said in a statement to local reporters that it takes the allegations seriously and will continue to cooperate with federal officials.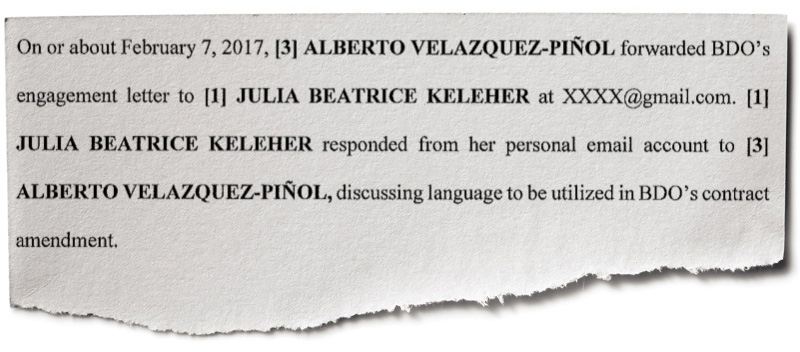 An attorney for indicted Azur owner Alberto Velázquez Piñol also didn't respond to requests for comment.
An online search of island documents revealed that BDO's wide-ranging contracts pertained to resolving audit findings, as well as improving teacher evaluations and professional development.
But they also covered topics that would soon make Keleher nationally known and infamous in some corners of the island: large-scale school closures and education reform initiatives.
Hurricane's impact
In September 2017, Hurricane Maria ravaged the island, leaving Puerto Ricans without power for months in what would become the worst blackout in U.S. history. More than a million people were left without clean water. Neighborhoods were ransacked. Thousands of people were killed.
With schools shuttered islandwide, Puerto Rican children missed months of classroom instruction while thousands of others fled to states such as Florida, New York and Massachusetts — continuing a decade-long exodus to the mainland.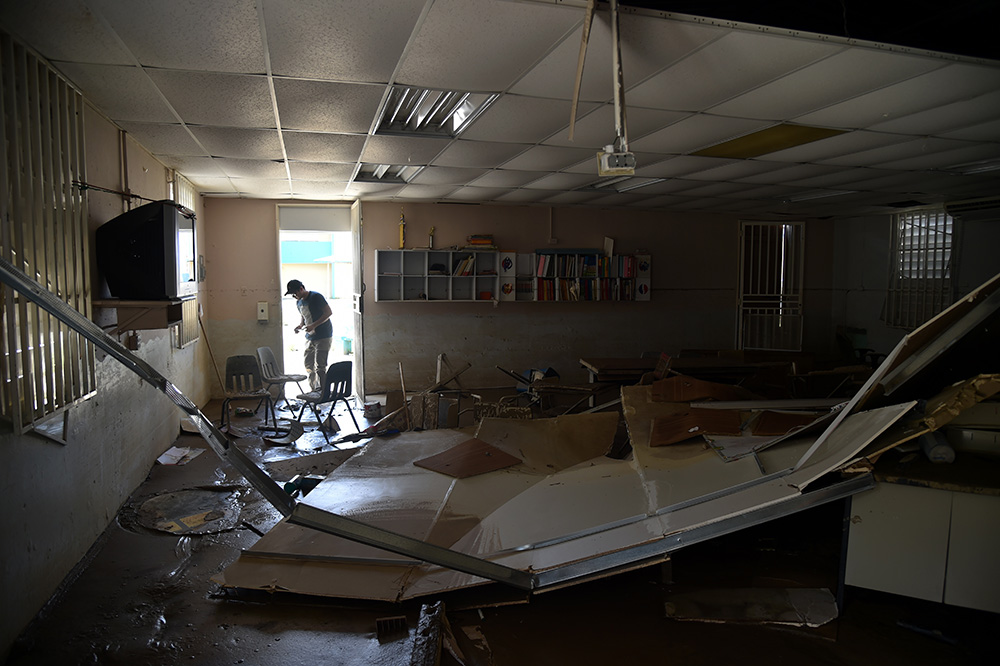 Amid the destruction, Keleher saw an opening.
The island's education system had failed its students for years, she said, and change was long past due.
"Of the things I need to worry about — the buildings, the poisoning from rats being around, the flooding, moving kids, transportation, sliding roads — the thing that worries me the most is that somehow I'm not going to deliver on this learning opportunity, this transformational opportunity for us to start to think fundamentally differently about what it is to be in school, and how one goes about getting an education," Keleher told The 74 in October 2017.
But the education reforms — and her $250,000 salary — brought her under a constant barrage of criticism. Montessori school leaders were among the loudest critics, speaking out against Keleher's plan to convert their campuses to charter schools. Such an arrangement, Keleher told The 74 in 2018, would have allowed them to apply for additional federal money. While the schools "helped a lot of kids," she said, their low enrollment made them ripe for closure.
When the government announced a plan to shutter nearly 300 campuses, 15 Montessori schools were included. Ana María García Blanco, executive director of the nonprofit Instituto Nueva Escuela, which promotes the growth of Montessori schools in Puerto Rico, discussed the proposal on several occasions with Keleher and officials from BDO, which she said helped carry out a haphazard closure plan.
During the meetings, García Blanco said Keleher seemed intent on following through with her plan no matter what. But members of the Montessori community successfully fought back, García Blanco said, and in the end, none of their schools were closed.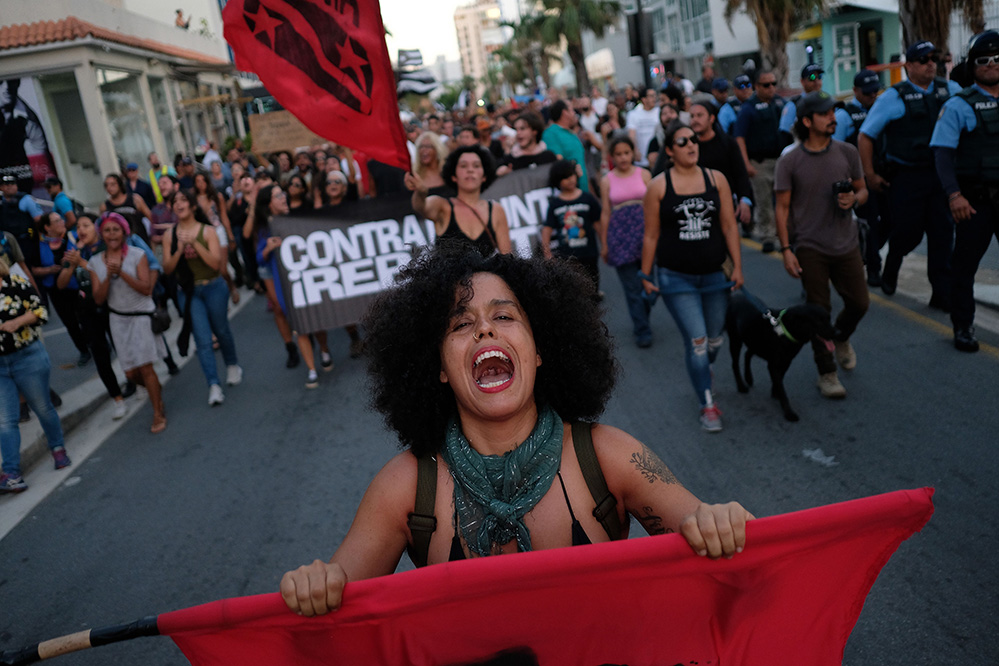 The charter push was a major goal of former governor Ricardo Rosselló. In October 2018, he delivered a speech at the Center for Education Reform's 25th anniversary gala in Miami, where he encouraged participation in Puerto Rico's reform efforts. Jeanne Allen, founder and CEO of the nonprofit school-choice group, said center officials and charter school leaders made several trips to Puerto Rico, where they met with Rosselló and Keleher. Jay Rosselló, the former governor's brother and an attorney at the Chicago law firm Hogan Marren Babbo & Rose, helped facilitate the meetings, Allen said.
Because Puerto Rico had limited experience with charter schools, the island's new education reform law provided an opportunity for "seasoned operators" interested in participating in the "nascent reform effort," according to a post on the law firm's website by Jay Rosselló. For interested parties, according to the post, the law firm "stands ready to assist."
But to Allen, Keleher seemed to be on a different path. At a time when many Puerto Ricans vilified Keleher for embracing school choice, it seemed to Allen that the former secretary resisted charter school growth. Mainland charter operators who expressed an interest in Puerto Rico's reform efforts "got zero help" from Keleher, Allen said, "and, in fact, were discouraged."
"Something was fishy when great people that are willing to actually spend time and resources to open up schools on behalf of Puerto Rico's children are basically told 'It won't work, they can't do it, it's the worst place,'" Allen said. "She would even say, 'It's the worst place, you have no idea. This place is worse than any other place to open schools.'"
Jay Rosselló didn't respond to requests for comment. In a statement to reporters on the island, he acknowledged working briefly on behalf of the center and attending a meeting between the nonprofit and his brother, but he denied that his work presented a conflict of interest.
Allen's depiction of Keleher's arm's-length approach to school choice comports with the recollections of others.
David DeSchryver, senior vice president and co-director of research at Whiteboard Advisors, a strategic consulting and communications firm, said he got to know Keleher through the education policy scene in Washington, D.C. Though she often discussed the challenges that faced Puerto Rico's education system, she didn't come off as a school-choice "ideologue," DeSchryver said. Because of the island's logistical challenges, he also expressed skepticism that charter school leaders were clamoring to open campuses there.
In interviews with The 74, Keleher said she wanted charter schools there to be "uniquely Puerto Rican" and voiced reservations about working with established mainland operators. "We're not the same as inner-city Baltimore," she said. "I don't think you can take it from the States and plop it down" in Puerto Rico.
Last year, just one charter school opened in Puerto Rico, and a second launched last week.
'It seems impossible'
In April, as Keleher spoke to the Yale education management conference, she noted some key lessons from her tenure as secretary, including "being comfortable with ambiguity, having 65 percent of all the information you need."
In the wake of the indictment, much of that ambiguity remains. At Yale, she spoke little of the expansive plans for charter schools and vouchers and more of simple gains: a planned salary increase for teachers, resources such as laptops and nurses, and the division of the island's giant education bureaucracy into seven geographical regions.
Although she acknowledged being hurt at times by her outsider status — shortly after Maria hit, the hashtag #juliagohome became ubiquitous on Twitter — she remained unapologetic.
"There was nothing, absolutely nothing, that was going to deter me from accomplishing what I set out to do," she said.
But she also spoke of "the vast and powerful array of enemies" she faced. Critics mocked her through numerous memes and a satirical Japanese-style cartoon. After her arrest, Los Rivera Destino, a Puerto Rican band, dedicated a rendition of one of its more popular songs, "Te Boté," to "corrupted politicians," naming Keleher and Rosselló.
Despite the long-percolating news that Keleher was the target of an investigation, her arrest sent shock waves across Puerto Rico and in mainland U.S. communities where Keleher previously worked.
---
"There was nothing, absolutely nothing, that was going to deter me from accomplishing what I set out to do."
---
"I'm retired, not dead," said Shields-Russell, who worked with Keleher in Delaware, when asked if she'd heard of the indictment. For Shields-Russell, and others, the news came as a surprise. "I never saw or would suspect her of being dishonest," she said. However, she added, "I would find it very difficult to believe she was the victim of someone else because she is so thorough."
Forte, the education consultant who worked with Keleher on the island, was similarly at a loss. She acknowledged her own challenges navigating Puerto Rico's dysfunctional educational bureaucracy: It was "nearly impossible," she said, "to get contracts through."
"Maybe there's a level of frustration there that, to really get stuff done, the typical channels may not work," Forte said. "That's the only thing that would come to mind. Otherwise it seems bizarre. It seems impossible."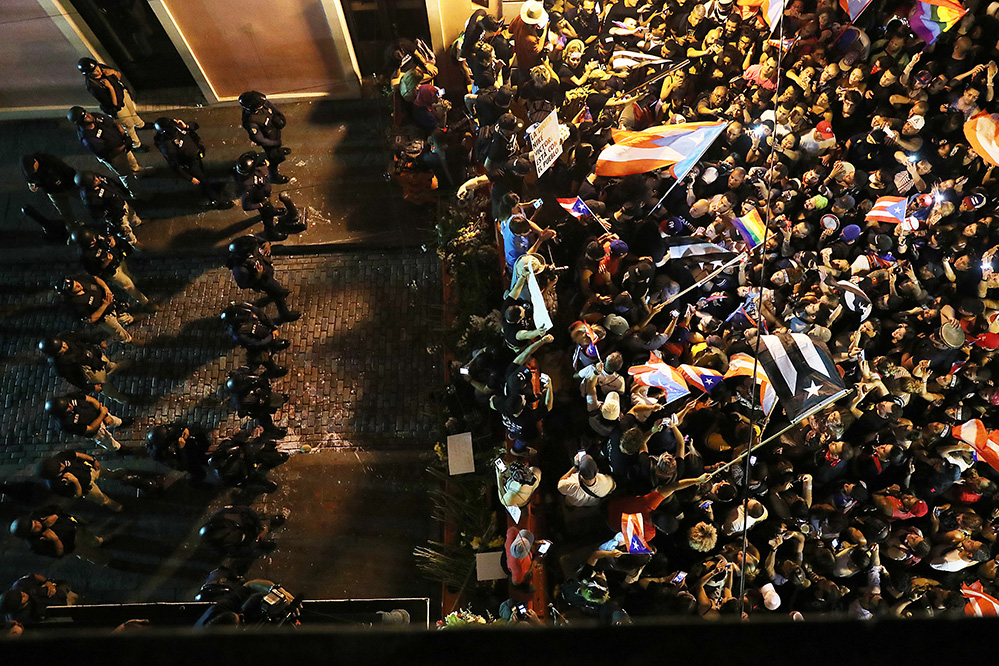 Keleher's indictment was just the first act in what escalated into a full-blown government crisis. Days later, reporters with the Center for Investigative Journalism in Puerto Rico published a trove of leaked messages between Rosselló and people in his inner circle. Among the messages, often laden with profanity, were statements mocking Hurricane Maria victims and a claim that teachers union leaders are "terrorists." After huge protests hit San Juan, Rosselló resigned on Aug. 2.
Still, as the island's government stumbles to recover from controversy, federal education officials warn that more challenges lie ahead. A week after Keleher's indictment, the inspector general's office at the U.S. Department of Education released a new salvo in its ongoing critique of the island's school finances, echoing reports that date back more than a decade, to Keleher's tenure in federal government.
Puerto Rico's school system, the report found, lacks "critical mechanisms for safeguarding" funds "from fraud, waste, and abuse."
Support The 74's year-end campaign. Make a tax-exempt donation now.