Julia Keleher Offered Big Plans to Reform Puerto Rico's Storm-Battered Schools. She Left Her Post Playing Defense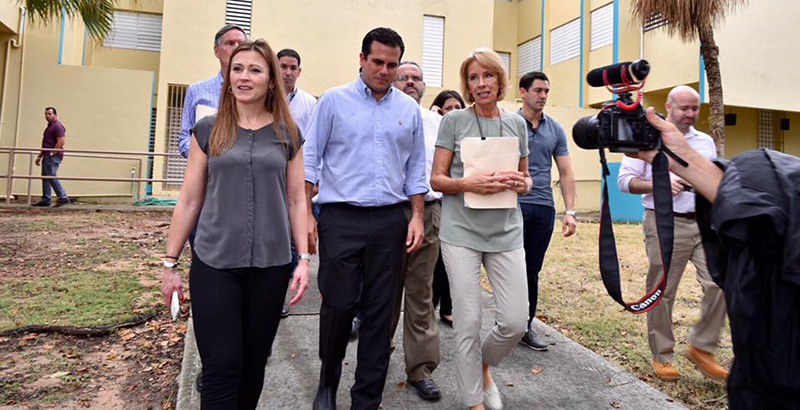 Julia Keleher's tenure as Puerto Rico's top education official ended just as it began — under intense scrutiny.
Since her confirmation hearing as Puerto Rico's education secretary, Keleher faced questions that plainly painted the Philadelphia native as an outsider. On several occasions, she was quizzed on Puerto Rican icons, including athletes and authors — people, Keleher acknowledged, she didn't know. Then came the Twitter hashtag: #JuliaGoHome.
Days after she announced her resignation earlier this month, Keleher faced a similar line of attack while speaking at Yale University. As Keleher spoke at an education conference, a Yale student distributed a letter to attendees with an overarching message: The outgoing secretary will never be Puerto Rican.
Much of the vitriol stems from Keleher's dramatic attempts to reform the island's education system. Months after Keleher took the helm of Puerto Rico's education department, that system was thrust into chaos. In September 2017, Hurricane Maria crashed into Puerto Rico and shuttered the island's public school system. In the face of tragedy, Keleher often spoke with magniloquence about her big plans to reimagine public education on the island. In an interview after Keleher announced her resignation this month as Puerto Rico's education secretary, bringing to a close a two-year tenure, she offered up a different persona. This time, Keleher appeared at times combative, at times defeated as she attempted to defend her overtures as secretary.
"People have said to me that Puerto Rico's status, and the fact that it is a colony, has a lot to do with how I was received," she said. "It's very raw and very present for people, so I want to be respectful. But I think it had influence in ways that hurt and didn't help."
Indeed, Puerto Rico's relationship with the mainland U.S. has been contentious for generations. An unincorporated territory of the U.S. since 1898, Puerto Rico has seen its residents long forced to grapple with the reality of colonialism. Hurricane Maria's destruction furthered the pushes both for Puerto Rican statehood and for independence from the U.S., which some residents say has long neglected the island. In the letter at the Yale conference, Yale student Adriana Colón-Adorno blasted Keleher for referring to Puerto Rico as her "adopted land."
"Though being Puerto Rican is not just about where you live and the diaspora is an integral part of the community, a fundamental part of the Puerto Rican identity is a deep shared history of struggle and resilience, which you can never be a part of," Colón-Adorno wrote in the letter to Keleher.
Still, the reforms Keleher implemented after tragedy struck in 2017 would've likely been controversial in just about any context. Among grievances, Colón-Adorno disparaged Keleher for closing hundreds of Puerto Rico's public schools and introducing charter schools.
Keleher said the changes she instituted were necessary to save a system that was in "free fall." Deep in a financial crisis even before the 2017 storm, Puerto Rico's education department closed more than a third of its public schools as thousands of residents fled to the U.S. mainland and student enrollment dwindled. With Keleher's lead, Puerto Rico's unitary education system was divided into seven regions. Through a sweeping new education law, Keleher ushered in the island's first charter school, referred to in Puerto Rico as escuelas alianzas, and paved the way for a private school voucher program.
Those reforms faced steep opposition from some on the island and from progressive groups in the contiguous U.S. Upon hearing of Keleher's resignation, national and local teachers union leaders cheered, accusing the outgoing secretary of treating educators and parents "as a speed bump" and for implementing reforms that "created chaos and instability for the island's 320,000 schoolchildren."
After Hurricane Maria struck Puerto Rico, Keleher was quick to compare its situation to that of New Orleans. After Hurricane Katrina ravaged New Orleans in 2005, officials replaced a battered public school system with one composed almost entirely of charter schools. Students in both school systems had long struggled academically before destruction hit. While reports have found that the reforms led to gains in student performance, the changes were — and remain — deeply fraught. Under Keleher's lead, school choice made an introduction in Puerto Rico, albeit on a smaller scale.
The disruptor
Keleher paints a different picture of her tenure at the helm of Puerto Rico's public school system. She arrived, she said, to disrupt a school system that had violated kids' rights to learn.
When she took over Puerto Rico's schools in January 2017, schools lacked textbooks. Campuses were threatened by mold and water leaks, she said. Restrooms were filthy. She viewed the entire education bureaucracy as rife with corruption. Access to technology was limited. But the pushback she received, Keleher said, was indefensible.
"The defense of making changes was, 'You can't close our schools because it's a right, our kids have a right to go to these schools. You can't privatize it because you can't change the conditions,'" Keleher said. "I don't know how the bad guy is the one who's trying to change the thing that's substandard."
Of course, Keleher couldn't have anticipated that a natural disaster would disrupt Puerto Rico's entire public school system. But she spoke optimistically about her accomplishments as education secretary.
The education department provided local schools with more than a million new books. Schools saw technology upgrades, including new laptops and broadband internet. Additional school nurses were hired and trained to address student trauma. Officials created a new coding program and launched a workforce development initiative.
"We had a clear expectation for what goes into a school: a full faculty, social workers, counselors, librarians, nurses," she said. "We fixed, I think, the root causes for the problems that created the conditions that kids were going to school under. And really, what you need at that point then is a leader who can just execute. You look at someone from maybe inside the system who has those relationships."
She said her decision to step down, however, was guided by politics. Though she initially hoped to stay at the education department for a decade "because I know that's how long it takes" to see results from education reforms, she said she resigned because she didn't want to deal with the politics of election season.
"When politics starts to become what's shaping discourse, you know, that's not what I wanted to get involved in," she said. "I didn't want to take a political position, and I didn't want to be a part of that conversation."
Initially, Puerto Rico Gov. Ricardo Rosselló announced that Eleuterio Álamo, who led the education department's regional office in San Juan, would serve as interim secretary. But that changed quickly. Instead, the Senate confirmed Eligio Hernández Pérez, a deputy secretary, as the interim chief.
'Will you be ready?'
The fierce politics that have swirled around Keleher since she took the education secretary post didn't end with her decision to step down. At first, officials announced she'd become an adviser to the education department with a $250,000 salary. That's the same salary she was paid as secretary — another point of contention locally. That contract position fizzled within days, however, after local news reports noted that lawmakers were conducting an inquiry into her work as secretary and federal officials were investigating alleged education department contracting irregularities.
Keleher declined to comment on the matter. But this isn't the first time she's run into an inquiry by federal officials. In February, news reports indicated that Keleher faced an arrest warrant after the education department failed to provide documents related to a federal fraud investigation dating back to 2011 when Keleher worked at the U.S. Department of Education. That arrest warrant was ultimately lifted, but Keleher implied that the ordeal stemmed from sabotage within her own department. Officials in Puerto Rico's education department received multiple requests for documents related to the federal investigation, Keleher said, but nobody responded.
"My employees intentionally did not inform me of that requirement to submit. People knew about it but didn't do it," Keleher said. Failure to submit the documents, she said, was part of an "attack on me and on the changes that we were trying to implement."
Keleher is now back home in Washington, D.C., where she said she plans to leverage her experiences to help other education leaders implement change, including those who face steep fiscal crises and need to close schools. Her LinkedIn profile says she's become an "independent consultant" supporting policies that "produce transformational change."
If her speech at the Yale education conference is an indicator, she's already giving out advice on leadership. As the letter criticizing her circulated, she asked the audience how they'd feel if they were in her spot.
"I asked the audience, 'How would you feel if this letter was about you?'" she said. "'How will you feel when the response to you taking bold action is a letter like this? Will you be ready?'"
Get stories like these delivered straight to your inbox. Sign up for The 74 Newsletter