Lawmakers in Puerto Rico Approve Sweeping School Choice Bill Six Months After Maria, Creating New Voucher Program & Charter Schools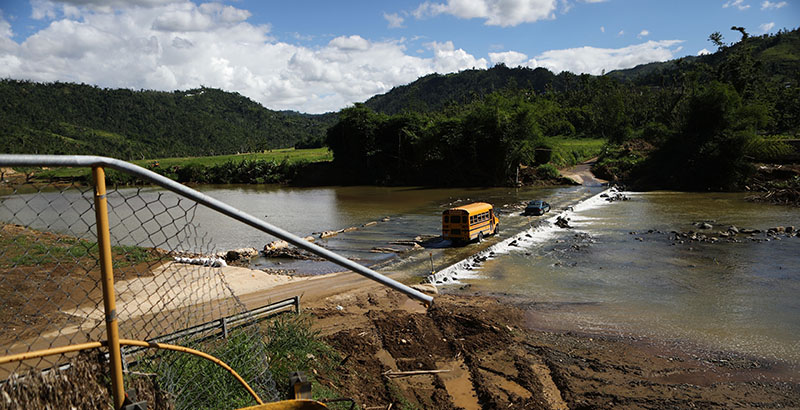 Six months after Hurricane Maria devastated the island, Puerto Rican lawmakers have approved a sweeping bill to reshape its education system through school choice options like private school vouchers and charters.
Announced by Puerto Rico Gov. Ricardo Rosselló last month, the legislation was approved by the territory's Senate on Monday, and the House gave it a nod on Tuesday. To address a crippling financial crisis, the island's education secretary, Julia Keleher, has been working to reform the island's school system since before the hurricane-ravaged public school system was shuttered last September. When all public schools were closed due to the storm and thousands of students fled to the U.S. mainland, education reform — and a desire to boost chronically poor academic performance — became more urgent, she said.
Among the proposals is a private school voucher program, capped at 3 percent of total student enrollment by a Senate amendment, and charter schools, capped at 10 percent of public schools. The government is also working to break its unitary education department into seven regions to increase local autonomy, and to establish a per-pupil spending formula.
In January, Rosselló released a fiscal plan that would close 300 public schools and reduce education spending by $300 million. Last year, officials shuttered nearly 200 public schools amid a financial crisis that's left the island's bankrupt government with $123 billion in debt and pension obligations.
As the island looks to inject school choice into its education system, Puerto Rican officials have sought advice from school choice advocacy groups on the U.S. mainland, including voucher proponents EdChoice, Chalkbeat reports. Keleher has also been in contact with Paul Pastorek, a former Louisiana superintendent of education who led state efforts to reform the school system in New Orleans, now run mostly by charters, after Hurricane Katrina struck the city in 2005.
Although Keleher has made comparisons between Puerto Rico and New Orleans, she's maintained in interviews with The 74 that her reform goals are more modest. Still, the government's reform efforts have faced fierce opposition, including from teachers union leaders both locally and on the U.S. mainland. As lawmakers considered the legislation this week, teachers staged a strike and protested outside the capitol in San Juan.
Support The 74's year-end campaign. Make a tax-exempt donation now.