Puerto Rico Teachers Fleeing Hurricane Maria Arrived at Orlando's Airport With Nothing. They Left With Jobs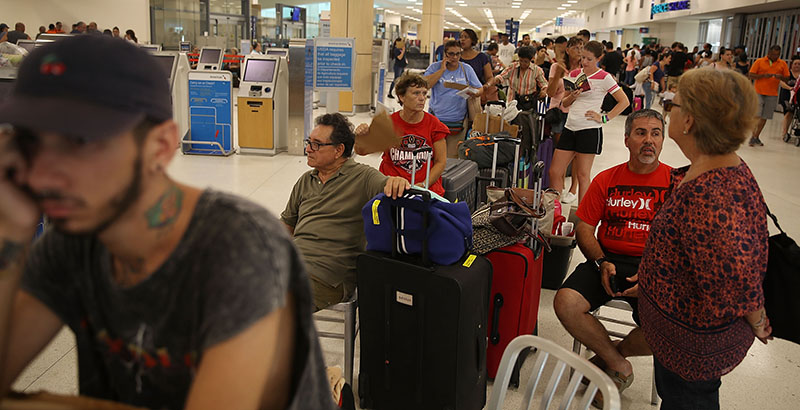 As districts across the country brace for thousands of new students fleeing Puerto Rico following the devastation from Hurricane Maria last month, the schools in Orlando, Florida, have a message for educators from the island: We're hiring.
Among the Orange County Public Schools officials who have been stationed at the Orlando airport, greeting more than 100 families and helping displaced parents enroll their children in the city's public schools, are district human resources personnel interviewing teachers — right there in the terminal.
"When they get off the plane, they're told that there's some assistance, that there are a group of people downstairs waiting for them," said Bridget Williams, the district's chief of staff. "To see the look on their face when they walk into the room, and to see a room full of individuals that are there to help, is powerful. Just the look on their face."
Applicants visit briefly with school officials at the airport, she said, and then are instructed to fill out online applications and provide the district office with necessary paperwork, such as their teaching certificate. Assuming their background checks pan out, they've landed jobs. Already, seven teachers have been offered jobs within days, Williams said, pending background checks.
On Friday the governor's office announced it had eliminated red tape and fees to help displaced Puerto Rican teachers find jobs in the state.
Among those who were hired is Aileen Villanueva, a 36-year-old Spanish teacher who had spent weeks at her home in Bayamón, Puerto Rico, without running water or electricity, but with a dire concern for her family's health. She landed in Fort Lauderdale Oct. 3, heard about the district hiring drive, and headed to the Orlando airport the next day.
Villanueva had long dreamed of moving to the mainland for a better life, but when Hurricane Maria devastated the island, she felt she had no choice but to finally make her move. Her community had been torn apart, and their food supply — an assortment of salty canned goods — was taking a toll on her husband, who has kidney disease.
The seventh-grade Spanish teacher left behind a 12-year career with the island's education department. When she landed in Florida, however, she didn't expect all the pieces of her new life to come together so quickly. "It was really fast," Villanueva told The 74. "My family is like, 'Wow, that was really fast — you don't mess around, girl.' "
Williams said another educator arrived at the Orlando airport with 12 family members, including several children. Up to that point, they were in survival mode. The woman hadn't even yet thought about how to enroll her children in school. When she left the airport, she had a plan for her kids and a job teaching at an Orlando elementary school.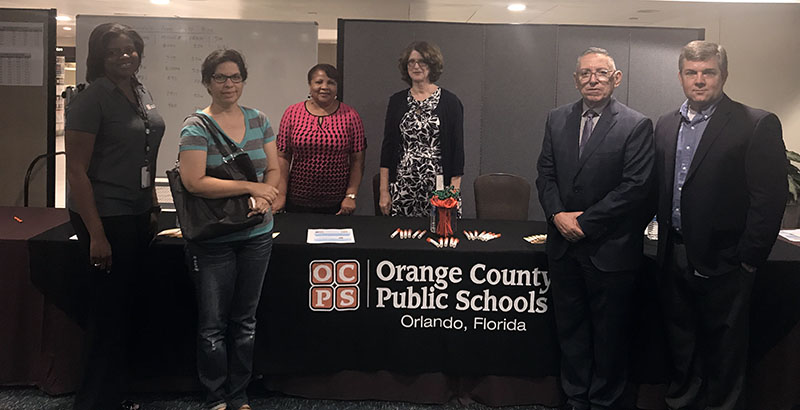 Teaching positions aren't the only jobs the district is hoping to fill at the airport, Williams said. There are also openings for paraprofessionals and bookkeepers, and Villanueva said her husband, Jose, may apply to work as a district custodian.
"Watching the process is touching because you could tell, they were like, 'Thank you, thank you. There is so much help here that when we leave here today, I think we'll be OK,' " Williams said.
Gov. Rick Scott declared a state of emergency in all Florida counties on Oct. 2 in response to Hurricane Maria's catastrophic impact, opening disaster relief centers at the Orlando International Airport, Miami International Airport, and the Port of Miami to help Puerto Ricans displaced by the storm. The school district was joined by officials from other state agencies, the Federal Emergency Management Agency, the Salvation Army, and Catholic Charities of Central Florida.
Bracing for an influx
Orlando is among East Coast cities from Florida to Massachusetts where officials expect thousands of new students after Hurricane Maria devastated Puerto Rico on Sept. 20. Fleeing the island has been difficult, but displaced students have already begun to arrive — and as more families score plane tickets, school leaders expect the influx to multiply.
So far, the Orlando district has enrolled 292 new students from Puerto Rico, up from 104 at the end of last week. Additionally, the district has enrolled 92 new students from the storm-struck Virgin Islands. And although they aren't to that point yet, Williams said the district may need to hire even more teachers to handle the increase.
In the coming months and years, estimates suggest hundreds of thousands of Puerto Ricans could leave the island for the mainland as a result of the storm. Although New York has long been the primary destination for a majority of Puerto Rican immigrants, they've increasingly flocked to Florida in recent years. Orange County alone could see as many as 100,000 new residents from Puerto Rico in the next few months.
Puerto Rico's school district, one of the largest in the U.S., with roughly 350,000 students and 1,100 schools, was in a tough place even before the storm. Last spring, the district shuttered 179 campuses because of the island's financial crisis. In recent years, enrollment in the district has dropped by nearly a third, as has the island's population. Between 2006 and 2015, more than 700,000 Puerto Ricans left.
Puerto Rico schools have been closed for weeks, some since Hurricane Irma hit Sept. 6. Education officials aim to have all schools open by Oct. 23, excluding those damaged beyond repair.
As of Monday, officials at Miami-Dade County Public Schools said 193 new students from Puerto Rico had enrolled since the storm, up from 136 on Friday. District officials anticipate that more will arrive still. Frank Zenere, a school psychologist and chair of the district's crisis management program, visited Puerto Rico last week to help local leaders and educators develop a strategy to deal with students' emotional needs when they return to class.
The Miami district has also been in conversations with Puerto Rico's Department of Education about aligning academic standards and the curriculum to help facilitate a smooth transition for students. Children who arrive at Miami schools without the necessary paperwork are immediately enrolled in classes and given 30 days to present relevant documentation.
The district is seeking additional federal funds to address the Puerto Rican students' needs.
In New York City, home to the mainland's largest population of Puerto Rican Americans and the nation's largest public school district, with 1.1 million students, officials are also bracing for an influx in the coming months. Following Hurricanes Maria and Irma, Mayor Bill de Blasio and Schools Chancellor Carmen Fariña sent a letter to families that outlined the district's enrollment process.
"We welcome all students in our schools and have shared guidance with staff to ensure schools are prepared to enroll students and support families that have been impacted by Hurricane Maria," district spokeswoman Miranda Barbot said in a statement.
In Holyoke, Massachusetts, the city with the highest concentration of Puerto Ricans on the mainland, 80 percent of the school district's 53,000 students have ties to the island. School officials had already observed a steady stream of new students as families fled Puerto Rico due to economic concerns, said Ileana Cintrón, the district's chief of family and community engagement. After the storm, new arrivals began to trickle in beginning last Thursday, she said.
So far, about a dozen new Puerto Rican students have enrolled, and the district is preparing for many more as families secure plane tickets off the island.
"We will see a lot of students who are unaccompanied minors … sent to live with family members," Cintrón said. "If parents expect to rebuild their homes or to get assistance from FEMA to rebuild their home, they have to be there."
Coincidentally, at the start of the school year, the Holyoke district launched a Newcomers Academy at one of its high schools, a one-year program designed to provide language supports to teens with limited English skills alongside academic content.
Orlando schools spokeswoman Kathy Marsh said the district remains unsure how many new students to expect, but they're bracing for the influx. Beyond supports at the airport, they're monitoring schools with historically large Puerto Rican populations to determine whether they need additional resources.
For new arrivals, the district has been distributing backpacks filled with school supplies, and there's a new interpreter service that helps parents with limited English enroll their children in school. Displaced students don't need generally required paperwork to attend school, Marsh said, and within a week, school officials determine whether a child is assessed appropriately and placed in the correct classroom.
Villanueva will also have to adjust to the changes, but she's already identified one perk from teaching in Orlando: better pay.
"In Puerto Rico, with my salary, I wasn't able to find a place for me and for my husband, and so that's why we were staying with my father," she said. "I'm pretty excited. I'm looking forward to learning about different cultures here and different methods of teaching."
Support The 74's year-end campaign. Make a tax-exempt donation now.