Charter Supporters Deride Warren's Proposed Crackdown on Sector as 'Out of Touch'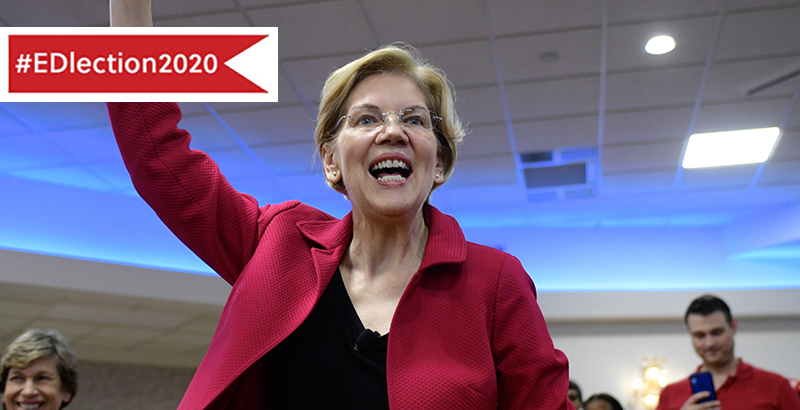 Sen. Elizabeth Warren's just-released K-12 education plan includes an extensive plan to crack down on charter schools, going further than her leading rivals in a 2020 Democratic presidential field that has been increasingly hostile to the sector.
Warren, who famously "has a plan for that," also called for dramatically increased education spending and a raft of policy changes. Among those she proffers for charters include not only for a ban on for-profit schools and elimination of specialized federal funding for charters, but also limits on authorizers and new federal investigations of the schools.
Warren's campaign released supportive statements from the heads of the country's two largest teachers unions, the National Education Association and American Federation of Teachers. Both praised the charter proposals. Neither union has yet formally endorsed a 2020 candidate.
But charter school backers criticized Warren's plan as being out of step with the majority of Democratic voters.
"She seems out of touch with just regular Americans who struggle to find good public schools for their kids. We need more good public school options for American families, not fewer. Only someone who is extremely out of touch … would call for limiting their public school choices," Amy Wilkins, senior vice president of advocacy at the National Alliance for Public Charter Schools, told The 74.
Recent polling, from Democrats for Education Reform, which supports charters, found that a majority of Democratic primary voters, including 78 percent of all voters and 84 percent of black Democratic voters, support expanding access to charters while putting tougher accountability rules in place.
Warren's proposal could have taken a "more balanced approach" on charters, said Scott Sargrad, vice president for K-12 policy at the Center for American Progress Action Fund, the advocacy arm of the eponymous centrist Democratic think tank.
While there are aspects of charter schools that need to improve, "there are ways to address those issues without going quite as far as this plan does," he said.
Both Wilkins and Sargrad cited ending the federal Charter School Program, which Warren said "has been an abject failure," as among the biggest concerns with Warren's plan. The program, currently funded at about $440 million, has long attracted bipartisan support in Congress, though House Democrats proposed reducing spending this year after retaking the majority.
Warren also calls for limiting charter authorizers to just school districts and directing the IRS to investigate "so-called nonprofits" that are violating federal laws governing nonprofit entities.
Both Wilkins and Sargrad agreed with Warren's skepticism of virtual charter schools, expressed in the candidate's plan as expansion of federal whistleblower actions "to address fraud that appears all too common in certain charter schools, including online charter schools that falsify or inflate their enrollment numbers."
The Alliance has worked at the state level to rein in bad virtual schools, Wilkins said.
"I'm certainly not saying that we're perfect," Wilkins said, but "the beauty of charters" is that failing schools can close quickly.
Sanders was the first 2020 Democrat to come out swinging against charter schools, calling in May for a moratorium on new schools. New York Mayor Bill De Blasio, who has since dropped out of the presidential race, was also a sharp critic, but Warren seems to have delved into the issue with the most detail, experts said.
Other candidates' formal education proposals, including former vice president Joe Biden's, have largely been silent on the issue, and several dodged a question about charter schools at a September debate.
Republicans, meanwhile, have been virulently pro-charter, particularly under the leadership of Education Secretary Betsy DeVos.
Neither extreme is the right way to look at the issue, Sargrad said.
"The discussion of charters as either a totally bad thing or a totally good thing misses the nuance in this issue. We do need to have an approach that recognizes they are an important strategy, but growing charter schools is not the end goal in and of itself," Sargrad said.
The Massachusetts senator is relatively late in issuing her K-12 proposal, after offering her early childhood and higher ed plans early in the campaign. It also comes nearly five months after her two closest rivals, Sanders and Biden, released their education plans.
Extensive spending, policy proposals
Warren's plan, like many of the leading candidates', calls for big increases in spending, and it includes policy proposals on issues like desegregation, special education, collective bargaining and chronic absenteeism.
She calls for quadrupling Title I spending, as compared to Biden and Sanders, who have proposed tripling it. Unlike those other proposals, Warren's call for increasing Title I spending would tie additional federal dollars to states spending adequately and equitably on schools.
Warren's plan also calls for an additional $20 billion a year on Individuals with Disabilities Education Act grants, "at least" $50 billion for school infrastructure, $10 billion a year for new "school excellence" grants, universal school breakfast and lunch, and additional funding for the Office for Civil Rights and the Bureau of Indian Education.
Her proposals touch many areas that other candidates haven't discussed in depth.
On desegregation, for instance, she calls for expanding federal civil rights law to allow private individuals to bring "disparate impact" claims against states and school districts on school segregation — that is, that the outcome of a policy resulted in segregation, even if it was not clearly set up that way.
She also calls for heightened scrutiny of "breakaway" districts that secede from others, usually removing white students — and a sizable portion of property taxes — from students of color.
Get stories like these delivered straight to your inbox. Sign up for The 74 Newsletter