EDlection 2020: Comparing K-12 Plans on Teacher Pay, Pre-K and More From Democratic Front-runners Biden & Sanders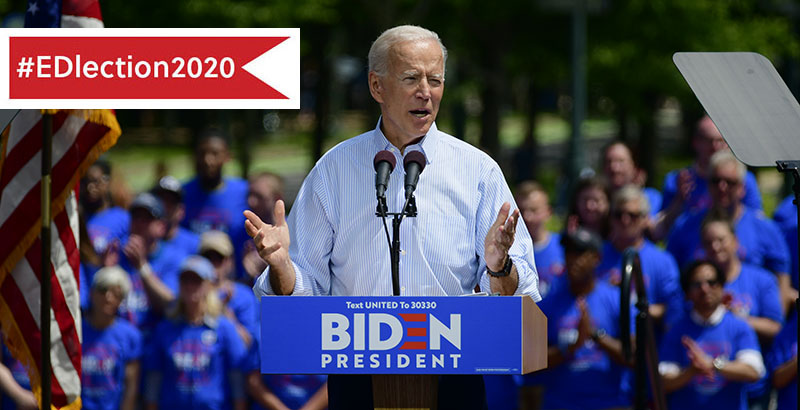 Former vice president Joe Biden, the front-runner among the two dozen Democratic presidential candidates, released his K-12 education plan Tuesday evening.
His proposal, like that of his closest competitor, Sen. Bernie Sanders, is robust and addresses a variety of issues including teacher pay, special education and school infrastructure. Biden released the plan ahead of an event in Houston with the American Federation of Teachers.
"As president, Biden will build an education system that starts investing in our children at birth and helps every student get some education beyond a high school diploma. … President Biden will make sure that no child's education opportunity is determined by their zip code, parents' income, race or disability," his campaign website says.
Biden's plan doesn't address charter schools, testing or teacher evaluations, all key education issues during the Obama administration.
Though the candidates' platforms are similar, the details differ, largely in the scale of their proposed interventions. Sanders is offering expensive remedies, compared with Biden's more moderate plan.
Here's how their proposals compare on key issues:
Early learning: Biden's plan calls for universal pre-K for 3- and 4-year-olds, placement of child development experts in community health centers and expanded home visiting programs. Sanders has backed universal pre-K, but his formal campaign plans are so far silent on the subject.
Charter schools: Sanders came out swinging against charters before releasing his larger K-12 proposal. Biden's plan is silent on the issue, though he said he doesn't support for-profit charters when asked about them by an attendee at the Houston event.  
School infrastructure: Both candidates highlighted the decaying state of America's school buildings. Biden pledged to include dedicated school repair funding in an infrastructure bill, while Sanders vowed to "fully close" the infrastructure funding gap.
Special ed: Both candidates call for increased federal funding under the Individuals with Disabilities Education Act. The federal government is supposed to provide 40 percent of the costs of educating children with disabilities but has never come close. Biden vowed to get to that 40 percent provision within 10 years, while Sanders pledged the federal government would pay at least half the costs, but with no timeline given.
Title I: Biden, like Sanders, calls for tripling Title I funding, the grants that help underwrite the education of low-income students. Whereas Biden called for it as a mechanism to increase teacher pay, Sanders proposed it as a remedy for high-needs schools and special ed costs. Sanders lists working with states to increase teacher pay as a separate proposal.
Teacher pay: Both candidates recognize the wave of teacher strikes last year and the low pay that many teachers receive, particularly as compared with other college-educated workers. Biden would require his Title I spending increase to be used for higher salaries but has not offered a specific figure for minimum salaries or overall raises. Sanders proposes working with states to set a minimum starting salary of $60,000, adjusted for cost of living and years of service. (The average starting salary varies widely by state but was about $39,000 last school year.)
School safety and guns: Both tie gun control to school safety. Biden pledges to reinstitute bans on high-capacity magazines and assault weapons, and he says further proposals to address gun violence are forthcoming. Sanders lists "comprehensive gun control" among a broader school safety plank that also includes protections for LGBT students and immigrant children. Sanders's separate gun safety plank includes Biden's proposed high-capacity magazine and assault weapon bans, alongside several other proposals.
Mental health: Biden proposes doubling the number of nurses, school counselors, social workers and other mental health professionals in schools. Sanders wants $5 billion for community schools, including unspecified mental health care.
Get stories like these delivered straight to your inbox. Sign up for The 74 Newsletter