Blink and You Missed It: Besides a One-Sentence Call to 'Pass School Choice,' K-12 Education Is Notably Absent From President Trump's State of the Union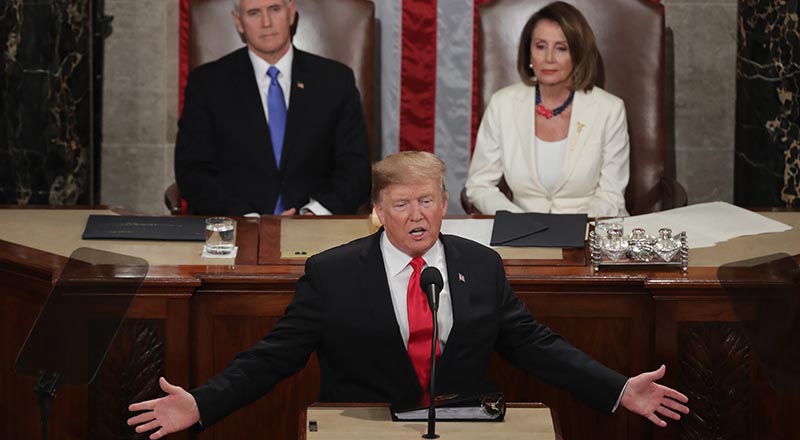 Discussion of K-12 education was next to nonexistent in the State of the Union address Tuesday, President Donald Trump's second.
The president mentioned the issue just once, when he said, without elaboration, "To help support working parents, the time has come to pass school choice for America's children."
The words echoed Trump's 2017 address to Congress when he called on lawmakers to pass a bill that would allow students to attend the school of their choice, no matter the type.
He didn't offer any details then, either. The only substantial change to federal school choice law during his administration thus far was the expansion of 529 tax-advantaged savings accounts to cover private K-12 tuition.
Education Secretary Betsy DeVos in a press release praised the president's call for school choice and said she looks forward to continuing to work with Congress on the issue.
"The freedom to choose the right education should not only be for the rich, powerful and connected. All students should have the freedom to pursue an education that develops their talents, unleashes their unique potential and prepares them for a successful life," she said.
The dearth of K-12 talk in Trump's speech stood out even more when contrasted with the Democrats' response, given by Stacey Abrams, the former Georgia state representative and Democratic candidate for governor.
While Trump devoted just one sentence to K-12, Abrams touched, albeit very briefly, on school safety, the cost of higher education, high-quality schools, and teacher pay.
"We owe [children] safe schools and the highest standards, regardless of zip code," she said, calling for new gun safety measures. The country also should "support educators and invest what is necessary to unleash the power of America's greatest minds," Abrams said.
In Trump's speech, larger issues that could have touched substantively on education either didn't (in the case of immigration) or were only briefly discussed (in the case of infrastructure).
Most of Trump's immigration discussion focused on enforcement, border security, and his call for a wall on the border with Mexico. He didn't address the fate of the DACA program that protects young undocumented immigrants; the issue, currently tied up in legal battles, was a focus of last year's speech.
He claimed Tuesday that "mass illegal immigration" is leading to "overburdened schools." (The Supreme Court in 1982 ruled that states may not discriminate in K-12 education based on a student's immigration status.)
On infrastructure spending, a repeated call from his last State of the Union, the president said only that the parties should unite on the issue, one trumpeted by both parties.
"I am eager to work with you on legislation to deliver new and important infrastructure investment, including investments in the cutting-edge industries of the future. This is not an option. This is a necessity," he said.
Democrats have already said any large-scale legislation to rebuild roads and bridges should also include crumbling schools, though the administration hasn't included schools in previous proposals and Congress has historically been reluctant to appropriate federal dollars toward educational infrastructure.
One area in which education got a spotlight was among the guests invited to watch the speech from the House chamber.
Both Trump and House Speaker Nancy Pelosi brought parents of students killed in the Parkland, Florida, shooting nearly one year ago, and Lily Eskelsen García, president of the National Education Association, was among the labor union leaders Pelosi invited.
Trump and First Lady Melania Trump invited Joshua Trump, a middle schooler from Delaware who, according to his parents, is bullied because of his last name. (Commentators pointed out the irony of the invitation and the first lady's broader anti-bullying campaign, given the president's frequent Twitter insults and the rise of bullying since his election.) The president did not address bullying in his speech.
Education has been an infrequent star in presidential addresses, like last year, when DACA was the only school-related issue in Trump's speech.
Though Trump has largely stayed out of K-12 education, President Barack Obama used State of the Union addresses to unveil and push a few big initiatives, including a free community college program in 2015 and a pre-K expansion in 2013. Neither became law.
Many of the Trump administration's biggest K-12 proposals, such as one for a voucher program, have come through its annual budget requests. Though officially due on the first Monday of February, presidents routinely flout this deadline; Trump's will be delayed until mid-March due to the government shutdown, the Office of Management and Budget said Monday.
Support The 74's year-end campaign. Make a tax-exempt donation now.