74 Interview: Christine Quinn, Former NYC City Council Speaker and One-Time Mayoral Frontrunner, Talks Helping Homeless Students Through the Pandemic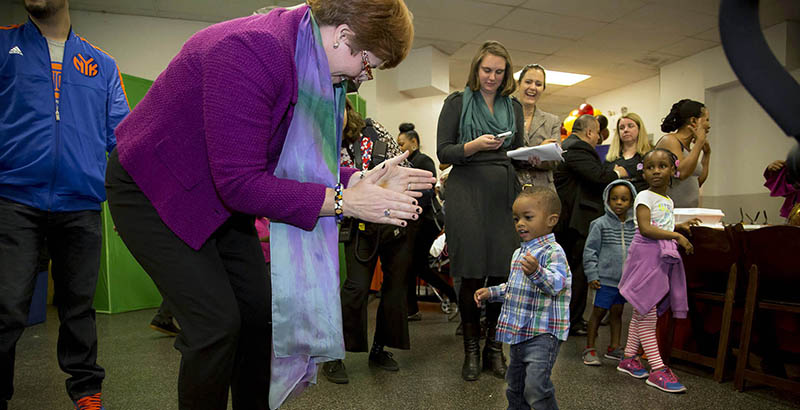 This conversation is the latest in our ongoing series of in-depth 74 Interviews (scan our full archive). Other notable recent interviews: AFT's Randi Weingarten on tying school reopening to teacher vaccinations, Rhode Island's new Gov. Dan McKee on using afterschool programs to make up for lost learning, and researcher Gloria Ladson-Billings on culturally relevant teaching.
Former City Council Speaker Christine Quinn announced in late February that instead of jumping into an already-crowded field of about 30 mayoral candidates, she'll stick with the job she's held for the last five and a-half years: running a nonprofit focused on lifting homeless women and children out of poverty.
Quinn, considered the favorite in the 2013 mayoral race before being eclipsed by eventual winner Bill de Blasio, was taking the idea of a second bid seriously, according to The New York Times, going so far as to interview potential staff and commission a poll.
After leaving politics, Quinn became the president and CEO of Win, New York's biggest provider of temporary housing for homeless women and their families. The organization, which was founded 38 years ago and has a yearly operating budget of $121.6 million, runs 12 shelters and 335 supportive housing units, where about 1,700 families sleep each night.
The city is home to at least 111,000 children without stable housing, according to a December analysis published by Advocates for Children. That's about 1 in 10 youth enrolled in the city's public or charter schools — more than the population of Albany. Many of these students have long faced serious challenges to their education, including poverty, family instability and learning interruptions, issues that have only worsened during COVID-19.
"The pandemic itself is another trauma," Quinn said. "It's a trauma for all children. And if you're a child who has already experienced stress and toxic trauma, the effect is heightened."
The pivot to remote learning has hit homeless students especially hard: the dearth of internet and devices prior to the pandemic meant that thousands of kids have struggled to log into virtual school during COVID. Over the weekend, the U.S. Senate greenlit $800 million for kids without stable housing as part of President Biden's $1.9 trillion COVID relief bill. The extent to which that money will be used to help children in New York City remains to be seen.
Quinn sat down with The 74 in late January to address her ongoing ambition to serve NYC's most vulnerable families, and to talk about what homeless students need in order to heal moving forward.
This interview has been edited for length and clarity.
The 74: As many have noted, the pandemic has intensified inequality citywide since March. What were some of the most urgent challenges confronting homeless students pre-COVID, and how does that differ from what they're experiencing today?
Quinn: Before the pandemic, some of the biggest challenges were that homeless children move around because they get evicted, or they flee domestic violence, or they go from their residence to their cousin's house, then to shelter. They move around and, on average, go to three different schools a year. That is incredibly destabilizing and makes learning consistency and knowledge retention very hard.
More often than not, children are coming from schools in some of the lowest-income neighborhoods in the city, [which] don't have the same resources as schools that have very affluent parent groups, who can raise extra money.
Three, experiencing homelessness and the things that go along with homelessness — domestic violence, sexual abuse, poverty, eviction — those are all traumas. To learn effectively when you are experiencing trauma is very hard, if not impossible.
All of our services at Win are delivered in a trauma-informed care method. That's not how schools are necessarily set up. That's not to say there aren't loving and empathetic teachers who are going to reach out and embrace a homeless child and help them, but often children, homeless or otherwise, are very good at hiding what's going on with them. So that makes learning very difficult.
It stands to reason that those obstacles remain relevant — and have, perhaps, grown worse — during the pandemic. Can you address that?
Right. None of that has gone away. In fact, the pandemic itself is another trauma. It's a trauma for all children. And if you're a child who has already experienced stress and toxic trauma, the effect is heightened. So that's something that you just have to understand entering into the equation.
The biggest challenge for children who are homeless, as it relates to the pandemic, is the challenge of connectivity: computers, laptops, et cetera. [City shelters] were not set up with Wi-Fi. Some now are, but [they] were not set up with Wi-Fi before the pandemic. It's more outrageous during the pandemic, but it's [also] outrageous before the pandemic because you [had] children who were going to school, children who were applying to college. The best way to make sure somebody doesn't grow up to be a homeless adult is to make sure they get a good education.
But the outlook [of] the administration was, "We don't want to make people too comfortable because then they'll stay," which is just old, punitive blaming …
So you're saying the prevailing belief among leadership was that if shelters have Wi-Fi, residents will have a greater incentive to stay?
Absolutely, absolutely, which it's shocking that Mayor de Blasio has allowed that thinking to continue because it's really old thinking, like back to the Giuliani era.
… So, when we had this crisis, we had very limited connectivity. This idea of "We'll all just go virtual," which, if you hear middle-class parents, is hard enough for them. There was no recognition that it would be extremely difficult for homeless students. And in fact, worse than no recognition, there was a promise made that the first students who would get the iPads that the administration had at the beginning of the pandemic would be students living in the Housing Authority and students living in homeless shelters. [That wasn't the case at Win,] and we're the largest family provider, so you would think we would go first. We did not get our laptops until two weeks after school started, and after there was a New York Times cover story.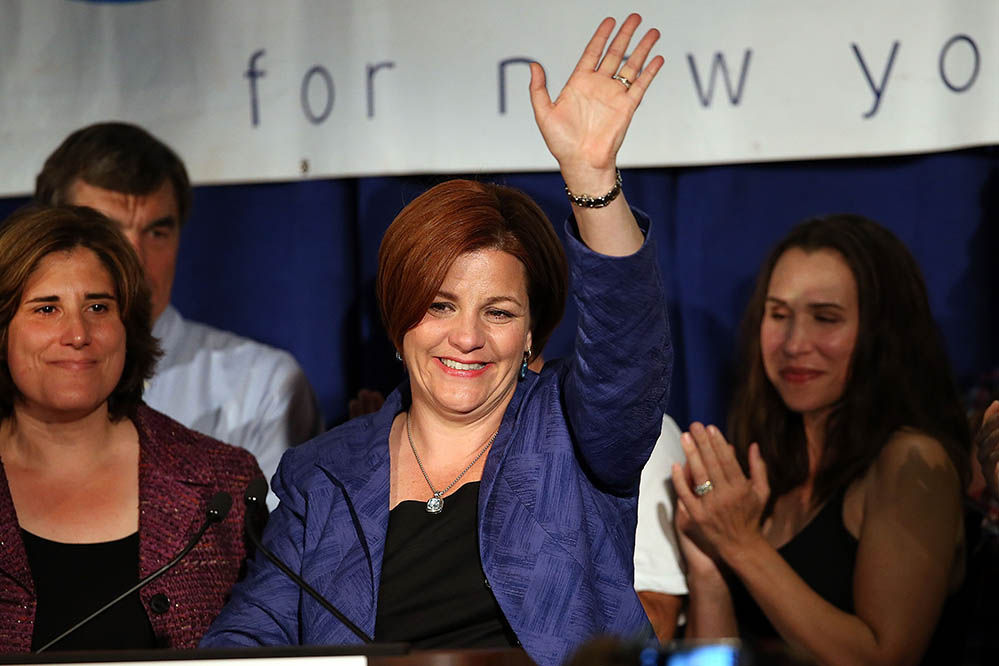 It's been reported that, while the city has met all devices requests from the fall, officials anticipate having to deliver more iPads and laptops moving forward, in order to replace those that are outdated or broken. To what extent is the device shortage still a problem for homeless students?
Look, devices break. We all have problems with our devices. I get it. And DOE had set up a hotline for people to call, if they were having problems. That hotline was either so overburdened or so dysfunctional or both, that we at Win had to hire our own staff person to staff a help desk for our families [at the beginning of October].
Now, because of Win and other people's advocacy, [as of mid-January] there's a DOE help desk just for homeless families to call. But think of it: you have a system where you've given out devices, and you have a helpline where the wait is so enormous. A group [like Win] that serves the poorest, which has, by definition as a nonprofit, no extra money, has to go raise, during the pandemic, private money to staff our own help desk to deal with the computer challenges of our families, as it relates to schools: clearly the Department of Education's job.
And at Win, we're a larger group. So — not in a bragging way — if somebody has to raise money for X, we're in a good position to do that. But we shouldn't have to. What about a smaller group who's having the same problems with the prior helpline? They don't have the resources to do that. So their children can suffer, just because they happen to be a smaller group?… That's just wrong.
[The DOE declined to provide The 74 with the number of homeless students that still need devices and Wi-Fi. "We're filling requests as they come in, so the need for devices is a fluid number," said spokesperson Sarah Casasnovas. She reiterated that the department is prioritizing students in temporary housing for devices, adding that, "We're working with schools using a combination of central iPads, school devices, and hotspots to identify solutions to address individual needs that may arise."]
Let's return to the issue of internet access in shelters. City officials have said they won't be able to put Wi-Fi in every family shelter until this summer. In the meantime, some shelter providers have sidestepped the city in order to implement it faster. What are your thoughts on that?
Well, this goes back to the point about, "Everybody's going to get a laptop right away, if you live in shelters." The mayor says "We're putting Wi-Fi in the shelter." And he kind of said it, just like that, as if it was going to happen the next day, with no pointing to where the allocation was in the budget, with no timeline. When a lot of people heard that, they were super gleeful. When I heard that, I was like, "This sounds like BS to me. Because there's no 'there' there. There's no plan," which, it ends up … it was somewhere in the middle.
When push came to shove, the mayor was forced to say, "It's going to take till the end of the summer," which I don't know whether it could have been done quicker from a technical perspective. But to be honest — because worse than giving people no hope is giving them false hope. All that does is crush them again, when that false hope ends up not being real.
[All of Win's shelters are in some phase of Wi-Fi implementation. Eight are now equipped with internet; three buildings are partially complete, and Win's team said they should be fully done this month.]
How have you been able to get that done? Through private fundraising?
No, from the city.
And what's the reception from families been like? 
Oh, they're thrilled, [but] it's more [like] a sigh of relief. Because they've been struggling. Depending on how long they've been in shelter, they may have been struggling [with Wi-Fi connectivity] for a year, a school year and a half. That's on top of the struggles of the pandemic. That's on top of trying to get a new job, if they lost their job because of the pandemic. That's on top of trying to get to work every day because they're essential workers and make sure their children are logging on. I think [it's] a sigh of relief.
Can you tell us about the conversations you've been having with the families living in Win temporary housing? What do you think they'd like other New Yorkers to know about their experiences during the pandemic?
Sure. I mean, I think they would tell other New Yorkers that their experiences have been difficult. And that their children are just as smart, and just as able, and just as interested in learning — just as excited about learning as any other New York child. But it's been very challenging because of the connectivity issues. And as frustrating and challenging as it's been for other New York families, I think they'd want people to know [to multiply] that [experience] by 10 times.
You raised an essential point earlier about the trauma the pandemic has inflicted upon kids, and upon homeless youth in particular. What kinds of mental health resources would you like to see the city invest in, in order to address that?
Two years ago, the city put in allocation for special social workers in the public schools, just to focus on homeless children. We need to expand that, those numbers of social workers, so there's a lower ratio of social workers to homeless children to help deal with the trauma of the pandemic. I think they're called Bridging the Gap social workers. That would be the first place to start.
The first lady's Thrive initiative, which I know has been criticized and scrutinized … I can only speak to the Thrive money we've gotten in the shelter for MSWs [master of social work]. It's been very, very effective. We've advocated for a while that the Thrive initiative in shelter should be expanded, so we have MSWs who are just dedicated to children in the shelters. I would like to see that as well, as a response to the pandemic.
How do you think this mayoral administration has performed overall, in terms of supporting homeless students during the pandemic?
The administration has basically forgotten and overlooked homeless children. When they've been reminded, when they've been forced by advocates, when they've been forced by the news media, they've stepped up. But basically, I think they've made promises and thought that was going to be enough, and that we were going to walk away and not notice they didn't ever put meat on the bone. It's been a huge disappointment.
Let's talk about the vaccine. The city has yet to release the number of homeless New Yorkers who have been vaccinated. Do you have a sense of what access looks like, so far, for folks in temporary housing?
They're targeting the vaccine right now on people living in congregate shelters or people who have shared bathrooms. Most of our shelters are not in the rotation for vaccinations right now because they're not congregate.
[Only residents at Win's women's shelter and one family residence in upper Manhattan were eligible for the vaccine and had begun to receive it. A Win spokesperson said both residents and staff had received the vaccine on an individual basis, as per state guidelines.]
Do you have a sense of when the rest of your shelters will have access to the vaccine? 
We have asked, and we've been told the DHS [Department of Homeless Services] doesn't know yet.
Do you have any thoughts you'd like to share on what you'd like to see from the city, in terms of vaccine prioritization?
A significant number of our staff is eligible for the vaccination. We've been working with staff. I will give the city credit, whenever there is any vaccine that opens, they send us something, even if it's the next day. I think we're dealing with a shortage here, which is part of the problem. Also, we're dealing with — and we're working on this ourselves at Win — hesitancy about wanting to take the vaccine. So, we're having some doctors come in and do questions and answers on a Zoom town hall and things of that nature. Obviously, I understand why they're starting with congregate. But then I want them to move as quickly as possible to family setups, because — particularly with children — we want to make sure we get the vaccine into the adults as quickly as possible to protect the children.
New Yorkers will choose a new mayor in 2021. Who do you think is best positioned to lead the city?
Oh God, it's way too early for that.
Get stories like these delivered straight to your inbox. Sign up for The 74 Newsletter