74 Interview: AFT's Randi Weingarten Talks Tying School Reopening to Teacher Vaccine Rollout, Biden's Ed Secretary Pick and $900B Relief Bill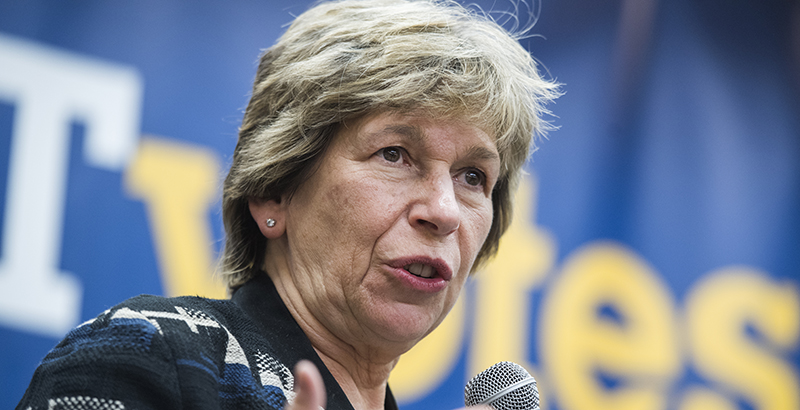 See previous 74 interviews: Sen. Lamar Alexander talks about finally fixing the federal financial aid application, Sen. Cory Booker talks about the success of Newark's school reforms, former Education Secretary Arne Duncan talks about the need for empathetic leadership through the COVID-19 crisis. The full archive is right here.
American Federation of Teachers President Randi Weingarten still lives in New York City, the place where she grew up, taught high school, studied law and found her voice as a labor leader. The daughter of a NYC educator, Weingarten knows that the nation's largest school district, like so many others across the United States, wasn't equipped to withstand a devastating global pandemic — not on its own, at least.
The Biden administration can't arrive fast enough for Weingarten, who says the Trump team has done little to support teachers in New York and elsewhere around the country, and has made "a mess" of distributing the COVID-19 vaccine that could put an end to the current education crisis.
The 74 spoke to the head of the nation's second-largest teachers union about how the country should tie reopening schools to vaccinating teachers, what President-elect Joe Biden's education secretary pick, Miguel Cardona, should prioritize in crafting a national reopening plan and how far short the recently passed $900 billion pandemic relief bill falls in getting students and teachers safely back in the classroom.
This interview has been edited for length and clarity.
The 74: I think a lot of us have been trying to wrap our minds around the logistics of vaccine distribution and deployment. Do you have a sense of what that will look like for teachers?
Well, [in] health care [vaccine distribution] is easier because it's being done through people's employers. There's many fewer hospitals and hospital settings than there are schools, so states can wrap their arms around that more readily.
Schools also don't have [proper] refrigeration. [The Pfizer vaccine needs to be stored in ultracold settings; Moderna's is also maintained in specially regulated, chilled settings.] The refrigeration needs are intense, so one of the things we suggested is that schools make themselves distribution sites, like what happened with polio, but you'd have to bring in the refrigeration.
You can make schools sites for vaccination delivery, and then you can also do [it] through people's health insurance plans, through pharmacies, through doctor's offices, or through hospitals, but people are going to have to then get to those hospitals. They're going to have to wait in line.
There's different ways of being able to do it, but it takes infrastructure and it takes organization and it takes leadership.
When you all suggested turning schools into distribution sites, what was the response like at the federal level? 
With this administration, there's no reception. They don't even bother to answer you when you raise issues. We did repeated letters during the pandemic. Nothing, zero, no response, just insults on the outside. But with the Biden administration, we've made several of these suggestions, and they're ongoing conversations.
So it sounds like the logistics of vaccine distribution for teachers are yet to be determined.
Correct. Because [the Biden administration isn't] in office yet.
The rollout for Phase 1b, which includes teachers, could potentially start as early as February. What are your thoughts on teachers being included in that group? 
We pushed for teachers to be included in 1b. We testified [on it] months ago … Vaccine availability should align with school reopening. So if you're trying to reopen elementary schools, vaccine availability should be prioritized [for] elementary schools, [for] schools with kids with special needs. But there has to be a national plan and a national distribution in order to do this.
Right now, basically you have a mess … What we're seeing is far fewer people being vaccinated than Operation Warp Speed promised. They promised 20 million. There's about three or four or five or six million who have already been vaccinated.
There's no national planning that the Trump administration did, and group 1b is basically every essential worker. So it's 30 million essential workers, and there's no plan other than state-by-state to try to do this. There's a couple of states where governors have already reached out to our state affiliates, talking about how to get teachers the vaccines as early as February, and we are very excited about that, but we want to see that everywhere.
Which states are those?
Ohio is one of them. New York wants to get it to teachers as well, but [nationally] there is very, very little planning. It is as haphazard as every bit of Trump's response to COVID.
Do you have concerns, then, about teachers around the country getting the vaccine quickly enough, given the size of group 1b?
Yes, they won't [get it quickly enough.] I mean, unless the Biden administration figures out a protocol that aligns [vaccine distribution] with reopening schools, it [won't] happen. Some places [it] will happen, and some places it won't happen.
What would the protocol you're referencing look like, exactly? 
The CDC has the ability, the authority to create protocols for prioritization, and the CDC should be doing that.
What I would do [is similar to] what Gov. Cuomo was doing in terms of New York. I would align [vaccines for teachers] with the schools that are reopening, instead of saying every single teacher — all three million, four or five million educators or education personnel — should be in a line in February. In terms of teachers, you can prioritize the schools that are reopening and stagger it in that kind of way, and that's what we have proposed.
And do you have thoughts about where teachers as a whole should fall within the 1b group? To my knowledge, that hasn't been specified yet.
And my understanding is [the] CDC is not specifying it. They have said teachers are part of it, but that's why I'm saying that teachers in school buildings that are reopening should be high on the 1b priority list because that feels fair and that feels safe.
Earlier you mentioned the role of the federal government in all of this — 
It's been abysmal.
Now that President-elect Joe Biden has nominated Miguel Cardona as education secretary, I'd like to get your thoughts on the changes he could potentially enact moving forward. You said in a recent statement that Cardona's "commitment to public education … will be crucial as the Biden administration … moves to safely, responsibly and equitably reopen school buildings." What should a national policy that advances equity in schools reopening look like? What are some of the first steps you'd like to see Cardona take?
Well, he has to get confirmed first. There has to be guidance. There has to be adherence to public safety standards. There have to be resources and there has to be, I think, in the next few months, a real implementation of testing. So [by that I mean] what has happened in New York City, what's happened in Colorado. Essentially, testing a big cohort, or all teachers, every week, and all kids every week is absolutely necessary as an early warning system, and as a way of understanding how to keep schools open and when schools need to close.
So you'll be looking for federal guidance around testing.
Not just federal guidance around testing. It's federal guidance, as well as resources.
Speaking of resources, let's talk about the $900 billion relief bill the president just signed. What are your thoughts on that piece of legislation? Can you address the gaps it leaves, in terms of the aid that schools need? 
Well, it's not enough. Look, as the year has progressed, the needs have gotten more and more bleak. Initially, last May, we thought we would need about $118 billion. You got about half of that. You got about 40 percent of that in this bill.
I want to be clear that any help is essential, and we supported the COVID relief bill as a first step and thought it was absolutely essential to get it. We wish that we had gotten it months and months and months ago.
So we had thought that you needed — this is before all of the state cuts — you needed about $118 billion. On top of that, with all the layoffs and things like that, our numbers, just like the superintendent association numbers, just like what was reported in the New York Times this week, everybody's numbers hover around about $200 billion that's needed to actually deal with all the cuts, and the new expenses that have happened as a result of COVID. And so we've gotten a fourth of that.
So it's a problem, but the schools are doing and teachers are doing what they always do, which is rolling up their sleeves and trying to figure it out regardless. The difference between a pandemic and other times where you've had austerity is that this virus kills people.
We now have the highest number of deaths every day for the last two weeks, and there's new strains from Europe that show alarming transmissibility. And so the focus on safety and responsibility, the focus on responsibly and safely reopening, knowing full well that our kids are suffering from the isolation — it's really important.
Get stories like these delivered straight to your inbox. Sign up for The 74 Newsletter