New York City's Homeless Students Top 100,000 Again, Advocates Say School Reopening Plan Leaves Them Behind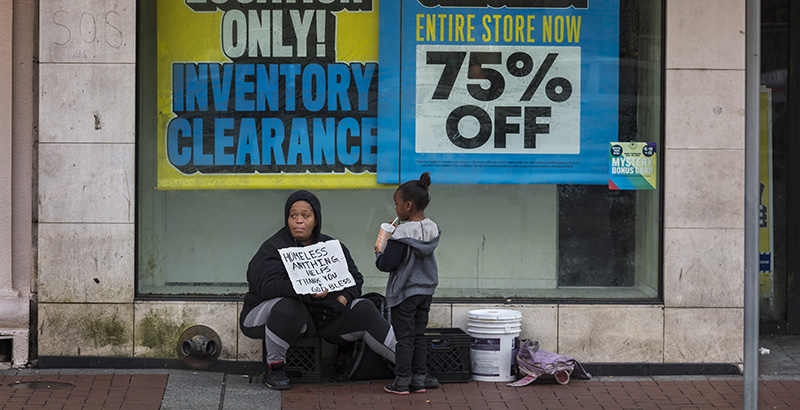 The number of homeless students in New York City has remained above 100,000 for the fifth year in a row, according to new data posted by Advocates for Children of New York. That's 111,000 during the 2019-20 school year, or about 1 in 10 youth enrolled in public or charter schools — more than the population of Albany and greater than the public school enrollment for the state of Vermont.
"The vast scale of student homelessness in New York City demands urgent attention," said Kim Sweet, AFC's executive director. "…The City must act now to put more support in place for students who are homeless …Learning from home is much harder when you don't have a permanent home."
Advocates say the real number is probably higher, given how difficult COVID-19 has made it for administrators to assess student housing arrangements.
The figure is also likely to increase following the expected lifting of a statewide eviction moratorium at the end of this year. That temporary prohibition, along with the one from the Centers for Disease Control and Prevention, only protects residents from losing their homes if they can prove in court that they've been economically harmed by COVID-19. Both safeguards are set to expire in 2021.
In the Bronx, about 1 in 6 students are homeless, and 85 percent of students without permanent housing in New York City are Black or Hispanic.
Advocates are sounding the alarm on the ways the Department of Education has failed to meet the needs of the city's homeless students during the pandemic, including under Mayor Bill de Blasio's latest reopening plan. On Sunday, after closing school buildings Nov. 19 for the second time since March, he announced that grades 3-K through 5 can return to classrooms Monday. Those enrolled in District 75 schools, which serve children with profound special needs, can go back Dec. 10.
Sweet, the executive director, called for city leadership to ensure that all homeless students have the tech support they need to learn remotely, and for the city to prioritize that population during the return to full-time in-person instruction.
"The City should offer full-time in-person instruction to all students who are homeless whose families want this option, given the immense challenges so many are continuing to experience with remote learning," the AFC report says.
In an email, DOE spokesperson Sarah Casasnovas said the department is committed to "providing our students experiencing homelessness with a high-quality education that delivers critical supports and resources to meet their needs every step of the way."
"These students remain top of mind during this crisis, and we continue to work closely with advocates like AFC and partner agencies to provide caring, supportive environments whether in-person or remote," she added.
While the DOE has prioritized students in temporary housing for placement at its Learning Bridges sites, which offer no-cost preschool and school-age child care options, advocates point out that those resources are available only to 3-K to 8th-grade students attending school several days a week in-person and learning remotely the rest of the time. Students whose families didn't opt into that blended learning model during one of two enrollment periods aren't able to take advantage of that opportunity.
"Learning Bridges have been a much-needed resource for working moms who need access to predictable childcare," said Jessica Yager, the vice president of policy and planning for Win, the city's largest provider of shelter and services to women and families. "But they are no substitute for in-person learning, and do not fill the gap in academic support and individualized attention left by remote learning."
Officials have said they are prioritizing homeless students for Monday's return to in-person learning, but the current plan will shut out the ones who have been participating in full-time remote instruction since September, unless the DOE offers another opt-in period.
"Under my proposal, all children in temporary housing, regardless of grade level, would be allowed in-person," said City Councilman Mark Treyger, who chairs the Education Committee and proposed his own reopening plan this summer. "We still have a ways to go, in terms of achieving equity."
Eight months after schools closed, some homeless students still don't have access to devices and the internet. The Advocates for Children report asks the city to make sure that all homeless students have the technology they need to participate in remote learning.
"The DOE must expedite iPad delivery, install Wi-Fi in shelters as quickly as possible, and expand tech support for students struggling to use their devices, including by providing on-site support at shelters," the authors write.
The mayor said in October that he had told the Law Department and Social Services to fix the Wi-Fi issue. Officials have since stated that repairs won't be completed until the end of the school year.
The report also asks the DOE to make sure there's sufficient staff to support homeless students trying to learn. "Due to hiring freezes and budget cuts, the DOE has lost more than 20 staff members who focus on serving this population," the authors write. "With more than 100,000 students experiencing homelessness, the City must immediately restore these positions and fully staff the team."
DOE officials pointed to the more than 300 field-based staff, and 100 remote social workers, that they have deployed to address the mental health of students in temporary housing and their families. "Our field staff are in constant contact with educators, students and families," officials said.
"We applaud efforts to provide mental health supports," said Yager. "But 300 field-based staff are insufficient to support over 110,000 homeless students."
Advocates for Children also filed a class action lawsuit in federal court last week addressing the needs of another group of historically underserved students: those with special needs. The lawsuit, which names both the DOE and the state Education Department, is demanding that the city create an expedited process to make up for the services thousands of special education students missed during the pandemic.
"Although students are entitled to 'compensatory services' for any education and therapies the school district failed to provide, the DOE has not announced any plans in the eight months since schools closed to develop a system for identifying which students with disabilities require compensatory services, determining what services they need, and providing those services," Isabella Rieke, AFC's communication manager, said in an email.
Some 200,000, or roughly 18 percent, of NYC's 1.1 million students receive special education services, but 31 percent of students living in NYC shelters in the 2016-17 school year did. The DOE declined to provide more recent data on homeless students who also have Individualized Education Programs.
Before the pandemic, the DOE was already being sued over continuing failures within its massive special education system to evaluate and provide timely support to tens of thousands of students. The department had started making progress in those areas just as schools were shuttered by the coronavirus for the first time in March.
Some 25,000 special education students will be able to return to in-person learning next week to their specialized District 75 schools, although some have pointed out that leaves out special education students in middle and high schools who are in inclusive classrooms. On Tuesday, a trio of parent advocates released a small survey of families, revealing gaps in the resources being provided children with special needs, and calling for the prioritization of special needs students in the return to in-person learning.
Get stories like these delivered straight to your inbox. Sign up for The 74 Newsletter